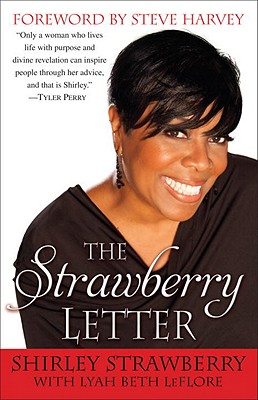 The Strawberry Letter: Real Talk, Real Advice, Because Bitterness Isn't Sexy (Paperback)
Real Talk, Real Advice, Because Bitterness Isn't Sexy
One World, 9780345525512, 161pp.
Publication Date: February 14, 2012
Description
Listen up, ladies Shirley Strawberry, co-host of the nationally syndicated Steve Harvey Morning Show, delivers more of the no-nonsense woman-to-woman straight talk her listeners have come to love. Shirley tells it like it is from the heart. Now, in this uplifting motivational guide, she brings her vivacious, inspirational, and down-to-earth message to women everywhere: Get up, get out, and be the best you can be This call to action helps women look at their lives with a candid eye and tackle such issues as:
Love and Relationships: the highs and lows of dating, marriage, and breakups
Family: the challenges of being a great mom
Sisterhood: ways to get (and give) the support you need to stay sane
Self: tips for overcoming low self-esteem and depression, and finding balance, faith, and acceptance
Full of motivating Strawberry Tips, personal stories, and helpful suggestions for drama-stuck girlfriends, this book encourages you to love yourself and your life
About the Author
Shirley Strawberry is the co-host of the #1 urban radio morning show The Steve Harvey Morning Show. Steve Harvey has said that she has the best voice in radio. Strawberry started her career in Chicago as co-host of The Doug Banks Show, then was offered a spot on The Beat, KKBT-FM, in Los Angeles. After Radio One purchased the station, she accepted the co-host position for Steve Harvey s new local radio show, which was #1 from 2000 to 2005. The show later moved to New York City, becoming a #1 local show there before becoming nationally syndicated to more than sixty markets, with nearly eight million listeners. Lyah Beth LeFlore was the writer for the national bestseller I Got Your Back: A Father and Son Keep It Real About Love, Fatherhood, Family, and Friendship, by Eddie and Gerald Levert, and is the author of the novels Last Night a DJ Saved My Life and Wildflowers and for the teen book series The Come Up. She has been a television producer and entertainment executive for more than a decade and has worked for Nickelodeon, Uptown Entertainment, Wolf Films, and Alan Haymon Productions. From the Hardcover edition."
Praise For The Strawberry Letter: Real Talk, Real Advice, Because Bitterness Isn't Sexy…
"Only a woman who lives life with purpose and divine revelation can inspire people through her advice, and that is Shirley."—Tyler Perry
 
"Shirley Strawberry is a sistah who has been there and conquered that. Her insightful advice on life, love, and relationships makes her book a must-read for anyone struggling with past hurts."—Mo'Nique, Academy Award winner and host of The Mo'Nique Show

"Like that reliable friend who's always there for you, [Strawberry's] first book doesn't disappoint."—Essence
 
"Timely and on point with its meaningful messages and warm wisdom . . . This book offers advice with a heaping side of love."—Los Angeles Sentinel
 
"Full of short gems that provide welcome advice on the run."—New York Amsterdam News
Advertisement