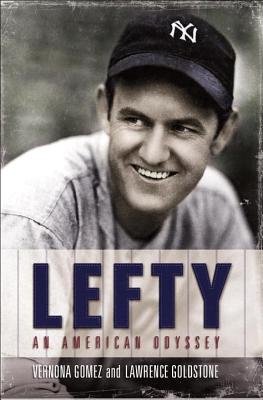 Lefty
An American Odyssey
Hardcover

* Individual store prices may vary.
Other Editions of This Title:
Paperback (2/26/2013)
Description
A baseball legend distinguished by his competitive nature, quick wit, and generous spirit, Lefty Gomez was one of a kind. Told for the first time, this is his remarkable story.
 
Born to a small-town California ranching family, the youngest of eight, Vernon "Lefty" Gomez rode his powerful arm and jocular personality right across America to the dugout of the New York Yankees. Lefty baffled hitters with his blazing fastball, establishing himself as the team's ace. He vacationed with Babe Ruth, served as Joe DiMaggio's confidant, and consoled Lou Gehrig the day the "Iron Horse" removed himself from the lineup. He started and won the first-ever All-Star Game, was the first pitcher to make the cover of Time magazine, and barnstormed Japan as part of Major League Baseball's grand ambassadorial tour in 1934. Away from the diamond, Lefty played the big-city bon vivant, marrying Broadway star June O'Dea and hobnobbing with a who's who of celebrities, including George Gershwin, Jack Dempsey, Ernest Hemingway, Marilyn Monroe, George M. Cohan, and James Michener. He even scored a private audience with the pope.
 
And even when his pro ball career was done, Lefty wasn't. He became a national representative for Wilson Sporting Goods, logging over 100,000 miles a year, spreading the word about America's favorite game, and touching thousands of lives. In 1972 he was inducted into the National Baseball Hall of Fame. Three baseball fields are named for him, and to this day the top honor bestowed each year by the American Baseball Coaches Association is the Lefty Gomez Award.
 
Now, drawing on countless conversations with Lefty, interweaving more than three hundred interviews conducted with his family, friends, competitors, and teammates over the course of a decade, and revealing candid photos, documents, and film clips—many never shown publicly—his daughter Vernona Gomez and her award-winning co-author Lawrence Goldstone vividly re-create the life and adventures of the irreverent southpaw fondly dubbed "El Señor Goofy."
 
"I'd rather be lucky than good," Lefty Gomez once quipped—one of many classic one-liners documented here. In the end he was both. A star-studded romp through baseball's most glorious seasons and America's most glamorous years, Lefty is at once a long-overdue reminder of a pitcher's greatness and a heartwarming celebration of a life well-lived.
Praise For Lefty: An American Odyssey…
Advance praise for Lefty

"In the darkest decade of the American Century, the 1930s, 'Lefty' Gomez gave baseball fans--which is to say, sensible Americans--something to cheer for and to admire. His story transcends sports and gives us a much-needed lesson in grit and grace."—Jon Meacham
 
"In a loving and beautifully written tribute to her parents, Vernona Gomez and Lawrence Goldstone recapture the magic of a time when baseball and Broadway were our true national pastimes. Be prepared to be transformed, and to discover stars who were stars in an age when that word really meant something."--Mike Greenberg, New York Times bestselling author and co-host of ESPN's "Mike and Mike in the Morning"

"The authors brought back great memories to me in this book. I always loved the way Lefty made my dad laugh, and I loved listening to the stories about Bing hanging out with the baseball gods in their prime. These stories allowed me to see my father as he was long before I was ever born. My sisters and I loved it when Lefty came to visit—we got to watch TV because Lefty would turn it on for us. My dad always deferred to Lefty and house rules flew out the window! Thanks for such a nostalgic and entertaining book."—Kurt Russell
 
"An absolutely great read and not just for baseball fans. This book brings the 1920s, 1930s, and 1940s, in particular, alive in such a fun and exciting way. I loved it."—Louise Russell
 
"Baseball fans everywhere will appreciate the book. Here was a man who wagered with Ruth, laughed with Gehrig, and roomed with DiMaggio. He was known as the fire-throwing left-hander of the successful Yankees teams of the 1930s and as the man that made clowning around the diamond famous. Lefty's adventurous stories both on and off the diamond will have readers talking about this book for many years to come."—Steven Tellefsen, president and CEO, Babe Ruth League, Inc.
Ballantine Books, 9780345526489, 416pp.
Publication Date: May 15, 2012
About the Author
Vernona Gomez is the daughter of June O'Dea and Vernon "Lefty" Gomez. As a child, she bounced on Babe Ruth's knee, made sand castles on the beach with Joe DiMaggio, and won at cards with the legendary Cy Young. Growing up in a baseball family, Vernona brings an eyewitness account to the adventures chronicled in this book. She is a concert pianist, owner of the Creative Coaching Music Studio in Southport, Connecticut, and has two sons, John and Andrew.

Lawrence Goldstone is the author or co-author of thirteen previous books of fiction and nonfiction. One of his novels won a New American Writing Award, another was a "New York Times "notable mystery. His work has been profiled in "The New York Times," "The Toronto Star," Salon, and Slate, among others. He lives in Fairfield, Connecticut, with his wife and daughter.
or
Not Currently Available for Direct Purchase