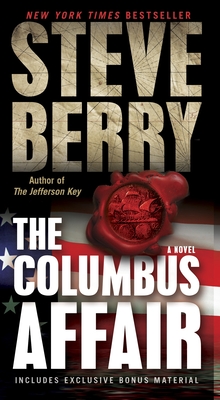 The Columbus Affair
A Novel (with bonus short story The Admiral's Mark)
Paperback

* Individual store prices may vary.
Description
A family's secret, a ruthless fanatic, and a covert arm of the American government—all are linked by a single puzzling possibility:

What if everything we know about the discovery of America was a lie? What if that lie was designed to hide the secret of why Columbus sailed in 1492? And what if that 500-year-old secret could violently reshape the modern political world?
 
Pulitzer Prize–winning investigative journalist Tom Sagan has written hard-hitting articles from hot spots around the world. But when one of his stories from the Middle East is exposed as a fraud, his professional reputation crashes and burns. Now he lives in virtual exile—haunted by bad decisions and a shocking truth he can never prove: that his downfall was a deliberate act of sabotage by an unknown enemy. But before Sagan can end his torment with the squeeze of a trigger, fate intervenes in the form of an enigmatic stranger. This stranger forces Sagan to act—and his actions attract the attention of the Magellan Billet, a top-secret corps of the United States Justice Department that deals with America's most sensitive investigations. Sagan suddenly finds himself caught in an international incident, the repercussions of which will shudder not only Washington, D.C., but also Jerusalem. Coaxed into a deadly cat-and-mouse game, unsure who's friend and who's foe, Sagan is forced to Vienna, Prague, then finally into the Blue Mountains of Jamaica—where his survival hinges on his rewriting everything we know about Christopher Columbus.
 
Don't miss Steve Berry's short story "The Admiral's Mark" in the back of the book.
Praise For The Columbus Affair: A Novel (with bonus short story The Admiral's Mark)…
"An engrossing stand-alone thriller from bestseller Berry."—Publishers Weekly
 
"This being a Berry production, every alliance is of course fragile, and the bonds among even the heartiest teammates are up for grabs. So is the ultimate goal, for the author gradually reveals that Columbus' lost gold mine is only chicken feed compared to the real bonanza at stake. Less The Da Vinci Code than American Treasure. Think of Nicolas Cage, tearing up the scenery as Tom Sagan, to the background beat of popping corn and you're halfway there."—Kirkus Reviews
 
Praise for Steve Berry
 
"Berry raises this genre's stakes."—The New York Times
 
"As always with Steve Berry, you're educated about significant things while your knuckles are turning white and the pages are flying by."—#1 New York Times bestselling author David Baldacci
 
"For those in need of a comparison, think Jack Bauer and the hit television series 24, with twists, turns, schemes and counter-schemes manifesting themselves by the second. . . . Berry's on a roll."—Los Angeles Times
 
"I love this guy."—#1 New York Times bestselling author Lee Child
 
"Forget Clancy and Cussler. When it comes to this genre, there is simply no one better."—The Providence Journal
 
"Steve Berry writes with the self-assured style of a veteran."—#1 New York Times bestselling author Dan Brown
Ballantine Books, 9780345526526, 608pp.
Publication Date: January 1, 2013
About the Author
Steve Berry is the New York Times and #1 internationally bestselling author of The Lincoln Myth, The King's Deception, The Columbus Affair, The Jefferson Key, The Emperor's Tomb, The Paris Vendetta, The Charlemagne Pursuit, The Venetian Betrayal, The Alexandria Link, The Templar Legacy, The Third Secret, The Romanov Prophecy, and The Amber Room. His books have been translated into 40 languages with more than 18,000,000 copies in 51 countries.
 
History lies at the heart of every Steve Berry novel. It's this passion, one he shares with his wife, Elizabeth, that led them to create History Matters, a foundation dedicated to historic preservation. Since 2009 Steve and Elizabeth have traveled across the country to save endangered historic treasures, raising money via lectures, receptions, galas, luncheons, dinners, and their popular writers' workshops. To date, nearly 2,500 students have attended those workshops. In 2012 their work was recognized by the American Library Association, which named Steve the first spokesman for National Preservation Week. He was also appointed by the Smithsonian Board of Regents to serve on the Smithsonian Libraries Advisory Board to help promote and support the libraries in their mission to provide information in all forms to scientists, curators, scholars, students, and the public at large. He has received the Royden B. Davis Distinguished Author Award and the 2013 Writers for Writers Award from Poets & Writers. His novel The Columbus Affair earned him the Anne Frank Human Writes Award, and his historic preservation work merited the 2013 Silver Bullet from International Thriller Writers.
 
Steve Berry was born and raised in Georgia, graduating from the Walter F. George School of Law at Mercer University. He was a trial lawyer for 30 years and held elective office for 14 of those years. He is a founding member of International Thriller Writers—a group of more than 2,600 thriller writers from around the world—and served three years as its co-president.
or
Not Currently Available for Direct Purchase