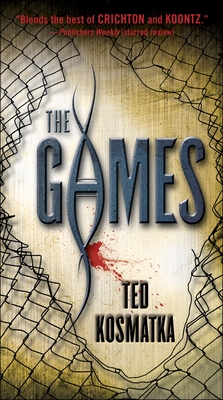 The Games (Paperback)
Del Rey, 9780345526625, 416pp.
Publication Date: January 29, 2013
Other Editions of This Title:
Digital Audiobook (3/12/2012)
Hardcover (3/13/2012)
* Individual store prices may vary.
Description
Jurassic Park meets The Hunger Games in this stunning new high-energy, high-concept tale from first-time novelist Ted Kosmatka, a Nebula Award and Theodore Sturgeon Memorial Award finalist.
 
NAMED ONE OF THE BEST BOOKS OF THE YEAR BY PUBLISHERS WEEKLY

Brilliant geneticist Silas Williams oversees U.S. selections for the Olympic Gladiator competition, an internationally sanctioned bloodsport with only one rule: No entrants may possess human DNA. Desperate to maintain America's edge in the upcoming Games, Silas's superior engages an experimental supercomputer to design the ultimate, unbeatable combatant. The result is a highly specialized killing machine, its genome never before seen on earth. But even a genius like Silas cannot anticipate the consequences of allowing a computer's cold logic to play God. Growing swiftly, the mutant gladiator demonstrates preternatural strength, speed, and—most chillingly—intelligence. And before hell breaks loose, Silas and beautiful xenobiologist Vidonia João must race to understand what unbound science has wrought—even as their professional curiosity gives way to a most unexpected emotion: sheer terror.
 
Praise for The Games

"Blends the best of Crichton and Koontz."—Publishers Weekly (starred review)
 
"Outstanding . . . very like something Michael Crichton might have written . . . [a] bold mix of horror and SF . . . Expect big things from [Ted] Kosmatka."—Booklist (starred review)
 
"Kosmatka successfully captures the thrill of groundbreaking technology. . . . The pleasure of his polished, action-packed storytelling is deepened by strong character development. This near-future SF thriller . . . seems destined for the big screen."—Library Journal (starred review)
About the Author
Ted Kosmatka was born and raised in northwest Indiana and spent more than a decade working in various laboratories there before moving to the Pacific Northwest. His short fiction has been nominated for both the Nebula Award and the Theodore Sturgeon Memorial Award. He now works in the videogame industry, where he's a full-time writer at Valve, home of Half-Life, Portal, and Dota 2.
Praise For The Games…
"Exacting science and meticulous attention to detail provide the backbone for this thriller, which blends the best of Crichton and Koontz."—Publishers Weekly (starred review)

"Very like something Michael Crichton might have written . . . An outstanding debut novel; expect big things from Kosmatka."—Booklist (starred review)

""Kosmatka successfully captures the thrill of groundbreaking technology characteristic of Michael Crichton's technothrillers. . .The pleasure of his polished, action-packed storytelling is deepened by strong character development. This near-future sf thriller will capture the imagination of 'unstoppable monster' lovers and fans of disaster fiction alike and seems destined for the big screen."—Library Journal (starred review)

"Kosmatka's debut novel is a . . . technological thriller that revs up like a racecar with a dose of bad attitude and steadily creeping horror. . . . [Readers] who enjoy the karmic boomerang of authors like Michael Crichton or Preston and Child should eat this up."—School Library Journal (starred review)
 
"I stayed up very late just to finish this, and The Games certainly lives up to its buzz. . . .The Games is a sci-fi/thriller with unexpected depth and humanity, and a few twists that I didn't see coming. Very highly recommended!"—My Bookish Ways

"Modern SF started with something like E. E. Smith's The Skylark of Space and progressed to Jack Williamson's The Legion of Space, then to Heinlein's classics, and on through the work of Larry Niven, John Varley, Greg Egan, Charles Stross, Cory Doctorow—and now, writers like Ted Kosmatka."—Jonathan Strahan
or
Not Currently Available for Direct Purchase