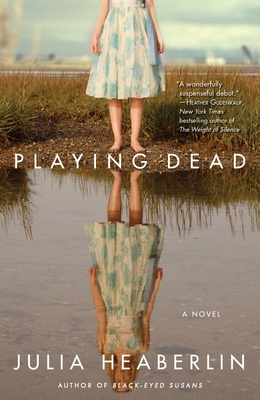 Playing Dead (Paperback)
A Novel
Ballantine Books, 9780345527011, 352pp.
Publication Date: May 29, 2012
Other Editions of This Title:
Digital Audiobook (5/31/2012)
Compact Disc (6/1/2012)
Compact Disc (12/11/2012)
* Individual store prices may vary.
Description
"A compelling family mystery that kept me turning the pages. Highly recommended."—Margaret Maron, New York Times bestselling author of Three Day Town
 
"Dear Tommie: Have you ever wondered about who you are?"
 
The letter that turns Tommie McCloud's world upside down arrives from a stranger only days after her father's death. The woman who wrote it claims that Tommie is her daughter—and that she was kidnapped as a baby thirty-one years ago.
 
Tommie wants to believe it's all a hoax, but suddenly a girl who grew up on a Texas ranch finds herself  linked to a horrific past: the slaughter of a family in Chicago, the murder of an Oklahoma beauty queen, and the kidnapping of a little girl named Adriana. Tommie races along a twisting, nightmarish path while an unseen stalker is determined to keep old secrets locked inside the dementia-battered brain of the woman who Tommie always thought was her real mother. With everything she has ever believed in question, and no one she can trust, Tommie must discover the truth about the girl who vanished—and the very real threats that still remain. 
 
"[Julia Heaberlin's] voice is pitch perfect, and her story of one woman's fierce struggle to reconcile her past with her present is gripping and powerful. An outstanding debut."—Carla Buckley, author of Invisible
About the Author
Julia Heaberlin is the author of Black-Eyed Susans, Lie Still, and Playing Dead. She is an award-winning journalist who has worked at the Fort-Worth Star Telegram, The Detroit News, and The Dallas Morning News. She grew up in Texas and lives with her family near Dallas/Fort Worth, where she is at work on her next novel of psychological suspense.
Praise For Playing Dead: A Novel…
"In a word, this book is fun." —Fort-Worth Star-Telegram   
 
"Tommie is a smart, sassy, loving, and doggedly persistent narrator in this fast-moving mystery that occasionally tugs at the heartstrings.  A promising debut." 
—Booklist
 
"Tommie McCloud is the kind of character that every female reader ends up wanting as a sister of best friend—a friend of passionate loyalties, a no-nonsense woman who doesn't possess the insincerity gene, a not-too-girly Texas spitfire…feverishly compelling….Heaberlintells the story with whip-smart dialogue, an insistent pace and keen wit; it's irresistible enough that I sped through all 300-plus pages in one sitting."  —Dallas Morning News
 
"A terrific debut . . . Like the Chicken-Fried Steak that its characters love, Playing Dead combines Texas and Noir in unexpectedly wonderful ways, with a refreshingly real heroine  and a plot thatmoves and twists with the unpredictability of a rodeo bull." 
—Susanna Kearsley, author of The Rose Garden

"A debut crime novel from an author with a very promising future….Heaberlin can certainly keep the suspense going and dangled me like a fish on a line….Heaberlin's debut is excellently written with a great mix of intrigue, murder and mystery to keep the reader determined to see what happens on Tommie's journey."  —Crimesquad
"As Heaberlin leads the reader through several complex threads, her fast-paced narrative rarely flags."  —Detroit News
 
"Impressive….her debut's most striking feature is Tommie's narrative voice, which is so winning and vivacious."  —Sunday Times (UK)