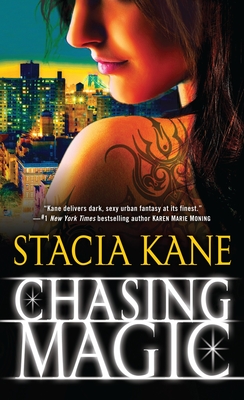 Chasing Magic (Downside Ghosts #5) (Paperback)
Del Rey, 9780345527523, 384pp.
Publication Date: June 26, 2012
* Individual store prices may vary.
Description
A DEADLY HIGH
 
Magic-wielding Churchwitch and secret addict Chess Putnam knows better than anyone just how high a price people are willing to pay for a chemical rush. But when someone with money to burn and a penchant for black magic starts tampering with Downside's drug supply, Chess realizes that the unlucky customers are paying with their souls—and taking the innocent with them, as the magic-infused speed compels them to kill in the most gruesome ways possible.
 
As if the streets weren't scary enough, the looming war between the two men in her life explodes, taking even more casualties and putting Chess squarely in the middle. Downside could become a literal ghost town if Chess doesn't find a way to stop both the war and the dark wave of death-magic, and the only way to do that is to use both her addiction and her power to enter the spell and chase the magic all the way back to its malevolent source. Too bad that doing so will probably kill Chess—if the war doesn't first destroy the man who's become her reason for living.
About the Author
Stacia Kane has been a phone psychic, a customer service representative, a bartender, and a movie theater usher, and she thinks that writing is more fun than all of them combined. She wears a lot of black, still makes great cocktails, likes to play music loud in the car, and thinks that Die Hard is one of the greatest movies ever made. She believes in dragons and the divine right of kings, and is a fervent Ricardian. Stacia Kane lives in England with her husband and their two little girls.
or
Not Currently Available for Direct Purchase