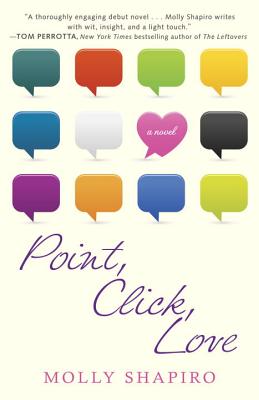 Point, Click, Love (Paperback)
A Novel
Ballantine Books, 9780345527639, 272pp.
Publication Date: December 20, 2011
* Individual store prices may vary.
Description
In Molly Shapiro's fun and sexy debut novel, four women try to sort through the wild and complicated world of text messaging, status updates, and other high-speed connections.  
 
Best friends and fellow midwesterners Katie, Annie, Maxine, and Claudia are no strangers to dealing with love and relationships, but with online dating and social networking now in the mix, they all have the feeling they're not in Kansas anymore. Katie, a divorced mother of two, secretly seeks companionship through the Internet only to discover that the rules of the dating game have drastically changed. Annie, a high-powered East Coast transplant, longs for a baby, yet her online search for a sperm donor is not as easy—or anonymous—as she anticipates. Maxine, a successful artist with a seemingly perfect husband, turns to celebrity gossip sites to distract herself from her less-than-ideal marriage. And Claudia, tired of her husband's obsession with Facebook, finds herself irresistibly drawn to a handsome co-worker. As these women navigate the new highs and lows of the digital age, they each find that their wrong turns lead surprisingly to the right click and, ultimately, the connection they were seeking.
About the Author
Molly Shapiro is the author of Eternal City, winner of the Willa Cather Fiction Prize. She earned a bachelor's degree from Brown and a master's degree in creative writing from Columbia. She currently lives in Kansas City, Missouri, with her two children, Fanny and Harry.
Praise For Point, Click, Love: A Novel…
"Point, Click, Love is a thoroughly engaging debut novel about a group of Midwestern women grappling with the mysteries of love, marriage, and children. Molly Shapiro writes with wit, insight, and a light touch." --New York Times bestselling author Tom Perrotta

"The Social Network meets Rona Jaffe's '50s classic The Best of Everything in this timely page-turner about four thirty-to-forty something women friends whose lives are irrevocably changed by the power of the Internet – from Facebook and Match.com to celebrity e-zines and sperm donor web sites. Written in a compelling narrative and set in the Midwest, this isn't a book about technology; it's a story about love, marriage, divorce, infidelity, career and child-rearing. The author does a terrific job of capturing the zeitgeist of 21st century women."  -- Jane Heller, author of Female Intelligence

"Molly Shapiro's debut is sassy and hilarious." --Michael Lee West, author of Gone with a Handsomer Man

"A frank examination of romance in the digital age drives Shapiro's lively debut novel (after a short story collection, Eternal City). Shapiro peppers the narrative with sharp observations on relationships both real and virtual. As warm as it is witty, Shapiro's fiction outing emphasizes the importance of genuine connection, wherever it might be found." --Publishers Weekly

"Loved, loved the writing, the storytelling and the message." --Bookshipper

"I loved Point, Click, Love and think it would make a great gift book. For men, for women, for everybody!" --Huntington News.net

"Overall, Point, Click, Love is a good Chick Lit book. Obviously I loved it because of it's setting, but it is also one of those books where the author does a good job of presenting several different ways ones life (and love) could be impacted by the Internet." --Charlotte's Web of Books

"Point, Click, Love is a fun read for all of us, whether we're married, single, divorced, with babies, without babies, lovers or haters or Facebook, the Internet, celeb sites, and twitter." --Manic Mommy

"A witty examination of the push-pull hazards and rewards of online flirtation."
--The Pitch

"In this modern novel, happily ever after doesn't have to include marriage."
--Woman Around Town

"Deliriously good. . . an easy, breezy read." --Boston Herald

"A sexy, fun and poignant read." --Patch

"Point, Click, Love serves up a good, sassy, easy to read story of four very different women, and does so with a twist." --Twisting the Lens

"It's fun and crass yet also thoughtful and insightful." --Chick Lit is Not Dead

"Point, Click, Love is for the new generation of SATC lovers . . . The friendships are strong and the writing is a breath of fresh air — with a very real and honest look at the tech world we live in, through the eyes of the four heroines. This book will have you hooked until the end and leave you a satisfied reader." --SheKnows Book Lounge

"Fresh and edgy . . . Shaprio's dialogue will leave you feeling like you've just had a conversation with a great friend." --Fodor's.com
or
Not Currently Available for Direct Purchase