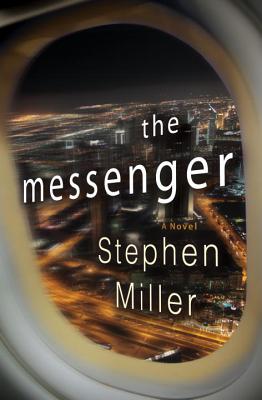 The Messenger (Hardcover)
Delacorte Press, 9780345528476, 336pp.
Publication Date: July 31, 2012
* Individual store prices may vary.
or
Not Currently Available for Direct Purchase
Description
In a world of heightened threat levels, sleeper cells, and unseen enemies, one novel explores the war on terrorism with harrowing suspense . . . and deep humanity.
 
Daria emerges from a refugee camp a believer. She has lost everything, witnessed the unthinkable, and committed herself to a mission with a deadly conclusion. Indoctrinated, trained, and given a ticket to New York, she blends in, posing as an ambitious journalist—an "arrow" hoping to hit too many targets to count.
 
Dr. Sam Watterman is recruited too. Falsely accused and disgraced in the anthrax inquiries after 9/11, he is no longer a believer in causes. But the government that ruined his career now demands his expertise to locate a threat putting millions of Americans in peril.
 
In a country that fights wars on foreign soil but remains terrified of the cataclysm at home, Sam strives toward redemption and Daria desperately seeks both rebellion and enlightenment. Their lives will intersect at a place that will test their faith and make them each question what it means to have something worth dying for.
 
With a riveting plot that spans sixteen fraught, compelling days, Stephen Miller's dazzling novel of literary suspense brings the war to a landscape both familiar and vulnerable: the America we call home.
About the Author
North Carolina born and raised, Stephen Miller is an actor on stage, film, and television as well as the author of plays, screenplays, and novels. Unforgettable moments in his acting career include swimming with Hume Cronyn, improvising for a day with Robert De Niro, carrying Bette Davis down a flight of concrete stairs, stunt-driving with Burt Reynolds, and delivering Laura Dern's child, as well as three appearances on "The X-Files." The author of five previous novels, Miller is currently at work on his next novel.
Praise For The Messenger…
Advance praise for The Messenger
 
"The Messenger is both a high-stakes thriller and the story of a lost girl seeking answers to life's most complicated questions. Warm, empathetic, fascinating, terrifying: The Messenger has it all!"—Amanda Eyre Ward, author of Close Your Eyes
 
"Miller writes beautifully, is hugely well informed on the subject of biological weaponry, and, more impressively still, manages to say something strikingly original about contemporary terrorism. His American society—awash in meaningless commercialism, appalling inequalities, endemic racism and sexism—is the perfect target for his Middle Eastern anti-heroine's dreadful mission. Miller gets it that, in the widest context, the war on terrorism, like the war on drugs, is as much about us as it is about them. A chillingly intelligent read."—David Downing, author of Zoo Station

"A real snake charmer of a tale, Stephen Miller's new novel doesn't unfold, it uncoils. You can only stare, appalled and fascinated, unable to avert your eyes. The Messenger is a riveting read, from beginning to end. This is Cormac McCarthy territory: It goes way beyond its genre."—John MacLachlan Gray, author of Billy Bishop Goes to War
Advertisement