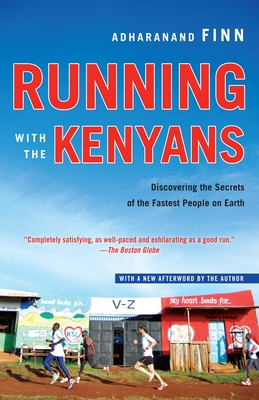 Running with the Kenyans: Discovering the Secrets of the Fastest People on Earth (Paperback)
Discovering the Secrets of the Fastest People on Earth
Ballantine Books, 9780345528803, 277pp.
Publication Date: April 9, 2013
Description
Completely satisfying, as well-paced and exhilarating as a good run. The Boston Globe
Whether running is your recreation or your religion, Adharanand Finn's incredible journey to the elite training camps of Kenya will captivate and inspire you, as he ventures to uncover the secrets of the fastest people on earth. Finn's mesmerizing questcombines a fresh look at barefoot running, practical advice on the sport, and the fulfillment of a lifelong dream: to run with his heroes.Uprooting his family of five, Finn traveled to a small, chaotic town in the Rift Valley province of Kenya a mecca for long-distance runners, thanks to its high altitude, endless paths, and some of the top training schools in the world. There Finn would run side by side with Olympic champions, young hopefuls, and barefoot schoolchildren, and meet a cast of unforgettable characters. Amid the daily challenges of training and of raising a family abroad, Finn would learn invaluable lessons about running and about life.
With a new Afterword by the author

Not everyone gets to heaven in their lifetime. Adharanand Finn tried to run there, and succeeded. Running with the Kenyans is a great read. Bernd Heinrich, author of Why We Run
Part scientific study, travel memoir, and tale of self-discovery, Finn's journey makes for a smart and entertaining read. Publishers Weekly
A hymn to the spirit, to the heartbreaking beauty of tenacity, to the joy of movement. The Plain Dealer
About the Author
Adharanand Finn is a journalist at The Guardian and a freelance writer, contributing regular features for The Guardian, The Independent, and Runner s World (U.K.)."
Praise For Running with the Kenyans: Discovering the Secrets of the Fastest People on Earth…
Advance praise for Running with the Kenyans
 
"Completely satisfying, as well-paced and exhilarating as a good run."—The Boston Globe
 
"Not everyone gets to heaven in their lifetime. Adharanand Finn tried to run there, and succeeded. Running with the Kenyans is a great read."—Bernd Heinrich, author of Why We Run
 
"Part scientific study, travel memoir, and tale of self-discovery, Finn's journey makes for a smart and entertaining read."—Publishers Weekly
 
"A hymn to the spirit, to the heartbreaking beauty of tenacity, to the joy of movement."—The Plain Dealer

"Equal parts cultural examination, cult-of-running treatise, and poignant memoir, Running with the Kenyans thrives on a variety of levels. Like the skilled distance runner he is, Finn paces this book marvelously and then saves the best for the final kick. This book packs all the pleasure and satisfaction—and none of the ancillary pain—of a long training run."—L. Jon Wertheim, senior editor, Sports Illustrated, and co-author of the New York Times bestseller Scorecasting
 
"Not everyone gets to heaven in their lifetime. Finn tried to run there, and succeeded. Running with the Kenyans is a great read."—Bernd Heinrich, author of Why We Run
 
"If you want to know the secrets of Kenyan runners, and have a rollicking adventure along the way, join Finn in his fascinating tale of what it is to go stride for stride with the fastest people on Earth."—Neal Bascomb, author of The Perfect Mile
 
"An extremely good book . . . If Born to Run taught us what to wear (or not to wear) when running, Finn's fascinating Running with the Kenyans teaches us how to run. . . . In the tradition of the best sports writing, Finn embedded himself fully in his subject and reveals, for the first time, just how close we are to the holy grail of the sub-two-hour marathon."—Robin Harvie, author of The Lure of Long Distances
 
"A beautiful and inspiring must-have for every runner, Running with the Kenyans is far more than an inspirational story, but a guide toward running, humility, and life, from the amazing people of Kenya."—Michael Sandler, author of Barefoot Running
Advertisement