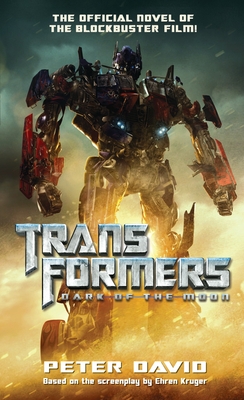 Transformers Dark of the Moon (Mass Market Paperbound)
Del Rey Books, 9780345529152, 393pp.
Publication Date: May 24, 2011
* Individual store prices may vary.
or
Not Currently Available for Direct Purchase
Description
ONE SMALL STEP FOR MAN . . .
All humankind was watching that day in 1969. And yet only a handful knew the real mission behind America's triumph in the space race: to explore the alien ship that has crashed on the far side of the moon. Decades later, scientists are still struggling to understand the technology found on board--though with the treacherous Decepticons after it, a powerful force must be at stake. The only hope of averting a crisis is to reawaken Sentinel Prime, the long-lost leader of the Autobots--but who knows what else remains in the shadows, hidden from man and machine?
About the Author
Peter David's novels include the fantasies Tigerheart, Sir Apropos of Nothing, The Woad to Wuin, and Knight Life, and the quirky werewolf story Howling Mad. He is famous for writing some of the most popular original Star Trek: The Next Generation novels, including Imzadi and A Rock and a Hard Place, as well as the official novels of the movies Iron Man, Spider-Man, and The Incredible Hulk. He has written just about every famous comic book superhero, including Captain Marvel, Spider-Man, and the futuristic Spider-Man 2099, and has scripted the bestselling Gunslinger Born graphic adaptation of the acclaimed Stephen King Dark Tower series. He collaborated with J. Michael Straczynski on the Babylon 5 novels and comic book series, and with Bill Mumy he created the Nickelodeon television series Space Cases. In his spare time, he writes movie screenplays, children's books, and TV scripts.
Advertisement