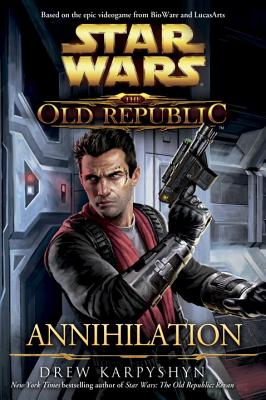 Annihilation (Hardcover)
Lucas Books, 9780345529411, 316pp.
Publication Date: November 13, 2012
* Individual store prices may vary.
Description
Based on the epic videogame from BioWare and LucasArts
NEW YORK TIMES BESTSELLER
The Sith Empire is in flux. The Emperor is missing, presumed dead, and an ambitious Sith lord's attempt to seize the throne has ended fatally. Still, Darth Karrid, commander of the fearsome Imperial battle cruiser Ascendant Spear, continues her relentless efforts to achieve total Sith domination of the galaxy.
But Karrid's ruthless determination is more than matched in the steely resolve of Theron Shan, whose unfinished business with the Empire could change the course of the war for good. Though the son of a Jedi master, Theron does not wield the Force but like his renowned mother, the spirit of rebellion is in his blood. As a top covert agent for the Republic, he struck a crucial blow against the Empire by exposing and destroying a Sith superweapon arsenal which makes him the ideal operative for a daring and dangerous mission to end Ascendant Spear's reign of terror.
Joined by hot-headed smuggler Teff ith, with whom he has an inexplicable bond, and wise Jedi warrior Gnost-Dural, Darth Karrid's former master, Theron must match wits and weapons with a battle-tested crew of the most cold-blooded dark side disciples. But time is brutally short. And if they don t seize their one chance to succeed, they will surely have countless opportunities to die.
Praise for Annihilation

An espionage story interwoven with personal conflicts . . . space battles, lightsaber fights, and gripping spy missions . . . Annihilation may be Karpyshyn's strongest novel yet. Roqoo Depot
Pure Star Wars action-adventure entertainment as only Drew Karpyshyn can write it. The Founding Fields.
About the Author
Drew Karpyshyn is the bestselling author of Star Wars: The Old Republic: Revan and the Star Wars: Darth Bane trilogy: Path of Destruction, Rule of Two, and Dynasty of Evil. He also wrote the acclaimed Mass Effect series of novels and worked as a writer/designer on numerous award-winning videogames. After spending most of his life in Canada, he finally grew tired of the long, cold winters and headed south in search of a climate more conducive to year-round golf. Drew Karpyshyn now lives in Texas with his wife, Jennifer, and their cat.
Praise For Annihilation…
"An espionage story interwoven with personal conflicts . . . space battles, lightsaber fights, and gripping spy missions . . . Annihilation may be Karpyshyn's strongest novel yet."—Roqoo Depot
 
"Pure Star Wars action-adventure entertainment as only Drew Karpyshyn can write it."—The Founding Fields
or
Not Currently Available for Direct Purchase