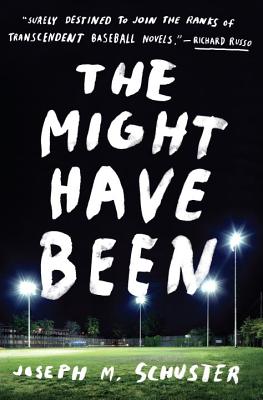 The Might Have Been (Hardcover)
Ballantine Books, 9780345530264, 352pp.
Publication Date: March 20, 2012
* Individual store prices may vary.
Description
Joseph M. Schuster's absorbing debut novel resonates with the pull of lifelong dreams, the sting of regret, and the ways we define ourselves against uncertain twists of fate—perfect for fans of Chad Harbach's The Art of Fielding.
 
NAMED ONE OF THE BEST BOOKS OF THE YEAR BY ST. LOUIS POST-DISPATCH

For Edward Everett Yates, split seconds matter: the precise timing of hitting a low outside pitch, of stealing a base, of running down a fly ball. After a decade playing in the minor leagues—years after most of his peers have given up—he's still patiently waiting for his chance at the majors. Then one day he gets called up to the St. Louis Cardinals, and finally the future he wanted unfolds before him.
 
But one more split second changes everything: In what should have been the game of his life, he sustains a devastating knee injury, which destroys his professional career.
 
Thirty years later, after sacrificing so many opportunities—a lucrative job, relationships with women who loved him, even the chance for a family—Edward Everett is barely hanging on as the manager of a minor league baseball team, still grappling with regret over the choices he made and the life he almost had. Then he encounters two players—one brilliant but undisciplined, the other eager but unremarkable—who show him that his greatest contribution may come in the last place he ever expected.
 
Full of passion, ambition, and possibility, The Might Have Been maps the profound and unpredictable moments that change our lives forever, and the irresistible power of a second chance.
 
Praise for The Might Have Been

"The effort to sustain the tradition of the great American baseball novel receives an honorable boost with this meticulously peopled tale of opportunities lost."—The New York Times Book Review
 
"Eventually, all of us have to grapple our might-have-beens. This is the moving story of a man whose chance for baseball stardom ended in a split-second accident, and it resonates far beyond the baseball field."—Reader's Digest
 
"A brilliant debut . . . a lovely, poignant, heartbreaker of a baseball novel, as good as last year's hyped The Art of Fielding and more literary than Grisham's Calico Joe."—St. Louis Post-Dispatch
 
"A grand slam!"—San Antonio Express-News
 
"The Might Have Been is about the hold baseball can have on those who play it, but it's also about acceptance, and patience, and the struggle to know when to fold 'em, and when to run."—Milwaukee Journal-Sentinel
 
"A terrific story that goes beyond the sport and deals with promise and aspirations, dreams and disappointments . . . Never mind whether you are a baseball fan. This is a damn fine read."—Kirkus Reviews (starred review)
About the Author
Joseph M. Schuster lives near St. Louis, Missouri, and teaches at Webster University. His short fiction has appeared in "The Kenyon Review," "The Iowa Review," and "The""Missouri Review," among others. He is married and the father of five children.
Praise For The Might Have Been…
Praise for The Might Have Been

 "The effort to sustain the tradition of the great American baseball novel receives an honorable boost with this meticulously peopled tale of opportunities lost."—The New York Times Book Review
 
"Eventually, all of us have to grapple our might-have-beens.  This is the moving story of a man whose chance for baseball stardom ended in a split-second accident, and it resonates far beyond the baseball field."—Reader's Digest
 
"A brilliant debut…a lovely, poignant, heartbreaker of a baseball novel, as good as last year's hyped The Art of Fielding and more literary than Grisham's Calico Joe."—St. Louis Post-Dispatch

"Schuster writes with care and beauty… Though baseball fans will love the richly textured descriptions of minor-league parks and life, the larger human story here is universal."—Time Out Chicago

"A grand slam!" —San Antonio Express-News
"Through Edward Everett, Schuster illuminates a side of the game utterly devoid of glamour and often even hope. For every young man who dreams of making a living under the lights, or every middle age office worker imagining how things might have turned out differently had he only been able to hit the curve ball, here's a reminder that the game doesn't always romance those who sacrifice their life and heart to it."--Baseball America
 
"A terrific story that goes beyond the sport and deals with promise and aspirations, dreams and disappointments . . . Never mind whether you are a baseball fan. This is a damn fine read."—Kirkus Reviews (starred review)
 
"The Might Have Been is about the hold baseball can have on those who play it, but it's also about acceptance, and patience, and the struggle to know when to fold 'em, and when to run." —Milwaukee Journal-Sentinel
 
"[An] excitingly fresh debut…The Might Have Been is everything a great novel is but with baseball thrown in as well." —St. Louis Beacon
 
"[M]uch more than a baseball novel. Schuster has written a fine book about the price one pays for being true to a dream, no matter the cost." —Fredericksburg Free Lance Star

"This new novel is full of passion and ambition, and shows the irresistible power of a second chance."—Cleveland.com

"The old-fashioned storytelling approach works well here and feels appropriate for a book about regret, compromised ambition, and loss."—Bookreporter.com

"Lifelong obsession is hauntingly portrayed in this winning debut novel tracing the life of a baseball player who only wants to play the game. . . . This moving tale will engage even nonbaseball fans as Schuster examines, without succumbing to sentiment or an easy resolution, the cost of chasing a dream."—Publishers Weekly

"Surely destined to join the ranks of transcendent baseball novels."—Richard Russo, author of Empire Falls
 
"Far from being just about baseball, The Might Have Been is about the persistence of ambition and dreams in both sports and civilian life. This is a very telling novel about American pastimes and American identities, well worth reading."—Charles Baxter, author of The Feast of Love
 
"At the heart of Joseph M. Schuster's remarkably eloquent novel is Edward Everett Yates, a character so fully human that he demands our complete attention. Many readers will surely find their own lost dreams in this brilliant debut."—Margot Livesey, author of Eva Moves the Furniture
 
"The Might Have Been is a poignant story that transcends its baseball backdrop. Beautifully written, it is a powerful exploration of facing long odds and broken dreams. In his rookie novel, Joseph M. Schuster connects solidly and displays all-star promise."—Darryl Brock, author of If I Never Get Back
 

or
Not Currently Available for Direct Purchase