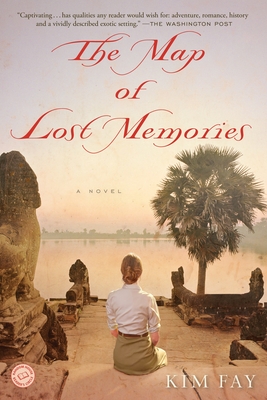 The Map of Lost Memories (Paperback)
A Novel
Ballantine Books, 9780345531421, 352pp.
Publication Date: June 18, 2013
Other Editions of This Title:
Digital Audiobook (8/20/2012)
Compact Disc (8/21/2012)
Hardcover (8/21/2012)
* Individual store prices may vary.
Description
Edgar Award Finalist for Best First Novel by an American Author
 
"Captivating . . . has qualities any reader would wish for: adventure, romance, history and a vividly described exotic setting."—The Washington Post
 
In 1925 the international treasure-hunting scene is a man's world, and no one understands this better than Irene Blum, who is passed over for a coveted museum curatorship because she is a woman. Seeking to restore her reputation, she sets off from Seattle in search of a temple believed to house the lost history of Cambodia's ancient Khmer civilization. But her quest to make the greatest archaeological discovery of the century soon becomes a quest for her family's secrets. Embracing the colorful and corrupt world of colonial Asia in the early 1900s, The Map of Lost Memories takes readers into a forgotten era where nothing is as it seems. As Irene travels through Shanghai's lawless back streets and Saigon's opium-filled lanes, she joins forces with a Communist temple robber and an intriguing nightclub owner with a complicated past. What they bring to light deep within the humidity-soaked Cambodian jungle does more than change history. It ultimately solves the mysteries of their own lives.
 
Look for special features inside. Join the Random House Reader's Circle for author chats and more.
 
Praise for The Map of Lost Memories
 
"In The Map of Lost Memories, Kim Fay draws us into a universe as exotic, intense, and historically detailed as the ancient artifacts her unforgettable heroine seeks. It's a deliciously unexpected journey: Indiana Jones meets Somerset Maugham meets Marguerite Duras."—Jennifer Cody Epstein, author of The Painter from Shanghai
 
"A thrilling mix of adventure and personal discovery . . . [Kim] Fay crafts an intricate page-turner that will keep readers breathless and guessing."—Publishers Weekly
 
"A ripping good tale . . . mysterious Asian locations . . . a driven young American heroine . . . an era no longer remembered but faded to romantic imagination . . . The Map of Lost Memories pulls the components together in a story that intrigues and rewards."—Lincoln Journal Star
 
"Fay's extraordinary novel has everything great historical-adventure fiction should—a strikingly original setting, exhilarating plot twists, and a near-impossible quest."—Booklist (starred review)
About the Author
Born in Seattle and raised throughout the Pacific Northwest, Kim Fay lived in Vietnam for four years and still travels to Southeast Asia frequently. A former bookseller, she is the author of Communion: A Culinary Journey Through Vietnam, winner of the World Gourmand Cookbook Awards' Best Asian Cuisine Book in the United States. She is also the creator/editor of a series of guidebooks on Southeast Asia. Fay now lives in Los Angeles. This is her first novel.
Praise For The Map of Lost Memories: A Novel…
Praise for The Map of Lost Memories

"Fay's exciting and exotic historical adventure set in the 1920s Far East draws easy comparison to Ann Patchett's State of Wonder. The plot is original, and the characters are smart."—Library Journal

"[The Map of Lost Memories] has qualities any reader would wish for: adventure, romance, history and a vividly described exotic setting … There is something captivating about this novel. Call it authorial confidence, a sense of place, a splendid technicolor … The Map of Lost Memories has one beautifully met purpose: It brings Cambodia alive." —The Washington Post

"Fay's extraordinary first novel has everything great historical adventure fiction should—strikingly original setting, exhilarating plot twists, and a near-impossible quest . . . Every word of this evocative literary expedition feels deliberately chosen, each phrase full of meaning." —Booklist, (starred review)
 
"Thrilling and ambitious, this is a book to get lost in, a book that homes in on the human drama of the quest and never lets go. A rich debut." —BookPage
 
"[The Map of Lost Memories] is a thrilling mix of adventure and personal discovery set in Southeast Asia in the 1920s . . . Fay crafts an intricate page-turner that will keep readers breathless and guessing." —Publishers Weekly

"Fay's debut is intriguing, beautifully written, colorful and multilayered like a lovely tapestry."—Romantic Times

"In The Map of Lost Memories, Kim Fay draws us into a universe as exotic, intense, and historically detailed as the ancient artifacts her unforgettable heroine seeks. It's a deliciously unexpected journey: Indiana Jones meets Somerset Maugham meets Marguerite Duras; all culminating in a glorious traipse through a forgotten Asian world. This novel will stay with me for a long, long time."—Jennifer Cody Epstein, author of The Painter from Shanghai
 
"Kim Fay's engaging debut novel, The Map of Lost Memories, not only weaves together a smart, compelling story of a quest for scrolls believed to contain the lost history of Cambodia's ancient Khmer Empire, but also gives us a glimpse into 1920's China and Indochina during the time of transition from colonialism to the beginnings of communism. With deftness and clarity, Fay brings her world to life and gives us a captivating read."—Gail Tsukiyama, author of A Hundred Flowers

"In The Map of Lost Memories, Fay updates the archaeological adventure tale with an ambitious heroine and a cast of morally ambiguous characters in a race to discover an ancient temple in the jungles of colonial Cambodia. Fay's assured, absorbing prose will compel readers with its lush detail, multiple plot twists and keen insight into this politically combustible period of history."—Aimee Phan, author of The Reeducation of Cherry Truong
 
"Kim Fay breathes new and original life into the Westerner-in-Asia novel with The Map of Lost Memories, going beyond the intrigues of 1925 Shanghai to the remote reaches of the Cambodian jungle. An enchanting, absorbing first novel, all the more remarkable for its effortless portrayal of a bygone world, now nearly forgotten."—Nicole Mones, author of Lost in Translation
 
"The Map of Lost Memories is the best book I have read this year. Exotic, thrilling, and brimming with fascinating historical detail, it had me hooked from page one and sent me to a world I knew existed but never really understood, never really felt, until now. Kim Fay is a wonderful storyteller who truly masters the art of crafting a riveting story with heart and elegance. The result is utterly mesmerizing."—Anne Fortier, author of Juliet
 
"Kim Fay writes with such mesmerizing authority that it's hard to believe that The Map of Lost Memories is her first novel. Rarely do we find a book that combines gripping adventure with exquisitely crafted prose, but Fay's novel does just that, bringing together the beauty and complexity of Marguerite Duras's The Lover with the thrilling breathlessness of Indiana Jones. The result is breathtaking."—Dana Sachs, author of If You Lived Here