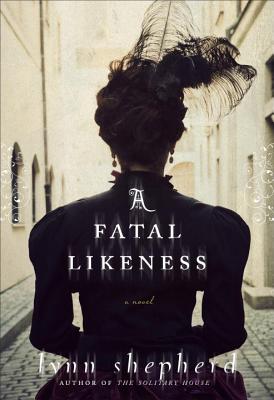 A Fatal Likeness (Hardcover)
Delacorte Press, 9780345532442, 363pp.
Publication Date: August 20, 2013
* Individual store prices may vary.
Description
NAMED ONE OF THE BEST BOOKS OF THE YEAR BY KIRKUS REVIEWS

With The Solitary House, award-winning author Lynn Shepherd introduced readers to Charles Maddox, a brilliant private detective plying his trade on the gaslit streets of Dickensian London. Now, in this mesmerizing new novel of historical suspense, a mystery strikes disturbingly close to home—and draws Maddox into a world of literary legends, tormented souls, and a legacy of terrible secrets.
 
When his great-uncle, the master detective who schooled him in the science of "thief taking," is mysteriously stricken, Charles Maddox fears that the old man's breakdown may be directly related to the latest case he's been asked to undertake. Summoned to the home of a stuffy nobleman and his imperious wife, Charles finds his investigative services have been engaged by no less than the son of celebrated poet Percy Bysshe Shelley and his famed widow, Mary, author of the gothic classic Frankenstein. Approached by a stranger offering to sell a cache of rare papers allegedly belonging to the legendary late poet, the Shelley family seeks Maddox's aid in discovering whether the precious documents are authentic or merely the work of an opportunistic charlatan.
 
But the true identity of his quarry is only the first of many surprises lying in wait for the detective. Hardly a conniving criminal, Claire Clairmont is in fact the stepsister of Mary Shelley, and their tortured history of jealousy, obsession, and dark deceit looms large over the affair Maddox must untangle. So, too, does the shadow of the brilliant, eccentric Percy Shelley, who found no rest from the private demons that pursued him. With each new detail unearthed, the investigation grows ever more disturbing. And when shocking evidence of foul play comes to light, Maddox's chilling hunt for the truth leads him into the blackest reaches of the soul.
 
Steeped in finely wrought Victorian atmosphere, and rife with eye-opening historical revelations, A Fatal Likeness carries the reader ever deeper into a darkly magnetic tale of love and madness as utterly harrowing and heartbreaking as it is undeniably human.

Praise for A Fatal Likeness
 
"[Shepherd] takes the familiar story of the Shelley family and fills in the holes in the historical record by turning it into a clever, imaginative and literate mystery."—Kirkus Reviews
 
"Unforgettably chilling, A Fatal Likeness will haunt you long after you finish the last page."—New York Times bestselling author Tasha Alexander
 
"Maddox's brooding character and Shepherd's own voice . . . are both enthralling."—Booklist
 
"Charged with passion, betrayals and conspiracies, [A Fatal Likeness] more than restores Shelley's darker side, yet it is Mary you won't be able to forget."—Bloomberg

"Shepherd shines again in this superb Victorian thriller. . . . The novel works equally as a family story, a blend of horror and mystery, and a plausible hypothesis about why so many women and children associated with Shelley died mysterious deaths."—Publishers Weekly (starred review)

"As a piece of literary detective work, it's stimulating and hugely fun—even brilliant."—The Spectator
 
"A potent mixture of passion, intrigue, perversion, and betrayal, exploring the lives of Shelley, Byron, and their Romantic intimates through a Gothic lens."—Lyndsay Faye, author of The Gods of Gotham
About the Author
Lynn Shepherd is the author of the award-winning "Murder at Mansfield Park" and "The Solitary House." She studied English at Oxford and was a professional copywriter for more than a decade. She is currently at work on her next novel of historical suspense, "Darkness Visible, "which Delacorte will publish in 2014.
Praise For A Fatal Likeness…
"[Lynn Shepherd] takes the familiar story of the Shelley family and fills in the holes in the historical record by turning it into a clever, imaginative and literate mystery."—Kirkus Reviews
 
"Unforgettably chilling, A Fatal Likeness will haunt you long after you finish the last page."—New York Times bestselling author Tasha Alexander
 
"Maddox's brooding character and Shepherd's own voice . . . are both enthralling."—Booklist
 
"Charged with passion, betrayals and conspiracies, [A Fatal Likeness] more than restores Shelley's darker side, yet it is Mary you won't be able to forget."—Bloomberg

"Shepherd shines again in this superb Victorian thriller. . . . The novel works equally as a family story, a blend of horror and mystery, and a plausible hypothesis about why so many women and children associated with Shelley died mysterious deaths."—Publishers Weekly (starred review)

"As a piece of literary detective work, it's stimulating and hugely fun—even brilliant."—The Spectator
 
"A potent mixture of passion, intrigue, perversion, and betrayal, exploring the lives of Shelley, Byron, and their Romantic intimates through a Gothic lens."—Lyndsay Faye, author of The Gods of Gotham
 
"A wonderfully ingenious novel: perceptive, gripping, and fascinating."—Miranda Seymour, author of Mary Shelley
 
"Shepherd sets a new standard of brilliance in historical fiction with A Fatal Likeness. Her summoning of dead souls—Mary Shelley, Lord Byron, and their most intimate circle—is so psychologically penetrating, it feels like truth. Exquisitely rendered in Shepherd's pitch-perfect prose, this tale will haunt the reader long after its close."—Stephanie Barron, author of Jane and the Canterbury Tale
 
"A literary thriller that weaves back and forth in time and gives some plausible answers to certain genuine biographical mysteries . . . [The novel's] conclusion has haunted me ever since I finished the book. But if you want to know what it is, you'll have to read it yourself."—The Independent
 
"Polished, smart, and fun, A Fatal Likeness is a gothic mystery that goes down swift and smooth, though there's also the satisfyingly imaginative 'what if?' speculation for fans of the sexiest Romantics."—Andrew Pyper, author of The Demonologist
Book Videos
or
Not Currently Available for Direct Purchase