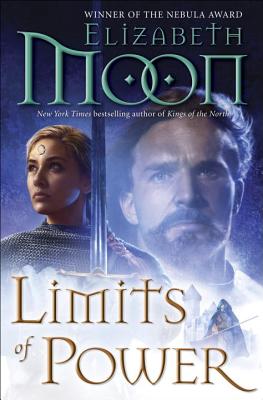 Limits of Power (Hardcover)
Del Rey Books, 9780345533067, 492pp.
Publication Date: June 11, 2013
Other Editions of This Title:
Mass Market (4/29/2014)
MP3 CD (4/15/2014)
Compact Disc (4/29/2014)
MP3 CD (6/11/2013)
Compact Disc (6/11/2013)
MP3 CD (6/11/2013)
Compact Disc (6/11/2013)
* Individual store prices may vary.
Description
Elizabeth Moon is back with the fourth adventure in her bestselling fantasy epic. Moon brilliantly weaves a colorful tapestry of action, betrayal, love, and magic set in a richly imagined world that stands alongside those of such fantasy masters as George R. R. Martin and Robin Hobb.
 
The unthinkable has occurred in the kingdom of Lyonya. The queen of the Elves—known as the Lady—is dead, murdered by former elves twisted by dark powers. Now the Lady's half-elven grandson must heal the mistrust between elf and human before their enemies strike again. Yet as he struggles to make ready for an attack, an even greater threat looms across the Eight Kingdoms.
 
Throughout the north, magic is reappearing after centuries of absence, emerging without warning in family after family—rich and poor alike. In some areas, the religious strictures against magery remain in place, and fanatical followers are stamping out magery by killing whoever displays the merest sign of it—even children. And as unrest spreads, one very determined traitor works to undo any effort at peace—no matter how many lives it costs. With the future hanging in the balance, it is only the dedication of a few resolute heroes who can turn the tides . . . if they can survive.

Praise for Limits of Power
 
"It's easy to become fully immersed in, and absorbed by, the narrative: [Moon's] great strength lies in the patient accumulation of telling detail, yielding an extraordinarily rich picture of the world's politics, philosophy, military structure, history, magic and alien cultures, where men and women stand as equals even in force of arms."—Kirkus Reviews
 
"Thoughtful and deeply character driven, full of personal crises as heartbreaking and hopeful as any dramatic invasion . . . Moon deftly avoids big literary explosions, preferring instead a slow boil that builds pressure without relief. There are plots within plots, but the complex story is never confusing. Fantasy fans will be delighted by this impressive foray."—Publishers Weekly (starred review)

Praise for Elizabeth Moon
 
"This is an excellent series, and Echoes of Betrayal is particularly well done. [Elizabeth Moon is a] consistently entertaining writer, and this book lives up to her standards."—San Jose Mercury News
 
"Moon's characters navigate an intricate maze of alliances and rivalries. . . . Close attention to military detail gives the action convincing intensity."—The Star-Ledger, on Kings of the North
 
"A triumphant return to the fantasy world she created . . . No one writes fantasy quite like Moon."—The Miami Herald, on Oath of Fealty
About the Author
Former Marine Elizabeth Moon is the author of many novels, including "Echoes of Betrayal, Kings of the North, Oath of Fealty, "the Deed of Paksenarrion trilogy, "Victory Conditions, Command Decision, Engaging the Enemy, Marque and Reprisal, Trading in Danger, "the Nebula Award winner "The Speed of Dark, "and "Remnant Population, "a Hugo Award finalist. After earning a degree in history from Rice University, Moon went on to obtain a degree in biology from the University of Texas, Austin. She lives in Florence, Texas.
Praise For Limits of Power…
Praise for Limits of Power
 
"It's easy to become fully immersed in, and absorbed by, the narrative: [Elizabeth Moon's] great strength lies in the patient accumulation of telling detail, yielding an extraordinarily rich picture of the world's politics, philosophy, military structure, history, magic and alien cultures, where men and women stand as equals even in force of arms."—Kirkus Reviews
 
"Thoughtful and deeply character driven, full of personal crises as heartbreaking and hopeful as any dramatic invasion . . . Moon deftly avoids big literary explosions, preferring instead a slow boil that builds pressure without relief. There are plots within plots, but the complex story is never confusing. Fantasy fans will be delighted by this impressive foray."—Publishers Weekly (starred review)
 
Praise for Elizabeth Moon
 
"This is an excellent series, and Echoes of Betrayal is particularly well done. [Elizabeth Moon is a] consistently entertaining writer, and this book lives up to her standards."—San Jose Mercury News
 
"Moon's characters navigate an intricate maze of alliances and rivalries. . . . Close attention to military detail gives the action convincing intensity."—The Star-Ledger, on Kings of the North
 
"A triumphant return to the fantasy world she created . . . No one writes fantasy quite like Moon."—The Miami Herald, on Oath of Fealty
or
Not Currently Available for Direct Purchase