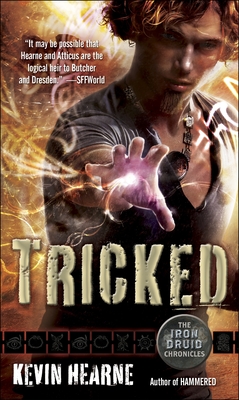 Tricked (Mass Market Paperbound)
Del Rey Books, 9780345533623, 352pp.
Publication Date: April 24, 2012
Description
Druid Atticus O'Sullivan hasn't stayed alive for more than two millennia without a fair bit of Celtic cunning. So when vengeful thunder gods come Norse by Southwest looking for payback, Atticus, with a little help from the Navajo trickster god Coyote, lets them think that they've chopped up his body in the Arizona desert. But the mischievous Coyote is not above a little sleight of paw, and Atticus soon finds that he's been duped into battling bloodthirsty desert shapeshifters called skinwalkers. Just when the Druid thinks he's got a handle on all the duplicity, betrayal comes from an unlikely source. If Atticus survives this time, he vows he won't be fooled again. Famous last words. Don't miss any of Kevin Hearne's phenomenal Iron Druid Chronicles novels:
HOUNDED - HEXED - HAMMERED - TRICKED - TRAPPED - HUNTED - SHATTERED - STAKED
About the Author
Kevin Hearne lives with his wife, son, and doggies in Colorado. He hugs trees and rocks out to heavy metal and will happily geek out over comics with you. He also thinks tacos are a pretty nifty idea.
Praise For Tricked…
"[Kevin] Hearne is a terrific storyteller with a great snarky wit. . . . Neil Gaiman's American Gods meets Jim Butcher's Harry Dresden."—SFF World, on Hounded


"[Atticus is] a strong modern hero with a long history and the wit to survive in the twenty-first century. . . . A snappy narrative voice . . . a savvy urban fantasy adventure."—Library Journal, on Hounded
Advertisement