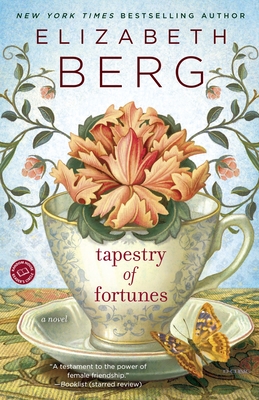 Tapestry of Fortunes (Paperback)
A Novel
Ballantine Books, 9780345533791, 240pp.
Publication Date: April 8, 2014
Other Editions of This Title:
Digital Audiobook (4/8/2013)
Compact Disc (6/8/2006)
Hardcover (4/9/2013)
Paperback, Large Print (4/9/2013)
* Individual store prices may vary.
Description
NEW YORK TIMES BESTSELLER

In this superb new novel by the beloved author of Open House, Home Safe, and The Last Time I Saw You, four women venture into their pasts in order to shape their futures, fates, and fortunes.
 
Cecilia Ross is a motivational speaker who encourages others to change their lives for the better. Why can't she take her own advice? Still reeling from the death of her best friend, and freshly aware of the need to live more fully now, Cece realizes that she has to make a move—all the portentous signs seem to point in that direction.
 
She downsizes her life, sells her suburban Minnesota home and lets go of many of her possessions. She moves into a beautiful old house in Saint Paul, complete with a garden, chef's kitchen, and three housemates: Lise, the home's owner and a divorced mother at odds with her twenty-year-old daughter; Joni, a top-notch sous chef at a first-rate restaurant with a grade A jerk of a boss; and Renie, the youngest and most mercurial of the group, who is trying to rectify a teenage mistake. These women embark on a journey together in an attempt to connect with parts of themselves long denied. For Cece, that means finding Dennis Halsinger. Despite being "the one who got away," Dennis has never been far from Cece's thoughts.
 
In this beautifully written novel, leaving home brings revelations, reunions, and unexpected turns that affirm the inner truths of women's lives. "Maybe Freud didn't know the answer to what women want, but Elizabeth Berg certainly does," said USA Today. Elizabeth Berg has crafted a novel rich in understanding of women's longings, loves, and abiding friendships, which weave together into a tapestry of fortunes that connects us all.

Look for special features inside. Join the Random House Reader's Circle for author chats and more.

Praise for Tapestry of Fortunes
 
"A testament to the power of female friendships . . . Berg strips her writing down to what is essential and takes an unflinching look at lifelong regrets. The characters . . . will settle in your heart."—Booklist (starred review)
 
"Elizabeth Berg has carved out a place as one of America's most beloved chroniclers of female friendship."—Chicago Tribune
 
"Luminous . . . As always, her writing is spare and lyrical, filled with . . . elegant description and profound insight."—Library Journal
 
"An incredibly uplifting and life-affirming story . . . Berg explores the themes of change and personal reinvention with exquisite phrasing, sharply-focused attention to detail, and boundless joy and heart."—Bookreporter

Praise for Elizabeth Berg
 
"Truth rings forth clearly from every page. [Elizabeth] Berg captures the way women think—and especially the way they talk to other women—as well as any writer I can think of."—The Charlotte Observer, about Talk Before Sleep
 
"Elizabeth Berg's gift as a storyteller lies most powerfully in her ability to find the extraordinary in the ordinary, the remarkable in the everyday."—The Boston Globe
 
"Berg's writing is to literature what Chopin's études are to music—measured, delicate, and impossible to walk away from until their completion. [Grade:] A+."—Entertainment Weekly
About the Author
Elizabeth Berg is the author of many bestselling novels, including The Last Time I Saw You, Home Safe, The Year of Pleasures, and Dream When You're Feeling Blue, as well as two collections of short stories and two works of nonfiction. Open House was an Oprah's Book Club selection, Durable Goods and Joy School were selected as ALA Best Books of the Year, Talk Before Sleep was short-listed for an Abby Award, and The Pull of the Moon was adapted into a play. Berg has been honored by both the Boston Public Library and the Chicago Public Library and is a popular speaker at venues around the country. Her work has been translated into twenty-seven languages. She lives near Chicago.
Praise For Tapestry of Fortunes: A Novel…
Praise for Tapestry of Fortunes
 
"A testament to the power of female friendships . . . Berg strips her writing down to what is essential and takes an unflinching look at lifelong regrets. The characters . . . will settle in your heart."—Booklist (starred review)
 
"Elizabeth Berg has carved out a place as one of America's most beloved chroniclers of female friendship."—Chicago Tribune
 
"Luminous . . . As always, her writing is spare and lyrical, filled with . . . elegant description and profound insight."—Library Journal
 
"An incredibly uplifting and life-affirming story . . . Berg explores the themes of change and personal reinvention with exquisite phrasing, sharply-focused attention to detail, and boundless joy and heart."—Bookreporter

Praise for Elizabeth Berg

"Truth rings forth clearly from every page. [Elizabeth] Berg captures the way women think—and especially the way they talk to other women—as well as any writer I can think of."—The Charlotte Observer, about Talk Before Sleep

"Elizabeth Berg's gift as a storyteller lies most powerfully in her ability to find the extraordinary in the ordinary, the remarkable in the everyday."—The Boston Globe

"Berg's writing is to literature what Chopin's études are to music—measured, delicate, and impossible to walk away from until their completion. [Grade:] A+."—Entertainment Weekly

"A writer whose luminous prose is likely to stay with you a long, long time."—Chicago Tribune

"Berg could be creating a new genre. . . . [She] is especially wonderful at depicting the small revealing moments of women's friendships, the offhand sharing of secrets in the grocery store."—Kirkus Reviews

"Berg's impeccable prose gives voice to that element in our psyche that enables us to cope with the impossible. . . . Berg writes on a higher plane."—Booklist

"One of the most life-affirming writers around."—The Miami Herald

"Berg has a gift for capturing the small, often sweet details of ordinary life."—Newsday