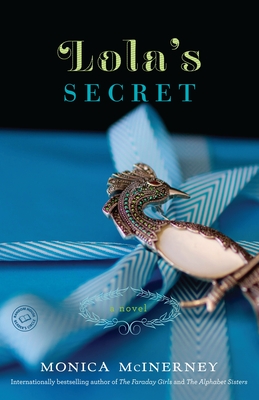 Lola's Secret (Paperback)
A Novel
Ballantine Books, 9780345534033, 352pp.
Publication Date: October 16, 2012
Other Editions of This Title:
MP3 CD (12/1/2015)
Compact Disc (10/16/2012)
Compact Disc (10/16/2012)
Compact Disc (2/22/2012)
MP3 CD (10/16/2012)
MP3 CD (10/16/2012)
* Individual store prices may vary.
Description
Praised as "Australia's answer to Maeve Binchy, a modern-day Jane Austen" (The Sun Herald, Australia), Monica McInerney, internationally bestselling author of The Alphabet Sisters, returns with a poignant novel of love, loss, and the enduring strength of family ties.
 
Nestled in a picturesque corner of southern Australia, the Valley View Motel has been run by the Quinlans for years—and nobody adores the place more than Lola, the family's lovable and mischievous Irish-born matriarch. So when she insists that her relatives spend their Christmas elsewhere, the close-knit bunch can't help but be a bit curious. Lola has always had a knack for clever schemes; after all, she once slyly reunited her three feuding granddaughters, whom she nicknamed the Alphabet Sisters. And with the holiday season fast approaching, Lola decides it's time to stir up some extra excitement.
 
Plotting in secret and online, Lola thinks it would be fun to invite a select group of strangers to stay at the motel for Christmas. Will these guests become friends, ignite sparks, fall in love? As she counts down the days until their arrival, Lola's own family dramas threaten to upend her best-laid plans. Yet amid moments of humor, heartache, and unexpected twists of fate, Lola finds that she's the one who's in for the biggest surprise of all.
 
"[Monica] McInerney's assured writing sparkles. . . . When you reach the end, [Lola's Secret] will leave you feeling like you've been given a huge, warm hug."—Hello! magazine
 
"A delicate treat . . . a lovely, gentle story of a family, a Christmas, love and different kinds of adventure."—The Courier-Mail (Australia)
 
"Exploring universal family issues of loss, rivalry, aging and grief, [Lola's Secret] is a warm, witty and moving novel."—Woman's Day (Australia)
 
Look for special features inside. Join the Circle for author chats and more.
About the Author
Monica McInerney grew up in a family of seven children in the Clare Valley of South Australia, where her father was the railway stationmaster. She is the author of the internationally bestselling novels The Alphabet Sisters, Family Baggage, The Faraday Girls, Upside Down Inside Out, Greetings from Somewhere Else, At Home with the Templetons, and Lola's Secret. She now lives in Dublin with her husband.
Praise For Lola's Secret: A Novel…
Advance Praise for Monica McInerney's Lola's Secret:

"Bestselling author Monica McInerney once again charms readers with her character-driven plots and picture-perfect settings....McInerney's optimistic tone is ultimately uplifting and hopeful."--The Fredericksburg Free Lance-Star

"McInerney brings a light touch and plenty of humor to her on-the-nose depiction of the characters… Lola, and the novel, cheerily salute the extraordinary in the ordinary and the connections of family and friends."--Booklist

"This delightful novel takes up the story of the Quinlan family from The Alphabet Sisters. Four years on, 84-year-old matriarch Lola is gathering mystery guests to a motel for Christmas Day.  Exploring universal family issues of loss, rivalry, ageing and grief, this is a warm, witty and moving novel."--Woman's Day, Australia

"This is a charming, witty novel in which Monica's assured writing sparkles and which, when you reach the end, will leave you feeling like you've been given a huge, warm hug."  -–Hello Magazine

"Lola Quinlan must be the grooviest granny ever to strut through fiction.  She dresses like a movie star punk rocker, she's audacious, and she's 84.  …Mixes debate about ageing, childrearing, community and mental illness into a delicious and at times surprising Christmas cake.  Purely for fun."—Sunday Mail Brisbane Book of the Week (Australia)

"The book is hugely entertaining but also reminds us of the importance of thinking of others as McInerney draws a beautiful and very convincing portrait of the characters either depleted by the demands of modern life, desperately lonely or in need. …McInerney is the mistress of the plot and weaves about five into this fine, textured read." -–Sunday Tasmanian (Australia)
 
"Lola's Secret is a lovely, gentle story of a family, a Christmas, love and different kinds of adventure."—Brisbane Courier Mail (Australia)
 
"A moving and mostly gentle tale about age, family, love, loss and secrets... As each strand of the story is secured and resolved, the message is about the priority of family and the power of love...In Lola's Secret, as in her other novels, McInerney's aim is unerringly true."--Weekend Gold Coast Bulletin (Australia)
 
"McInerney's cast of a thousand chatty voices is etched effortlessly and resonantly by the end of chapter two and has been described as "comfort reading" and "warm buttered toast". Except McInerney's protagonist is no pushover and there are no honey-dripped endings. This is full of grains of truth: it is never too late to live, but you are never too old to learn."--Australian Women's Weekly
 
"Monica McInerney published her popular novel The Alphabet Sisters in 2004 and in Lola's Secret she revives one of the most interesting central characters –the eccentric grandmother Lola. …McInerney also humorously explores the stereotype of senior citizens as technophobes and luddites." --Bookseller & Publisher (Australia)
 
"Once again McInerney delivers well-written dialogue and a refreshing storyline which is what we have come to expect from this talented teller of tales."—Launceston Examiner (Australia)
 
"McInerney's writing is always so easy to read.  It has a beautiful flow that's soothing regardless of her topic… [Lola's Secret is) a comforting tale that focuses on the themes of love, friendship and family." -–Mindfood (Australia)
 
 "McInerney has created an unlikely but charming heroine in Lola so that you have to discover how it all works out.  In a word: Charming."—Townesville Bulletin (Australia)
or
Not Currently Available for Direct Purchase