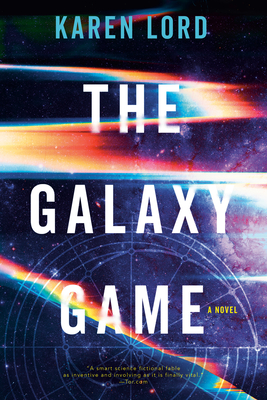 The Galaxy Game (Paperback)
A Novel
Del Rey, 9780345534071, 336pp.
Publication Date: January 6, 2015
Other Editions of This Title:
MP3 CD (5/10/2016)
* Individual store prices may vary.
Description
NAMED ONE OF THE BEST BOOKS OF THE YEAR BY NPR • Karen Lord is one of today's most brilliant young talents. Her science fiction, like that of predecessors Ursula K. Le Guin and China Miéville, combines star-spanning plots, deeply felt characters, and incisive social commentary. With The Galaxy Game, Lord presents a gripping adventure that showcases her dazzling imagination as never before.
 
On the verge of adulthood, Rafi attends the Lyceum, a school for the psionically gifted. Rafi possesses mental abilities that might benefit people . . . or control them. Some wish to help Rafi wield his powers responsibly; others see him as a threat to be contained. Rafi's only freedom at the Lyceum is Wallrunning: a game of speed and agility played on vast vertical surfaces riddled with variable gravity fields.
 
Serendipity and Ntenman are also students at the Lyceum, but unlike Rafi they come from communities where such abilities are valued. Serendipity finds the Lyceum as much a prison as a school, and she yearns for a meaningful life beyond its gates. Ntenman, with his quick tongue, quicker mind, and a willingness to bend if not break the rules, has no problem fitting in. But he too has his reasons for wanting to escape.
 
Now the three friends are about to experience a moment of violent change as seething tensions between rival star-faring civilizations come to a head. For Serendipity, it will challenge her ideas of community and self. For Ntenman, it will open new opportunities and new dangers. And for Rafi, given a chance to train with some of the best Wallrunners in the galaxy, it will lead to the discovery that there is more to Wallrunning than he ever suspected . . . and more to himself than he ever dreamed.

Praise for The Galaxy Game
 
"There is a weight and grace to [Lord's] prose that put me in mind of pewter jewelry."—NPR
 
"This novel is a satisfying exercise in being off-balance, a visceral lesson in how to fall forward and catch yourself in an amazing new place."—The Seattle Times
 
"A smart science fictional fable as inventive and involving as it is finally vital."—Tordotcom
About the Author
Karen Lord has been a physics teacher, a diplomat, a part-time soldier, and an academic at various times and in various countries. She is now a writer and research consultant in Barbados. Her debut novel, Redemption in Indigo, won the Frank Collymore Literary Award, the William L. Crawford Award, and the Mythopoeic Fantasy Award for Adult Literature, and was nominated for the 2011 World Fantasy Award for Best Novel.
Praise For The Galaxy Game: A Novel…
Praise for The Galaxy Game
 
"There is a weight and grace to [Karen Lord's] prose that put me in mind of pewter jewelry."—NPR
 
"This novel is a satisfying exercise in being off-balance, a visceral lesson in how to fall forward and catch yourself in an amazing new place."—The Seattle Times
 
"A smart science fictional fable as inventive and involving as it is finally vital."—Tordotcom