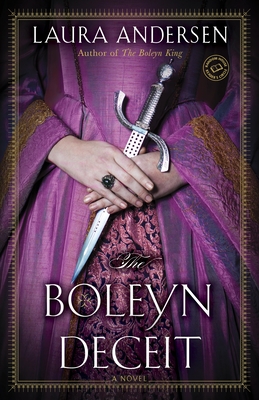 The Boleyn Deceit (Paperback)
A Novel (The Boleyn Trilogy #2)
Ballantine Books, 9780345534118, 416pp.
Publication Date: November 5, 2013
* Individual store prices may vary.
Description
Perfect for fans of Philippa Gregory, Alison Weir, and Showtime's The Tudors, The Boleyn Deceit is the captivating new novel set in the imagined Tudor court of King Henry IX, son of Henry VIII and Anne Boleyn, who must navigate a terrain rife with palace intrigue, impending war, and unbridled passions.
 
The regency period is over and William Tudor, now King Henry IX, sits alone on the throne. But England must still contend with those who doubt his legitimacy, both in faraway lands and within his own family. To diffuse tensions and appease the Catholics, William is betrothed to a young princess from France, but still he has eyes for only his childhood friend Minuette, and court tongues are wagging. 
 
Even more scandalous—and dangerous, if discovered—is that Minuette's heart and soul belong to Dominic, William's best friend and trusted advisor. Minuette must walk a delicate balance between her two suitors, unable to confide in anyone, not even her friend Elizabeth, William's sister, who must contend with her own cleaved heart. In this irresistible tale, the secrets that everyone keeps are enough to change the course of an empire.

Includes a preview of Laura Andersen's The Boleyn Reckoning
 
Praise for The Boleyn Deceit
 
"Detailed and quick-paced, [The Boleyn Deceit] will have series fans devouring it and emerging eager for the last book. An excellent recommendation for Phillippa Gregory fans."—Booklist (starred review)
 
"This entertaining work of alternative history offers plenty to savor for both fans of historical romance and those whose passion is political intrigue. . . . Perfect for fans of Philippa Gregory and Alison Weir, Andersen's novel admirably takes artistic license with history while remaining true to many aspects of real-world history. . . . [Foreshadows] a mesmerizing conclusion to the trilogy."—Publishers Weekly
 
"An intriguing re-imagining of Tudor England and the treacheries of court life."—Kirkus Reviews
 
Praise for Laura Andersen's The Boleyn King
 
"A sumptuous, vividly imagined novel of a Boleyn king's fateful rise to power amid the treacherous glamour of the Tudor court."—C. W. Gortner, author of The Queen's Vow
 
"Fans of both Stephenie Meyer and Philippa Gregory will find much to love in this evocative and well-written debut."—Francine Mathews, author of Jack 1939
 
Look for special features inside. Join the Random House Reader's Circle for author chats and more.
About the Author
Laura Andersen is married with four children, and possesses a constant sense of having forgotten something important. She has a BA in English (with an emphasis in British history), which she puts to use by reading everything she can lay her hands on.
Praise For The Boleyn Deceit: A Novel (The Boleyn Trilogy #2)…
Praise for The Boleyn Deceit
 
"Detailed and quick-paced, [The Boleyn Deceit] will have series fans devouring it and emerging eager for the last book. An excellent recommendation for Phillippa Gregory fans."—Booklist (starred review)
 
"This entertaining work of alternative history offers plenty to savor for both fans of historical romance and those whose passion is political intrigue. . . . Perfect for fans of Philippa Gregory and Alison Weir, Andersen's novel admirably takes artistic license with history while remaining true to many aspects of real-world history. . . . [Foreshadows] a mesmerizing conclusion to the trilogy."—Publishers Weekly
 
"An intriguing re-imagining of Tudor England and the treacheries of court life."—Kirkus Reviews

Praise for Laura Andersen's The Boleyn King
 
"A sumptuous, vividly imagined novel of a Boleyn king's fateful rise to power amid the treacherous glamour of the Tudor court."—C. W. Gortner, author of The Queen's Vow
 
"Fans of both Stephenie Meyer and Philippa Gregory will find much to love in this evocative and well-written debut."—Francine Mathews, author of Jack 1939