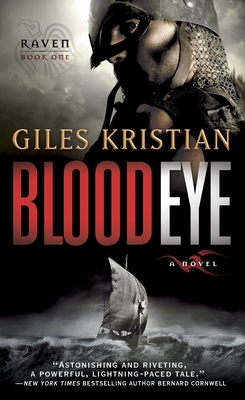 Blood Eye (Mass Market Paperbound)
Bantam, 9780345535078, 429pp.
Publication Date: August 28, 2012
Description
In a thrilling adventure of brotherhood, warfare, and treachery, Giles Kristian takes us into ninth-century England, a world of darkness, epic conflict, and an unforgiving God served by powerful priests. On ships shaped like dragons, bristling with oars and armor, Jarl Sigurd and his fierce Norsemen have come in search of riches. And riches they are promised, by an English ruler who sends Sigurd and his wolves to steal a holy manuscript from another kingdom. Osric, an orphan boy, sees beyond the terror of these warriors, and somehow knows the heathens' tongue. Renamed Raven, rechristened in blood, he will join them. They are his people. And they will be his fate.
"Astonishing and riveting, a powerful, lightning-paced tale."--New York Times bestselling author Bernard Cornwell

"A gripping tale that splendidly conjures up the sounds, sights and smells of Dark Age Britain."--Harry Sidebottom, author of the Warriors of Rome series

" Kristian] compares favorably with writers like Bernard Cornwell and Conn Iggulden."--Historical Novels Review

"A rip-roaring Viking saga . . . fine, powerful, thrilling stuff."--Manda Scott, author of The Crystal Skull
About the Author
Having Viking ancestors himself, Giles Kristian believes that the story of Raven has always been in his blood--waiting, like the Norsemen, for the right time to burst upon the world. The Raven series has been published to great acclaim by Transworld in the UK. Giles Kristian currently lives in Leicestershire, where he writes full-time, though he enjoys nothing better than working in his family cottage that overlooks the mist-shrouded Norwegian fjords.
Praise For Blood Eye…
"A powerful, lightning-paced tale of the Norsemen in England; an astonishing and riveting debut."
— Bernard Cornwell
Advertisement