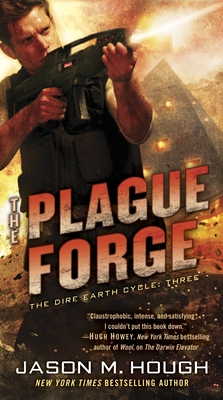 The Plague Forge (Paperback)
The Dire Earth Cycle: Three
Del Rey, 9780345537164, 448pp.
Publication Date: September 24, 2013
Other Editions of This Title:
Digital Audiobook (9/23/2013)
* Individual store prices may vary.
Description
The Plague Forge delivers an unbeatable combination of knockout action and kick-ass characters as the secrets to the ultimate alien mystery from The Darwin Elevator and The Exodus Towers are about to be unraveled.
 
The hunt is on for the mysterious keys left by the alien Builders. While Skyler's team of immune scavengers scatters around the disease-ravaged globe in search of the artifacts, Skyler himself finds much more than he expected in the African desert, where he stumbles upon surprising Builder relics—and thousands of bloodthirsty subhumans. From the slums and fortresses of Darwin to the jungles of Brazil and beyond, Skyler and company are in for a wild ride, jam-packed with daunting challenges, run-and-gun adventure, and unexpected betrayals—all in a race against time to finally answer the great questions that have plagued humanity for decades: Who are the Builders, and what do they want with Earth?

Praise for The Darwin Elevator
 
"A hell of a fun book."—James S. A. Corey, New York Times bestselling author of Abaddon's Gate

"[Jason M.] Hough's first novel combines the rapid-fire action and memorable characters associated with Joss Whedon's short-lived Firefly TV series with the accessibility and scientific acumen of [James S. A.] Corey's 'Expanse' series."—Library Journal (starred review)
 
"The best part about alien stories is their mystery, and Jason Hough understands that like no other. Full of compelling characters and thick with tension, The Darwin Elevator delivers both despair and hope along with a gigantic dose of wonder. It's a brilliant debut, and Hough can take my money whenever he writes anything from now on."—Kevin Hearne, New York Times bestselling author of The Iron Druid Chronicles
 
"Newcomer Hough displays a talent for imaginative plotting and realistic dialogue, and the brisk pacing and cliffhanger ending will keep readers enthralled and eagerly awaiting the next installment."—Publishers Weekly
 
"Jason M. Hough does a great job with this huge story. The world of Darwin and the Elevator is deliciously complex and satisfying. Skyler, Tania, and all the other characters are delightfully drawn and fun to spend time with. . . . The story unfolds with just the right balance of high adventure, espionage, humor, and emotional truth. . . . As soon as you finish, you'll want more."—Analog
 
"A debut novel unlike any other . . . This is something special. Something iconic. The Darwin Elevator is full of majesty and wonder, mystery and mayhem, colorful characters and insidious schemes."—SF Signal
 
"Fun, action-packed and entertaining . . . a sure contender for science fiction debut of the year!"—Pat's Fantasy Hotlist
 
"Claustrophobic, intense, and satisfying . . . I couldn't put this book down. The Darwin Elevator depicts a terrifying world, suspends it from a delicate thread, and forces you to read with held breath as you anticipate the inevitable fall."—Hugh Howey, New York Times bestselling author of Wool
About the Author
Jason M. Hough was born in Illinois but grew up on the mean streets of suburban San Diego, California. In 1978, at age six, his parents took him to see Star Wars, and so began a lifelong love of sci-fi and all things geek. He later worked for a decade in the videogame industry as both a 3D artist and a game designer. Today he lives in Seattle with his wife and two young sons. When not writing, Hough enjoys building LEGO spaceships with his boys and other similarly grown-up pursuits.
Praise For The Plague Forge: The Dire Earth Cycle: Three…
Praise for The Darwin Elevator
 
"A hell of a fun book."—James S. A. Corey, New York Times bestselling author of Abaddon's Gate

"[Jason M.] Hough's first novel combines the rapid-fire action and memorable characters associated with Joss Whedon's short-lived Firefly TV series with the accessibility and scientific acumen of [James S. A.] Corey's 'Expanse' series."—Library Journal (starred review)
 
"The best part about alien stories is their mystery, and Jason Hough understands that like no other. Full of compelling characters and thick with tension, The Darwin Elevator delivers both despair and hope along with a gigantic dose of wonder. It's a brilliant debut, and Hough can take my money whenever he writes anything from now on."—Kevin Hearne, New York Times bestselling author of The Iron Druid Chronicles
 
"Newcomer Hough displays a talent for imaginative plotting and realistic dialogue, and the brisk pacing and cliffhanger ending will keep readers enthralled and eagerly awaiting the next installment."—Publishers Weekly
 
"Jason M. Hough does a great job with this huge story. The world of Darwin and the Elevator is deliciously complex and satisfying. Skyler, Tania, and all the other characters are delightfully drawn and fun to spend time with. . . . The story unfolds with just the right balance of high adventure, espionage, humor, and emotional truth. . . . As soon as you finish, you'll want more."—Analog
 
"A debut novel unlike any other . . . This is something special. Something iconic. The Darwin Elevator is full of majesty and wonder, mystery and mayhem, colorful characters and insidious schemes."—SF Signal
 
"Fun, action-packed and entertaining . . . a sure contender for science fiction debut of the year!"—Pat's Fantasy Hotlist
 
"Claustrophobic, intense, and satisfying . . . I couldn't put this book down. The Darwin Elevator depicts a terrifying world, suspends it from a delicate thread, and forces you to read with held breath as you anticipate the inevitable fall."—Hugh Howey, New York Times bestselling author of Wool
 
"Hough writes with irresistible energy and gritty realism. His puts his characters through hell, blending a convincing plot with heart-stopping action and moments of raw terror as the world goes crazy in the shadow of unfathomable alien intentions."—Sara Creasy, author of the Philip K. Dick Award–nominated Song of Scarabaeus
 
"A thrilling story right from the first page . . . This book plugs straight into the fight-or-flight part of your brain."—Ted Kosmatka, author of The Games
 
"If you enjoy high adventure with a kick-ass crew, I suggest you take Hough's Darwin Elevator for a ride."—Warren Hammond, author of KOP Killer
or
Not Currently Available for Direct Purchase