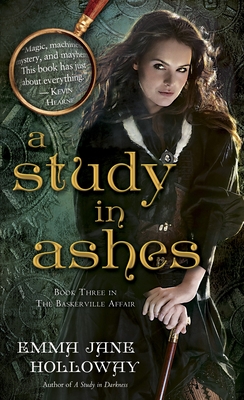 A Study in Ashes (Mass Market)
Book Three in The Baskerville Affair
Del Rey, 9780345537201, 672pp.
Publication Date: December 31, 2013
* Individual store prices may vary.
Description
As part of her devil's bargain with the industrial steam barons, Evelina Cooper is finally enrolled in the Ladies' College of London. However, she's attending as the Gold King's pet magician, handcuffed and forbidden contact with even her closest relation, the detective Sherlock Holmes.
 
But Evelina's problems are only part of a larger war. The Baskerville affair is finally coming to light, and the rebels are making their move to wrest power from the barons and restore it to Queen Victoria. Missing heirs and nightmare hounds are the order of the day—or at least that's what Dr. Watson is telling the press.
 
But their plans are doomed unless Evelina escapes to unite her magic with the rebels' machines—and even then her powers aren't what they used to be. A sorcerer has awakened a dark hunger in Evelina's soul, and only he can keep her from endangering them all. The only problem is . . . he's dead.

Praise for A Study in Ashes
 
"Holloway's skill for creating a richly imagined, immersive world shines."—RT Book Reviews
 
"A Study in Ashes overflows with Holloway's signature humor and apparently boundless imagination."—Booktalk & More
 
"The best book of the series . . . absolutely wonderful . . . I really can't recommend it highly enough."—Hidden in Pages
 
"Brilliantly executed . . . my favorite book of 2013 . . . what a stunning conclusion to such a phenomenal series!"—Fresh Fiction
 
"Even grander than the books before it with its drama, adventure, intrigue, romance, paranormal, gadgetry and just exciting twistiness to its storyline."—Delighted Reader

Praise for Emma Jane Holloway's A Study in Silks
 
"This book has just about everything: magic, machines, mystery, mayhem, and all the danger one expects when people's loves and fears collide. I can't wait to return to the world of Evelina Cooper!"—Kevin Hearne, New York Times bestselling author of The Iron Druid Chronicles
 
"As Sherlock Holmes's niece, investigating murder while navigating the complicated shoals of Society—and romance—in an alternate Victorian England, Evelina Cooper is a charming addition to the canon."—Jacqueline Carey, New York Times bestselling author of the Kushiel's Legacy series
 
"Holloway takes us for quite a ride, as her plot snakes through an alternate Victorian England full of intrigue, romance, murder, and tiny sandwiches. Full of both thrills and frills."—Nicole Peeler, author of the Jane True series
 
"A Study in Silks is a charming, adventurous ride with a heroine who is both clever and talented. The brushes with the Sherlock Holmes mythos only add to the fun of this tale, and readers are bound to fall in love with Evelina and the London she inhabits."—Philippa Ballantine, author of Geist
 
"Holloway's clever writing, attention to detail, and sublime characters forge a fascinating world that combines brass-plated steampunk technology with magic."—Susan Griffith, author of the Vampire Empire series
About the Author
Ever since childhood, Emma Jane Holloway refused to accept that history was nothing but facts imprisoned behind the closed door of time. Why waste a perfectly good playground coloring within the time lines? Accordingly, her novels are filled with whimsical impossibilities and the occasional eye-blinking impertinence—but always in the service of grand adventure.
 
An award-winning author of both historical and urban-fantasy romance, Holloway has an honors degree in English literature. Writing as Sharon Ashwood, she won the RITA award for paranormal romance for the third book of her Dark Forgotten series. She lives in the Pacific Northwest and is owned by the Demon Lord of Kitty Badness.
Praise For A Study in Ashes: Book Three in The Baskerville Affair…
Praise for A Study in Ashes
 
"Holloway's skill for creating a richly imagined, immersive world shines."—RT Book Reviews
 
"A Study in Ashes overflows with Holloway's signature humor and apparently boundless imagination."—Booktalk & More
 
"The best book of the series . . . absolutely wonderful . . . I really can't recommend it highly enough."—Hidden in Pages
 
"Brilliantly executed . . . my favorite book of 2013 . . . what a stunning conclusion to such a phenomenal series!"—Fresh Fiction
 
"Even grander than the books before it with its drama, adventure, intrigue, romance, paranormal, gadgetry and just exciting twistiness to its storyline."—Delighted Reader

Praise for Emma Jane Holloway's A Study in Silks
 
"This book has just about everything: magic, machines, mystery, mayhem, and all the danger one expects when people's loves and fears collide. I can't wait to return to the world of Evelina Cooper!"—Kevin Hearne, New York Times bestselling author of The Iron Druid Chronicles
 
"As Sherlock Holmes's niece, investigating murder while navigating the complicated shoals of Society—and romance—in an alternate Victorian England, Evelina Cooper is a charming addition to the canon."—Jacqueline Carey, New York Times bestselling author of the Kushiel's Legacy series
 
"Holloway takes us for quite a ride, as her plot snakes through an alternate Victorian England full of intrigue, romance, murder, and tiny sandwiches. Full of both thrills and frills."—Nicole Peeler, author of the Jane True series
 
"A Study in Silks is a charming, adventurous ride with a heroine who is both clever and talented. The brushes with the Sherlock Holmes mythos only add to the fun of this tale, and readers are bound to fall in love with Evelina and the London she inhabits."—Philippa Ballantine, author of Geist
 
"In A Study in Silks, Emma Jane Holloway has created a wonderful reimagining of the Sherlock Holmes mythos set in a late-Victorian Britain ruled by nefarious industrial titans called steam barons. Holloway's clever writing, attention to detail, and sublime characters forge a fascinating world that combines brass-plated steampunk technology with magic. By turns a coming-of-age story, a gas-lamp thriller, and a whimsical magical fantasy, A Study in Silks is the premiere novel of an author to watch."—Susan Griffith, author of the Vampire Empire series
 
"Holloway stuffs her adventure with an abundance of characters and ideas and fills her heroine with talents and graces, all within a fun, brisk narrative."—Publishers Weekly
 
"Splendid . . . The characters are thoroughly charming and the worldbuilding is first-rate."—RT Book Reviews (four stars)
or
Not Currently Available for Direct Purchase