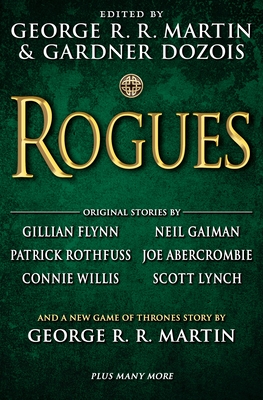 Rogues (Hardcover)
Bantam, 9780345537263, 832pp.
Publication Date: June 17, 2014
Description
NEW YORK TIMES BESTSELLER A thrilling collection of twenty-one original stories by an all-star list of contributors--including a new A Game of Thrones story by George R. R. Martin

If you're a fan of fiction that is more than just black and white, this latest story collection from #1 New York Times bestselling author George R. R. Martin and award-winning editor Gardner Dozois is filled with subtle shades of gray. Twenty-one all-original stories, by an all-star list of contributors, will delight and astonish you in equal measure with their cunning twists and dazzling reversals. And George R. R. Martin himself offers a brand-new A Game of Thrones tale chronicling one of the biggest rogues in the entire history of Ice and Fire. Follow along with the likes of Gillian Flynn, Joe Abercrombie, Neil Gaiman, Patrick Rothfuss, Scott Lynch, Cherie Priest, Garth Nix, and Connie Willis, as well as other masters of literary sleight-of-hand, in this rogues gallery of stories that will plunder your heart--and yet leave you all the richer for it. Featuring all-new stories by Joe Abercrombie - Daniel Abraham - David W. Ball - Paul Cornell - Bradley Denton - Phyllis Eisenstein - Gillian Flynn - Neil Gaiman - Matthew Hughes - Joe R. Lansdale - Scott Lynch - Garth Nix - Cherie Priest - Patrick Rothfuss - Steven Saylor - Michael Swanwick - Lisa Tuttle - Carrie Vaughn - Walter Jon Williams - Connie Willis And an Introduction by George R. R. Martin

Praise for Rogues

"Not a single bad story in the bunch . . . The table of contents alone will make fans from all genre aisles salivate."--Library Journal
About the Author
George R. R. Martin is the #1 New York Times bestselling author of many novels, including the acclaimed series A Song of Ice and Fire--A Game of Thrones, A Clash of Kings, A Storm of Swords, A Feast for Crows, and A Dance with Dragons--as well as Tuf Voyaging, Fevre Dream, The Armageddon Rag, Dying of the Light, Windhaven (with Lisa Tuttle), and Dreamsongs Volumes I and II. He is also the creator of The Lands of Ice and Fire, a collection of maps from A Song of Ice and Fire featuring original artwork from illustrator and cartographer Jonathan Roberts. As a writer-producer, Martin has worked on The Twilight Zone, Beauty and the Beast, and various feature films and pilots that were never made. He lives with the lovely Parris in Santa Fe, New Mexico. Gardner Dozois has won fifteen Hugo Awards and thirty-two Locus Awards for his editing work, plus two Nebula Awards for his own writing. He was the editor of Asimov's Science Fiction for twenty years, and is the author or editor of more than a hundred books, including many volumes of The Year's Best Science Fiction.
Advertisement