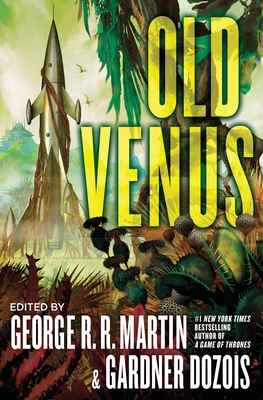 Old Venus
A Collection of Stories
Hardcover

* Individual store prices may vary.
Other Editions of This Title:
Digital Audiobook (3/2/2015)
Description
Sixteen all-new stories by science fiction's top talents, collected by bestselling author George R. R. Martin and multiple-award-winning editor Gardner Dozois
 
From pulp adventures such as Edgar Rice Burroughs's Carson of Venus to classic short stories such as Ray Bradbury's "The Long Rain" to visionary novels such as C. S. Lewis's Perelandra, the planet Venus has loomed almost as large in the imaginations of science fiction writers as Earth's next-nearest neighbor, Mars. But while the Red Planet conjured up in Golden Age science fiction stories was a place of vast deserts and ruined cities, bright blue Venus was its polar opposite: a steamy, swampy jungle world with strange creatures lurking amidst the dripping vegetation. Alas, just as the last century's space probes exploded our dreams of Mars, so, too, did they shatter our romantic visions of Venus, revealing, instead of a lush paradise, a hellish world inimical to all life.
 
But don't despair! This new anthology of sixteen original stories by some of science fiction's best writers—edited by #1 New York Times bestselling author George R. R. Martin and award-winning editor Gardner Dozois—turns back the clock to that more innocent time, before the hard-won knowledge of science vanquished the infinite possibilities of the imagination.
 
Join our cast of award-winning contributors—including Elizabeth Bear, David Brin, Joe Haldeman, Gwyneth Jones, Mike Resnick, Eleanor Arnason, Allen M. Steele, and more—as we travel back in time to a planet that never was but should have been: a young, rain-drenched world of fabulous monsters and seductive mysteries.
 
FEATURING ALL-NEW STORIES BY
 
Eleanor Arnason • Elizabeth Bear • David Brin • Tobias S. Buckell • Michael Cassutt • Joe Haldeman • Matthew Hughes • Gwyneth Jones • Joe R. Lansdale • Stephen Leigh • Paul McAuley • Ian McDonald • Garth Nix • Mike Resnick • Allen M. Steele • Lavie Tidhar
 
And an Introduction by Gardner Dozois
Bantam, 9780345537287, 608pp.
Publication Date: March 3, 2015
About the Author
George R. R. Martin is the #1 New York Times bestselling author of many novels, including the acclaimed series A Song of Ice and Fire—A Game of Thrones, A Clash of Kings, A Storm of Swords, A Feast for Crows, and A Dance with Dragons—as well as Tuf Voyaging, Fevre Dream, The Armageddon Rag, Dying of the Light, Windhaven (with Lisa Tuttle), and Dreamsongs Volumes I and II. He is also the creator of The Lands of Ice and Fire, a collection of maps from A Song of Ice and Fire featuring original artwork from illustrator and cartographer Jonathan Roberts, and The World of Ice & Fire (with Elio M. García, Jr., and Linda Antonsson). As a writer-producer, Martin has worked on The Twilight Zone, Beauty and the Beast, and various feature films and pilots that were never made. He lives with the lovely Parris in Santa Fe, New Mexico.
 
Gardner Dozois was the author or editor of more than a hundred books. He won fifteen Hugo Awards, a World Fantasy Award, and thirty-four Locus Awards for his editing work, as well as two Nebula Awards and a Sidewise Award for his own writing. He was the editor of the leading science fiction magazine, Asimov's Science Fiction, for twenty years, and the editor of the anthology series The Year's Best Science Fiction for thirty-five years. A member of the Science Fiction Hall of Fame, Gardner Dozois died in 2018.
or
Not Currently Available for Direct Purchase