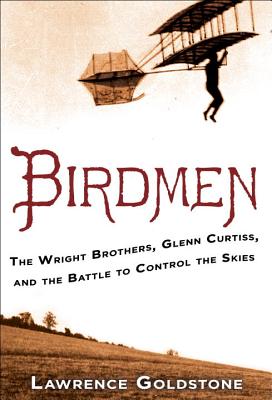 Birdmen
The Wright Brothers, Glenn Curtiss, and the Battle to Control the Skies
Hardcover

* Individual store prices may vary.
Other Editions of This Title:
Digital Audiobook (5/5/2014)
Paperback (4/21/2015)
Description
From acclaimed historian Lawrence Goldstone comes a thrilling narrative of courage, determination, and competition: the story of the intense rivalry that fueled the rise of American aviation.
The feud between this nation's great air pioneers, the Wright brothers and Glenn Curtiss, was a collision of unyielding and profoundly American personalities. On one side, a pair of tenacious siblings who together had solved the centuries-old riddle of powered, heavier-than-air flight. On the other, an audacious motorcycle racer whose innovative aircraft became synonymous in the public mind with death-defying stunts. For more than a decade, they battled each other in court, at air shows, and in the newspapers. The outcome of this contest of wills would shape the course of aviation history--and take a fearsome toll on the men involved.
" "
"Birdmen" sets the engrossing story of the Wrights' war with Curtiss against the thrilling backdrop of the early years of manned flight, and is rich with period detail and larger-than-life personalities: Thomas Scott Baldwin, or "Cap't Tom" as he styled himself, who invented the parachute and almost convinced the world that balloons were the future of aviation; John Moisant, the dapper daredevil who took to the skies after three failed attempts to overthrow the government of El Salvador, then quickly emerged as a celebrity flyer; and Harriet Quimby, the statuesque silent-film beauty who became the first woman to fly across the English Channel. And then there is Lincoln Beachey, perhaps the greatest aviator who ever lived, who dazzled crowds with an array of trademark twists and dives--and best embodied the romance with death that fueled so many of aviation's earliest heroes.
A dramatic story of unimaginable bravery in the air and brutal competition on the ground, "Birdmen" is at once a thrill ride through flight's wild early years and a surprising look at the personal clash that fueled America's race to the skies.
Praise for "Birdmen"
"A meticulously researched account of the first few hectic, tangled years of aviation and the curious characters who pursued it . . . a worthy companion to Richard Holmes's marvelous history of ballooning, "Falling Upwards.""--"Time"
"The daredevil scientists and engineers who forged the field of aeronautics spring vividly to life in Lawrence Goldstone's history."--"Nature"
" "
"The history of the development of an integral part of the modern world and a fascinating portrayal of how a group of men and women achieved a dream that had captivated humanity for centuries."--"The Christian Science Monitor"
" "
"Captivating and wonderfully presented . . . a fine book about these rival pioneers."--"The Wall Street Journal"
" A] vivid story of invention, vendettas, derring-do, media hype and patent fights with] modern resonance."--"Financial Times"
" "
"A powerful story that contrasts soaring hopes with the anchors of ego and courtroom.""--Kirkus Reviews"
"A riveting narrative about the pioneering era of aeronautics in America and beyond . . . Goldstone raises questions of enduring importance regarding innovation and the indefinite exertion of control over ideas that go public."--"Publishers Weekly "(starred review)
Praise For Birdmen: The Wright Brothers, Glenn Curtiss, and the Battle to Control the Skies…
Advance praise for Birdmen
 
"A riveting narrative about the pioneering era of aeronautics in America and beyond . . . a well-written, thoroughly researched work that is sure to compel readers interested in history, aviation, and invention. Goldstone raises questions of enduring importance regarding innovation and the indefinite exertion of control over ideas that go public."—Publishers Weekly (starred review)

"Superbly crafted . . . [with] fresh perspectives, rigorous analyses, comprehensible science, and a driving narrative."—Library Journal (starred review)

"Birdmen is so much more than the story of man's leap into the clouds. Exhilarating, exasperating, and inspiring in equal measure, the Wright brothers' tale is a parable for modern times, told in fascinating detail and gripping prose by Lawrence Goldstone."—Dr. Amanda Foreman, author of A World on Fire
 
"Meticulously researched and illuminating, Birdmen unveils the forgotten flyboys who gave America an invention to win wars, spread peace, and advance her destiny—air power."—Adam Makos, internationally bestselling author of A Higher Call
 
"The history of human flight goes way beyond the Wright brothers at Kitty Hawk. Lawrence Goldstone skillfully tells the rest of the story about the dreamers history has forgotten, and it's a helluva story superbly told. Birdmen is a wondrous journey from takeoff to landing."—Bill Griffeth, author of By Faith Alone

"With riveting prose, rich research, and an uncommon talent for weaving heroic and tragic tales of complex persons with accounts of invention and institutions, Lawrence Goldstone reveals the human dimensions of the birth of modern times in this exhilarating book."—Ira Katznelson, Ruggles Professor of Political Science and History, Columbia University, author of Fear Itself: The New Deal and the Origins of Our Time
 
"Lawrence Goldstone offers a beautifully written account of the dawn of powered flight. It's a great story of technical innovation, fierce competition, and powerful personalities. Goldstone provides a vibrant narrative of the Wright brothers battling Glenn Curtiss over government contracts, patents, and prizes, and describes issues pertinent to today's business professionals and military personnel alike."—Colonel John Abbatiello, PhD, USAF (Retired), author ofAnti-Submarine Warfare in World War I: British Naval Aviation and the Defeat of the U-Boats

"Goldstone provides a fresh, engaging, and compelling narrative that significantly enhances our understanding of one of the most remarkable stories in American history. He expertly documents the achievements and frailties of the Wright brothers as they pursued manned flight and attempted to profit from their breakthrough ideas. This well-written book is a pleasure to read."—Tom Nicholas, William J. Abernathy Professor of Business Administration, Harvard Business School

"The first aviators took to the skies with amazing courage and ingenuity, but, it turns out, also fighting like warbirds. None of these dogfights was was more epic and vital to flying's future than the one waged by Wilbur Wright and Glenn Curtiss. Beautifully told, Goldstone's book gives full vent to the action, while in the process weaving a compelling and sophisticated narrative of aviation's earliest days."—Robert O'Connell, author of The Ghosts of Cannae
Ballantine Books, 9780345538031, 428pp.
Publication Date: May 6, 2014
About the Author
Lawrence Goldstone is the author or co-author of fourteen books of fiction and nonfiction, most recently "Lefty: An American Odyssey." One of his novels won a New American Writing Award, another was a "New York Times" notable mystery. His work has been profiled in "The New York Times, "the" Toronto Star, Salon, "and" Slate, "among others. He lives on Long Island with his wife and daughter.
or
Not Currently Available for Direct Purchase