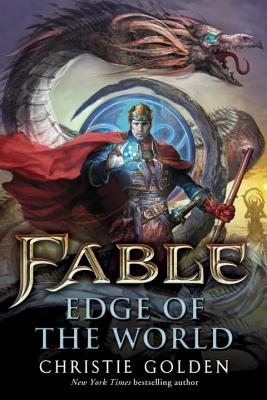 Fable: Edge of the World (Paperback)
Edge of the World
Del Rey Books, 9780345539373, 256pp.
Publication Date: August 21, 2012
Description
The official prequel novel to the Xbox 360 videogame, Fable: (TM) The Journey
It's been almost a decade since the events of Fable 3, when the Hero vanquished the threat across the sea and claimed his throne. As king he led Albion to an era of unprecedented peace and prosperity. But on the night of his wedding to his new queen, ominous word arrives: The darkness has returned.
Beyond a harrowing mountain pass, the exotic desert country Samarkand has been overrun by shadowy forces. Within the walls of its capital city, a mysterious usurper known only as the Empress has seized control. To protect his realm, the king must lead his most trusted allies into a strange land unknown to outsiders. As they forge ahead along Samarkand's ancient Great Road, populated by undead terrors and fantastic creatures once believed to be the stuff of legend, the king is drawn ever closer to his greatest challenge yet.
But soon Albion is engulfed in a war of its own. As the darkness spreads, town by town, a treacherous force has infiltrated the queen's circle. Now the fate of all that is good rests with a faint flicker of hope . . . that somewhere, somehow, heroes still do exist.
(c) 2012 Microsoft Corporation. All Rights Reserved. Microsoft, Fable, Lionhead, the Lionhead logo, Xbox, and the Xbox logo are trademarks of the Microsoft group of companies.
About the Author
Christie Golden is the New York Times bestselling author of more than thirty novels, including Star Wars: Dark Disciple and the Star Wars: Fate of the Jedi novels Omen, Allies, and Ascension. Her media tie-in works include launching the Ravenloft line in 1991 with Vampire of the Mists, Fable: Edge of the World, more than a dozen Star Trek novels, and multiple World of Warcraft and StarCraft novels, including World of Warcraft: Thrall: Twilight of the Aspects and StarCraft II: Devils' Due.
Advertisement