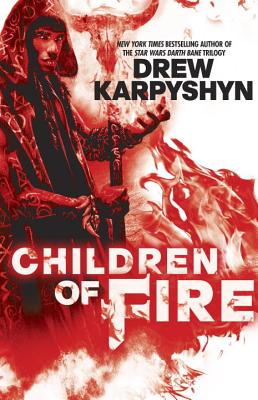 Children of Fire (Hardcover)
Del Rey Books, 9780345542236, 512pp.
Publication Date: August 27, 2013
* Individual store prices may vary.
or
Not Currently Available for Direct Purchase
Description
Drew Karpyshyn has made his mark with imaginative, action-packed work on several acclaimed videogames, including Mass Effect and Star Wars: Knights of the Old Republic, as well as in a succession of New York Times bestselling tie-in novels. Now Karpyshyn introduces a brilliantly innovative epic fantasy of perilous quests, tormented heroes, and darkest sorcery—a thrilling adventure that vaults him into the company of such authors as Terry Goodkind, Brandon Sanderson, and Peter V. Brett.
 
Long ago the gods chose a great hero to act as their agent in the mortal world and to stand against the demonic spawn of Chaos. The gods gifted their champion, Daemron, with three magical Talismans: a sword, a ring, and a crown. But the awesome power at his command corrupted Daemron, turning him from savior to destroyer. Filled with pride, he dared to challenge the gods themselves. Siding with the Chaos spawn, Daemron waged a titanic battle against the Immortals. In the end, Daemron was defeated, the Talismans were lost, and Chaos was sealed off behind the Legacy—a magical barrier the gods sacrificed themselves to create.
 
Now the Legacy is fading. On the other side, the banished Daemron stirs. And across the scattered corners of the land, four children are born of suffering and strife, each touched by one aspect of Daemron himself—wizard, warrior, prophet, king.
 
Bound by a connection deeper than blood, the Children of Fire will either restore the Legacy or bring it crashing down, freeing Daemron to wreak his vengeance upon the mortal world.

Praise for Children of Fire
 
"This intricately layered adventure breathes realism and overshadowing menace into ancient mythic archetypes, exposing the pain and wonder inherent in magic and the mingled hope and cynicism of modern fantasy."—Publishers Weekly (starred review)
 
"A rousing quest fantasy . . . a fast-paced action-packed good and evil thriller."—SF Revu

"From the first page of Children of Fire, Karpyshyn captures the reader's attention with his excellent, intricate storyline."—RT Book Reviews
 
"Children of Fire stands on its own as a thoroughly entertaining tale. The book strikes a perfect balance between character driven storytelling and rich world building."—Roqoo Depot
 
"[Karpyshyn] is truly a master of world building. . . . I would recommend this title to any fan of the genre."—Among the Wreckage
 
"Compulsively readable, wildly entertaining."—A Girl, A Boy and A Blog
 
"Children of Fire is engrossing, and full of characters that are modern. . . . I thoroughly enjoyed Children of Fire and look forward for the next two books."—FANgirl Blog

"Drew Karpyshyn weaves a rich, contrasting tapestry of epic story and doom. Gripping and compelling from first page to last, Children of Fire is a dark-chocolate fantasy; delightfully biting and delectable at once. Four ill-fated children born under a sign of chaos and flame carried me on a journey into an intriguing world of shadowy wonder. It is a spellbinding epic told with masterful craft. Well done, Drew!"—Tracy Hickman, New York Times bestselling co-author of the Dragonlance and Death Gate series
About the Author
Drew Karpyshyn is the "New York Times "bestselling author of "Star Wars: The Old Republic "novels: " Revan" and "Annihilation, " as well as the "Star Wars: Darth Bane "trilogy: " Path of Destruction, ""Rule of Two, "and "Dynasty of Evil." He also wrote the acclaimed Mass Effect series of novels and worked as a writer/designer on numerous award-winning videogames. After spending most of his life in Canada, he finally grew tired of the long, cold winters and headed south in search of a climate more conducive to year-round golf. Drew Karpyshyn now lives in Texas with his wife, Jennifer, and their cat.
Praise For Children of Fire…
"This intricately layered adventure breathes realism and overshadowing menace into ancient mythic archetypes, exposing the pain and wonder inherent in magic and the mingled hope and cynicism of modern fantasy."—Publishers Weekly (starred review)
 
"A rousing quest fantasy . . . a fast-paced action-packed good and evil thriller."—SF Revu

"From the first page of Children of Fire, Karpyshyn captures the reader's attention with his excellent, intricate storyline."—RT Book Reviews
 
"Children of Fire stands on its own as a thoroughly entertaining tale. The book strikes a perfect balance between character driven storytelling and rich world building."—Roqoo Depot
 
"[Karpyshyn] is truly a master of world building. . . . I would recommend this title to any fan of the genre."—Among the Wreckage
 
"Compulsively readable, wildly entertaining."—A Girl, A Boy and A Blog
 
"Children of Fire is engrossing, and full of characters that are modern. . . . I thoroughly enjoyed Children of Fire and look forward for the next two books."—FANgirl Blog

"Drew Karpyshyn weaves a rich, contrasting tapestry of epic story and doom. Gripping and compelling from first page to last, Children of Fire is a dark-chocolate fantasy; delightfully biting and delectable at once. Four ill-fated children born under a sign of chaos and flame carried me on a journey into an intriguing world of shadowy wonder. It is a spellbinding epic told with masterful craft. Well done, Drew!"—Tracy Hickman, New York Times bestselling co-author of the Dragonlance and Death Gate series
Advertisement