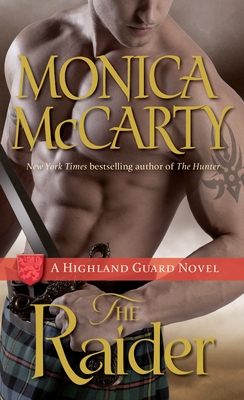 The Raider (Mass Market)
A Highland Guard Novel
Ballantine Books, 9780345543936, 416pp.
Publication Date: February 25, 2014
Other Editions of This Title:
Digital Audiobook (2/24/2014)
Compact Disc (2/25/2014)
MP3 CD (2/25/2014)
Compact Disc (2/25/2014)
* Individual store prices may vary.
Description
NATIONAL BESTSELLER • After consolidating his gains against the enemy English, King Robert the Bruce of Scotland sends his best soldiers to fortify the lawless borders. These legendary warriors of the Highland Guard let nothing come before king and country—except the calling of their heart.
 
Of all Bruce's elite warriors, Robert "Raider" Boyd is the most formidable. A true patriot whose bare hands are a deadly weapon, Robbie is the fierce enforcer of the Guard, and his hatred of the English has been honed to a razor-sharp edge. But vengeance proves bittersweet when his enemy's beautiful sister falls into his hands and he finds himself fighting temptation—a battle he badly wants to lose.
 
Lady Rosalin Clifford barely recognizes the rebel prisoner she saved from execution six years ago. Though her girlish ideals for fairness have matured into a passion for justice, Rosalin believes she betrayed her brother when she helped this dangerous man escape.  Now her traitorous act has come back to haunt her. But she can't deny the longing this tormented warrior ignites in her, or deny the passion that turns sworn enemies into lovers. Is the gentle love of a true English Rose enough to free Scotland's most brutal warrior from a path of vengeance—before it's too late?

Praise for The Raider

"McCarty's latest Highland Guard novel is a deeply moving and delightful read . . . once again proving that McCarty is a master storyteller."—RT Book Reviews

"Monica McCarty is an absolutely superior author! Her Highland Guard series has to be one of the absolute best Highland series out there! Fun, fast paced, fact driven and totally fantastic!"—Bodice Rippers

"A powerful tale of love, woe, hardship and the power of true love . . . If you enjoy Scottish warriors, Medieval Scotland, romance, and passion, then you will enjoy The Raider. . . . A must-read!"—My Book Addiction Reviews

"If you are a fan of historical romance, or any romance for that matter, you will want to not only read The Raider, but the entire Highland Guard series. It is just that good!"—Coffee and Characters

"A stimulating romance with a rich historical setting, a conflict to put you on your toes, and a love story to pull at the heart strings . . . well done!"—Addicted to Romance

About the Author
Monica McCarty is the bestselling author of The Hunter, The Recruit, The Saint, The Viper, The Ranger, The Hawk, and The Chief, the first seven books in the Highland Guard series, the Highlander trilogy (Highlander Untamed, Highlander Unmasked, and Highlander Unchained), and the Campbell trilogy (Highland Warrior, Highland Outlaw, and Highland Scoundrel). Her interest in the Scottish clan system began in the most unlikely of places: a comparative legal history course at Stanford Law School. After a short but enjoyable stint as an attorney, she realized that her career as a lawyer set against her husband's transitory life as a professional baseball player was not exactly a match made in heaven. So she traded in her legal briefs for Scottish historical romances with sexy alpha heroes. Monica McCarty lives in the San Francisco Bay Area with her husband and their two children.
Praise For The Raider: A Highland Guard Novel…
Praise for Monica McCarty and The Raider
 
"McCarty's latest Highland Guard novel is a deeply moving and delightful read . . . once again proving that McCarty is a master storyteller."—RT Book Reviews
 
"Monica McCarty is an absolutely superior author! Her Highland Guard series has to be one of the absolute best Highland series out there! Fun, fast paced, fact driven and totally fantastic!"—Bodice Rippers
 
"A powerful tale of love, woe, hardship and the power of true love . . . If you enjoy Scottish warriors, Medieval Scotland, romance, and passion, then you will enjoy The Raider. . . . A must-read!"—My Book Addiction Reviews
 
"If you are a fan of historical romance, or any romance for that matter, you will want to not only read The Raider, but the entire Highland Guard series. It is just that good!"—Coffee and Characters
 
"A stimulating romance with a rich historical setting, a conflict to put you on your toes, and a love story to pull at the heart strings . . . well done!"—Addicted to Romance
 
"McCarty does a great job at bringing alive this tumultuous period in Scottish history and skillfully blending fact and fiction to create an unparalleled series."—The Good, The Bad and The Unread

"McCarty is a master at writing Highlander romance . . . keeping her Highland Guard series fresh, with spectacularly riveting plots and fabulously romantic couples. . . . If you've not read this series yet, then I strongly suggest that you do."—Night Owl Reviews, on The Hunter