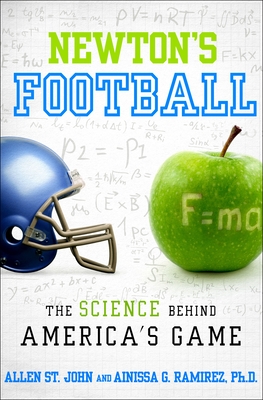 Newton's Football (Hardcover)
The Science Behind America's Game
Ballantine Books, 9780345545145, 272pp.
Publication Date: November 19, 2013
* Individual store prices may vary.
Description
In the bestselling tradition of Freakonomics and Scorecasting comes a clever and accessible look at the big ideas underlying the science of football. 
 
Did you hear the one about the MacArthur genius physicist and the NFL coach? It's not a joke. It's actually an innovative way to understand chaos theory, and the remarkable complexity of modern professional football.
 
In Newton's Football, journalist and New York Times bestselling author Allen St. John and TED Speaker and former Yale professor Ainissa Ramirez explore the unexpected science behind America's Game. Whether it's Jerry Rice finding the common ground between quantum physics and the West Coast offense or an Ivy League biologist explaining—at a granular level—exactly how a Big Mac morphs into an outside linebacker, Newton's Football illuminates football—and science—through funny, insightful stories told by some of the world's sharpest minds.
 
With a clear-eyed empirical approach—and an exuberant affection for the game—St. John and Ramirez address topics that have long beguiled scientists and football fans alike, including:
 
• the unlikely evolution of the football (or, as they put it, "The Divinely Random Bounce of the Prolate Spheroid")
• what Vince Lombardi has in common with Isaac Newton
• how the hardwired behavior of monkeys can explain a head coach's reluctance to go for it on fourth-down
• why a gruesome elevator accident jump-started the evolution of placekicking
• how Teddy Roosevelt saved football using the same behavioral science concept that Dreamworks would use to save Shrek
• why woodpeckers don't get concussions
• how better helmets actually made the game more dangerous
 
Every Sunday the NFL shares a secret with only its savviest fans: The game isn't just a clash of bodies, it's a clash of ideas. The greatest minds in football have always possessed an instinctual grasp of science, understanding the big ideas and gritty realities that inform the game's rich past, as well as its increasingly uncertain future.
 
Blending smart reporting, counterintuitive creativity, and compelling narrative, Newton's Football takes gridiron analysis to the next level, giving fans a book that entertains, enlightens, and explains the game anew.

Praise for Newton's Football
 
"It was with great interest that I read Newton's Football. I'm a fan of applying of science to sport and Newton's Football truly delivers. The stories are as engaging as they are informative. This is a great read for all football fans."—Mark Cuban

"A delightfully improbable book putting science nerds and sports fans on the same page."—Booklist
 
"This breezily-written but informative book should pique the interest of any serious football fan in the twenty-first century."—The American Spectator
 
"The authors have done a worthy job of combining popular science and sports into a work that features enough expertise on each topic to satisfy nerds and jocks alike. . . . The writers succeed in their task thanks to in-depth scientific knowledge, a wonderful grasp of football's past and present, interviews with a wide array of experts, and witty prose. . . . [Newton's Football is] fun and thought-provoking, proving that football is a mind game as much as it is a ball game."—Publishers Weekly
About the Author
An award-winning journalist, Allen St. John is the author of seven books, including The Billion Dollar Game and Clapton's Guitar, and co-author of The Mad Dog 100. He has written for The Wall Street Journal, The New York Times Magazine, U.S. News & World Report, Men's Journal, Maxim, Playboy, Rolling Stone, The Village Voice, Esquire.com, theatlantic.com, and Salon.com, and he blogs for Forbes.com. His work has been featured in The Best American Sports Writing. A graduate of the University of Chicago, he lives in Montclair, New Jersey, with his family.
 
Ainissa G. Ramirez, Ph.D., is dedicated to making science fun for people of all ages. She is the author of the TED Book Save Our Science, based on her TED talk on improving science education. She has also been an engineering professor at Yale University. She received her Ph.D. from Stanford University in materials science and engineering and holds several patents, one of which was awarded MIT's top 100 young innovators award.
Praise For Newton's Football: The Science Behind America's Game…
"It was with great interest that I read Newton's Football. I'm a fan of applying of science to sport and Newton's Football truly delivers. The stories are as engaging as they are informative. This is a great read for all football fans."—Mark Cuban

"A delightfully improbable book putting science nerds and sports fans on the same page."—Booklist
 
"This breezily-written but informative book should pique the interest of any serious football fan in the twenty-first century."—The American Spectator
 
"The authors have done a worthy job of combining popular science and sports into a work that features enough expertise on each topic to satisfy nerds and jocks alike. . . . The writers succeed in their task thanks to in-depth scientific knowledge, a wonderful grasp of football's past and present, interviews with a wide array of experts, and witty prose. . . . [Newton's Football is] fun and thought-provoking, proving that football is a mind game as much as it is a ball game."—Publishers Weekly
 
"Journalist St. John and former Yale engineering professor Ramirez use scientific principles to give a greater understanding of the spectacle of competitive violence that is American professional football. . . . What makes this book so enjoyable is the authors' revealing of how academic disciplines such as Boolean algebra and paleontology are present in such a brutish sport."—Kirkus Reviews

"Equal parts Isaac Newton and Cam Newton, this book is as thoroughly entertaining and engrossing as a fall Sunday afternoon on the couch."—L. Jon Wertheim, executive editor of Sports Illustrated and bestselling co-author of Scorecasting
 
"Nothing is more bipartisan than America's love for football. And Newton's Football will unite readers of all stripes by merging science and sports in a fresh and fascinating fashion. Read this book and you'll never again watch a game the same way."—Chris Mooney, New York Times bestselling author of The Republican War on Science
 
"What do you get when you pair a journalist and bestselling author with a materials scientist turned science 'evangelist,' and have them collaborate on a book about football? With any luck, you get Newton's Football, a breezily informative and fun exploration of the science behind this popular pastime, from Vince Lombardi's use of game theory to helmet design and why woodpeckers don't get concussions."—Jennifer Ouellette, author of The Calculus Diaries
 
"Football is a great game to watch, but Allen St. John and Ainissa Ramirez make it a great game to think about as well. Where else are you going to find a discussion of Heisenberg's influence on the NFL or a serious comparison of Isaac Newton and Vince Lombardi? This book is a terrific read."—James Trefil, Clarence J. Robinson Professor of Physics at George Mason University and co-author of The Dictionary of Cultural Literacy

"A fascinating melding of science and sport, at once lively and illuminating, rich with knowledge of the game and arresting explanations of its winning strategies."—Daniel J. Kevles, Yale University
or
Not Currently Available for Direct Purchase