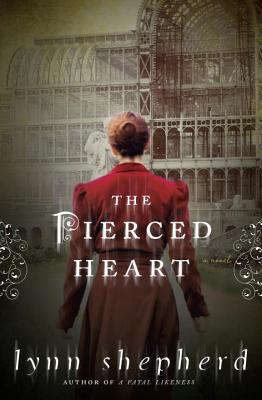 The Pierced Heart (Hardcover)
Delacorte Press, 9780345545435, 256pp.
Publication Date: October 21, 2014
* Individual store prices may vary.
Description
The shadow of Bram Stoker's Dracula looms large over the darkest mystery yet faced by Victorian detective Charles Maddox as the acclaimed author of The Solitary House and A Fatal Likeness once again pays homage to a literary classic, in a chilling tale of superstition, dangerous science, and shocking secrets.

When an Austrian nobleman offers a substantial donation to the University of Oxford, Charles Maddox is called on to investigate the generous benefactor. It is a decidedly mundane task for the increasingly renowned criminal investigator, but Maddox welcomes the chance to trade London's teeming streets for the comforts of a castle in the Viennese countryside. Comfort, however, is in short supply once Maddox steps onto foreign soil and into the company of the mysterious Baron Von Reisenberg.
A man of impeccable breeding, the Baron is nonetheless the subject of frightened whispers and macabre legends. Though Maddox isn t one to entertain supernatural beliefs, the dank halls and foreboding shadows of the castle begin to haunt his sleep with nightmares. But in the light of day the veteran detective can find no evidence of the sinister until a series of disturbing incidents prove him gravely mistaken and thrust him into a harrowing quest to expose whatever evil lurks behind the locked doors of the Baron's secretive domain. After a terrifying encounter nearly costs him his sanity, Maddox is forced to return home defeated and still pursued by the horror he's unearthed.
Owing to a string of gruesome murders committed by an elusive predator branded the Vampire, London is on the verge of widespread panic. But there's little doubt in Maddox's mind who is responsible. And whether his enemy proves merely mortal or something more Maddox must finally end the monstrous affair . . . before more innocent blood is spilled.
Praise for The Pierced Heart
Another tour de force with a striking finale from Lynn] Shepherd, who specializes in turning iconic novels into clever, complicated mysteries for her tormented hero to solve. Kirkus Reviews (starred review)
Shepherd's plots] are darkly serious and feel very real. . . . The idea that Stoker's novel was somehow inspired by events surrounding the subject of Maddox's investigation seems tantalizing plausible. Another sterling entry in this imaginative series. Booklist

A heart-thumping climax . . . The Pierced Heart is a clever and seductive pastiche of genres that] builds to an electrifying and stunning denouement. A stylish and gripping Gothic revival. Lancashire Evening Post

Compulsively readable, suspenseful, and dark . . . The book is unsettling in the best way. . . . This is a new tale, with a similar creepy flavor that Dracula lovers will enjoy. Historical Novels Review

With wonderfully descriptive passages and stunningly atmospheric prose, Shepherd spins a compelling, intricately plotted story which quite capably stands apart from the novel that inspires it. Book Batter (five stars)
Captures some of the best elements of Dracula, while at the same time creating a thrilling and absorbing crime novel. The Dracula Society
About the Author
Lynn Shepherd is the author of the award-winning Murder at Mansfield Park, The Solitary House, and A Fatal Likeness. She studied English at Oxford and was a professional copywriter for more than a decade. She is currently at work on her next novel of historical suspense.
or
Not Currently Available for Direct Purchase