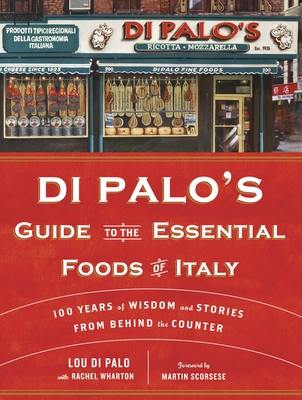 Di Palo's Guide to the Essential Foods of Italy (Hardcover)
100 Years of Wisdom and Stories from Behind the Counter
Ballantine Books, 9780345545800, 256pp.
Publication Date: September 9, 2014
* Individual store prices may vary.
Description
The ultimate guide to the finest foods of Italy from the oldest, most celebrated Italian market in New York City
 
In the heart of New York City's Little Italy sits Di Palo's, a family-owned food shop that has been the treasure of the neighborhood for more than a century. The four generations of Di Palos who have run this Italian specialty market have made it their mission to bring customers the finest old-world selections from Italy—handcrafted mozzarella, buttery prosciutto, estate olive oils, traditional artisanal pastas from throughout the country. Now, in one colorful volume, Lou Di Palo, great-grandson of the founder and steward of the family legacy, shares the vibrant history of this storied establishment and a lifetime of wisdom about the cuisine beloved around the world.
 
Di Palo's Guide to the Essential Foods of Italy takes you on a gourmet excursion through Italy's twenty distinct regions, from Sicily to Umbria to Alto Adige. Each chapter highlights a specific food and its rich history, along with practical tips for selecting, storing, and serving it at home. Many include signature family recipes that have been handed down through the generations, including Grandma Mary's Sicilian Caponata and Concetta Di Palo's Meatballs, or recipes gathered from trips to Italy over the years, such as Trapani-Style Salted Sea Bass and Polenta con Formaggio Crucolo Fuso. Readers will discover, among many other things, the secret to a balsamic vinegar worthy of sharing only with one's closest friends, the proper way to prepare the perfect espresso, and the importance of looking for the Denominazione d'Origine Protetta—or the Protected Designation of Origin seal—which certifies that your food is a traditional, regional product. Complete with dozens of mouthwatering photographs, engaging anecdotes, and candid stories, and featuring a foreword by Academy Award–winning director Martin Scorsese, this immersive volume is part family narrative, part culinary odyssey, and part cookbook. Di Palo's Guide to the Essential Foods of Italy is your ticket to the best Italian foods—without having to wait in line!
 
Praise for Di Palo's Guide to the Essential Foods of Italy
 
"Of all the stores in all the world, Di Palo's is probably my favorite."—Ruth Reichl
 
"Lou Di Palo is single-handedly preserving the history of Little Italy in New York City. Shopping at Di Palo's is an authentic, personal experience. When you walk into the shop, you feel like you're in the center of the universe. I've been waiting for Lou to write this book for years. He's a good friend and an American treasure."—Tyler Florence
 
"Di Palo's has been one of the Seven Wonders of New York since 1925. This book is a beautiful story of their commitment to keeping Italian traditions, and shows the passion they've had for the artisanal best for almost one hundred years."—Chef Daniel Boulud
 
"Lou Di Palo's depth and breadth of knowledge of Italian foods extends from the Alpine hills to the Sicilian coastline and he manages to bring it all home to us in this wonderful book."—Chef Michael Lomonaco
 
"I love this book because it explains to an American how to elevate and enjoy great Italian ingredients. The pride that comes from Lou and his family translates to the store and, now, to the pages of this book. I found myself hungry after reading it. You will too."—Chef Alex Guarnaschelli
About the Author
Born Luigi Santomauro in 1951, Lou Di Palo grew up behind the counter at Di Palo's in New York's Little Italy and the Italian-American neighborhood of Bensonhurst, Brooklyn. Beloved by both his customers and those in the food community and media, Lou Di Palo is considered to be a preeminent Italian food expert. In addition to running Di Palo's (for forty years and counting) with his brother, Sal, and sister Marie, he works as an Italian food educator and consultant for supermarkets, trade associations, and even Italy itself, which has given him many awards for his efforts to educate Americans in the ways of Italian food. He travels all over the United States, speaking about Italian food products on behalf of such regions or groups as the Consortium of Grana Padano or Speck from Alto Adige. With this, his first book, he hopes to bring his knowledge and passion to those who can't make the trip to visit Di Palo's in person.
 
Rachel Wharton has nearly twenty years of experience as a writer, reporter, and editor, including four years as a features food reporter at the New York Daily News. She is a contributing editor of Edible Manhattan and Edible Brooklyn magazines, and a James Beard Foundation award-winning food writer with a master's degree in food studies from New York University.
Praise For Di Palo's Guide to the Essential Foods of Italy: 100 Years of Wisdom and Stories from Behind the Counter…
"Of all the stores in all the world, Di Palo's is probably my favorite."—Ruth Reichl
 
"Lou Di Palo is single-handedly preserving the history of Little Italy in New York City. Shopping at Di Palo's is an authentic, personal experience. When you walk into the shop, you feel like you're in the center of the universe. I've been waiting for Lou to write this book for years. He's a good friend and an American treasure."—Tyler Florence
 
"Di Palo's has been one of the Seven Wonders of New York since 1925. This book is a beautiful story of their commitment to keeping Italian traditions, and shows the passion they've had for the artisanal best for almost one hundred years."—Chef Daniel Boulud
 
"Lou Di Palo's depth and breadth of knowledge of Italian foods extends from the Alpine hills to the Sicilian coastline and he manages to bring it all home to us in this wonderful book."—Chef Michael Lomonaco
 
"I love this book because it explains to an American how to elevate and enjoy great Italian ingredients. The pride that comes from Lou and his family translates to the store and, now, to the pages of this book. I found myself hungry after reading it. You will too."—Chef Alex Guarnaschelli
 
"Insightful, inspired, and from the heart. Lou Di Palo is an outstanding advocate for authentic products of Italy."—Pier Paolo Celeste, Italian trade commissioner
 
"If there's no Di Palo's in heaven, I ain't going."—Pete Hamill