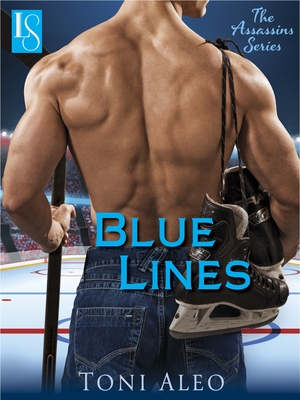 Blue Lines: The Assassins Series (Paperback)
The Assassins Series
Loveswept, 9780345546678, 448pp.
Publication Date: November 14, 2013
Description
NEW YORK TIMES BESTSELLER
Opposites do more than just attract inUSA Today bestselling authorToni Aleo's latest Nashville Assassins novel about a very bad boy and the good girl he can t resist.

The instant Piper Allen sees Erik Titov, she wants him wants his rock-hard body, sure, but the strength and mystery that lie behind that superstar hockey jock demeanor, too. So when he sidles up to her at a bar and slinks his arm around her waist, she's lost. What follows is the wildest night of her life . . . followed by inevitable heartbreak the next morning. And then, a few weeks later, a very big surprise: two blue lines on a pregnancy test.
Only a check to the head could make Erik fall for a nice girl like Piper. But since their crazy-sexy night together, he's been trying to forget about her alluring body by falling into bed with every woman in Nashville, and it's not working. So when Piper shows up at his house with a baby-bomb to drop, it doesn t take much for Erik to suggest the nuclear option: marriage. While it's supposed to be all for show, the second they say I do, the ice between them starts to melt into sizzling steam.
Praise for Toni Aleo's Nashville Assassins romances

Aleo melts the ice and hits it into the net with her Assassins series. Award-winning author Jami Davenport
Taking Shots is really the whole package. You get romance, humor, steamy sex, drama, and then it all wraps up with a great conclusion. I am amazed that this is Toni's first book. She has come out in a huge way. I can t wait to read more from her. Don t hesitate for a moment to grab this book. Guilty Pleasures Book Reviews
A little steamy, a little heartbreaking, and a whole lot of fanning yourself are in order this time around, readers. Are your cheeks feeling a little pink yet? Get used to the feeling. Dreaming in the Pages, on Trying to Score
Empty Net is an honest, heartwarming, endearing story. . . . Toni Aleo doesn t just write a story. She gives you the ability to experience the journey of her characters right along with them. Her stories are enveloped with passion, emotion, humor, love; and let me tell you, that girl knows how to write a sex scene that just makes you sweat Guilty Pleasures Book Review
Sexy and riveting . . . the perfect combination of love and lust. USA Today bestselling author Heidi McLaughlin, on Blue Lines
Funny, charming, sweet, sexy . . . Falling for the Backup] has everything you want in a story. Blushing Reader
About the Author
Toni Aleo is the New York Times and USA Today bestselling author of the Nasvhille Assassins series: Taking Shots, Trying to Score, Empty Net, Falling for the Backup, and Blue Lines. When not rooting for her beloved Nashville Predators, she s probably going to her husband s and son s hockey games and her daughter s dance competitions, taking pictures, scrapbooking, or reading the latest romance novel. Aleo lives in the Nashville area with her husband, two children, and a bulldog."
Praise For Blue Lines: The Assassins Series…
Praise for Toni Aleo's Nashville Assassins romances
 
"Aleo melts the ice and hits it into the net with her Assassins series."—Award-winning author Jami Davenport
 
"Taking Shots is really the whole package. You get romance, humor, steamy sex, drama, and then it all wraps up with a great conclusion. I am amazed that this is Toni's first book. She has come out in a huge way. I can't wait to read more from her. Don't hesitate for a moment to grab this book."—Guilty Pleasures Book Reviews
 
"A little steamy, a little heartbreaking, and a whole lot of fanning yourself are in order this time around, readers. Are your cheeks feeling a little pink yet? Get used to the feeling."—Dreaming in the Pages, on Trying to Score
 
"Empty Net is an honest, heartwarming, endearing story. . . . Toni Aleo doesn't just write a story. She gives you the ability to experience the journey of her characters right along with them. Her stories are enveloped with passion, emotion, humor, love; and let me tell you, that girl knows how to write a sex scene that just makes you sweat!"—Guilty Pleasures Book Review
 
"Sexy and riveting . . . the perfect combination of love and lust."—USA Today bestselling author Heidi McLaughlin, on Blue Lines
 
"Funny, charming, sweet, sexy . . . [Falling for the Backup] has everything you want in a story."—Blushing Reader
Advertisement