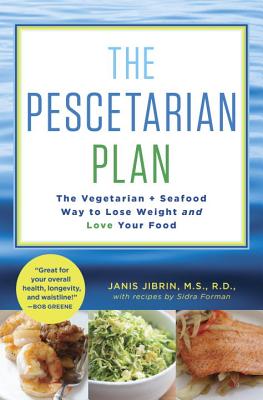 The Pescetarian Plan
The Vegetarian + Seafood Way to Lose Weight and Love Your Food: A Cookbook
Hardcover

* Individual store prices may vary.
Description
With more than 100 mouthwatering recipes, switching to a vegetable- and seafood-based diet has never been easier, healthier—or more delicious!

You can go vegetarian to slim down, help reduce your risk for cancer and cardiovascular disease, feel great, and probably live longer. Or you can eat fish to help protect your heart, quell appetite, stay sharp, be happier, and even have better skin. (You read that right!) Better yet, you can enjoy the best of both worlds with The Pescetarian Plan—a delicious, easy-to-follow, one-of-a-kind program for weight loss and optimal physical and mental well-being.

Inspired by the traditional Mediterranean way of eating ("pesce" is the Italian word for "fish," and "pesca" is Spanish for "fishing," thus the alternate spelling "pescatarian"), veteran nutritionist Janis Jibrin, M.S., R.D., offers step-by-step portion- and meal-planning instructions, including a wide variety of quick and easy breakfast, lunch, and dinner recipes to help you meet your weight-loss and health goals. She shares her deep knowledge of the science behind the healthiest diet on the planet, deftly explaining the amazing potential benefits of eating the pescetarian way—including whittling your waist, reducing chronic inflammation, preventing arterial plaque, and possibly warding off Alzheimer's. She also breaks down the latest information about mercury, overfishing, and the environmental impact of your ingredient choices.

With Chef Sidra Forman's expert guidance, you'll become confident in the kitchen—fish and other types of seafood are much easier to prepare (and much harder to mess up!) than you may think. And the mouthwatering recipes and photos—including Broiled Trout with Preserved Lemon and Thyme, Grilled Shrimp with Peach BBQ Sauce, Roasted Chick Pea Snacks, Blueberries Baked with Sweet Cream, and Chocolate Cupcakes with Mint Icing—give you options the whole family will love.

On the Pescetarian Diet you will:
• See inches around the waist disappear
• Feel more active and productive
• Fill your plate with the best, most nutritious food
• Stop counting calories—it's all in the portions
• Go at your own pace: start slowly or dive right in
• Really enjoy your food and its many benefits

Praise for The Pescetarian Plan

"The [recipes] in this book are designed to leverage both science and satisfaction."—The Washington Post

"Informative and inspiring . . . [includes] 100 approachable recipes."—Publishers Weekly
Praise For The Pescetarian Plan: The Vegetarian + Seafood Way to Lose Weight and Love Your Food: A Cookbook…
"The [recipes] in this book are designed to leverage both science and satisfaction."—The Washington Post

"Informative and inspiring . . . [includes] 100 approachable recipes."—Publishers Weekly

"Great for your overall health, longevity, and waistline!"—Bob Greene, author of The Best Life Diet
 
"This life-changing diet will help improve your health and longevity. The easy-to-follow recipes and step-by-step instructions make adopting the plan simple and delicious. It is a must-read if you are committed to embracing a healthier lifestyle."—Rebecca Reeves, Dr.P.H., former president of the Academy of Nutrition and Dietetics
 
"Better sex through diet? Yes! In addition to weight loss and brain and heart health, that's one of the impressive benefits of this vegetarian-plus-seafood diet. Furthermore, it's well-researched, approachable, sustainable, and delicious!"—Brandi Koskie, director of publishing at DietsInReview
Ballantine Books, 9780345547163, 384pp.
Publication Date: March 11, 2014
About the Author
Janis Jibrin, M.S., R.D., is a contributing nutrition editor at SELF magazine and the lead nutritionist for Best Life (a weight loss and wellness company), writing weekly blogs for TheBestLife.com. She has written hundreds of articles for Family Circle, Good Housekeeping, More, Men's Health, SELF, Prevention, and other popular publications. She is the co-author (with Best Life founder, Bob Greene) of The Life You Want and The Best Life Guide to Managing Diabetes and Pre-Diabetes, and she also wrote The Supermarket Diet series, all of which have been New York Times bestsellers.
 
Sidra Forman is a chef, florist, urban farmer, and recipe contributor to Janis Jibrin and Bob Greene's books who lives in Washington, D.C. Her philosophy of cooking, whether for her family, friends, or clients, is that the best-tasting and best-for-you foods should be one and the same.
or
Not Currently Available for Direct Purchase