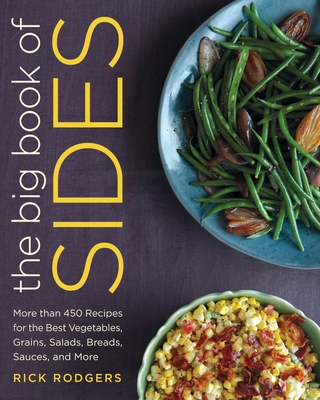 The Big Book of Sides: More Than 450 Recipes for the Best Vegetables, Grains, Salads, Breads, Sauces, and More (Hardcover)
More Than 450 Recipes for the Best Vegetables, Grains, Salads, Breads, Sauces, and More
Ballantine Books, 9780345548184, 480pp.
Publication Date: October 28, 2014
Description
Whether planning a quick dinner after work or a holiday meal for a crowd, you will never be stumped for a side dish again.
Side dishes make the meal. Think about it: What's a burger without fries, turkey without stuffing, or barbecue without coleslaw, baked beans, or macaroni and cheese--or all three? The Big Book of Sides contains more than 450 delicious recipes to complement any dish. Award-winning cooking teacher and author Rick Rodgers has carefully compiled a variety of wonderful options, from traditional to inspired, Americana to ethnic, Southern fare to California cuisine. Sections include "Eat Your Vegetables," "From the Root Cellar," "A Hill of Beans," "Righteous Rice and Great Grains," and "Pasta and Friends."
The Big Book of Sides shares
- more than 100 information-packed entries on vegetables alone, from artichokes to zucchini, including root vegetables and grains
- tutorials on the cooking techniques you need to know, such as grilling and deep-frying
- at-a-glance charts for a variety of perfectly roasted vegetables and freshly cooked beans
- carefree menu planning, with a complete list of special-occasion meals and suggested side dishes
Home cooks of all levels will delight in preparing Roasted Summer Squash with Pepitas and Cilantro; Chard Puttanesca; Parsnip, Apple, and Bacon Hash; Smoked Gouda Mashed Potatoes; Quinoa with Carrot and Mint; Farro, Cherry, and Feta Salad; and Butternut Squash and Potato Gratin. Rodgers also shares recipes for relishes, chutneys, pickles, baked goods (from biscuits to foccacia), and even sauces.
With helpful tips on how to stock your pantry, easy-to-follow cooking techniques, gorgeous color photos, and main dish pairing suggestions, The Big Book of Sides is sure to become a trusted staple in your kitchen.
About the Author
Rick Rodgers is an award-winning cookbook author and cooking teacher and the writer of more than forty cookbooks on subjects from baking to grilling and more. Rodgers often works behind the scenes as a recipe tester, co-author, and consultant on cookbooks by other authors, including Lilly Pulitzer and Sarabeth Levine of Sarabeth's Bakery. He has also written corporate cookbooks for clients such as Kingsford Charcoal and Sur La Table, as well as many titles for Williams-Sonoma. Rodgers's recipes have appeared in Bon Appetit, Cooking Light, Men's Health, Food and Wine, and Fine Cooking, among other magazines. He has received Bon Appetit Magazine's Food and Entertaining Award as Outstanding Cooking Teacher and an IACP Cookbook Award for The Chelsea Market Cookbook. Rick Rodgers has been guest chef on all of the national morning shows.
Advertisement