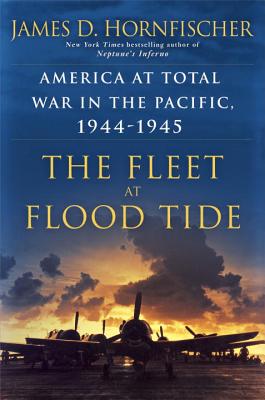 The Fleet at Flood Tide (Hardcover)
America at Total War in the Pacific, 1944-1945
Bantam, 9780345548702, 640pp.
Publication Date: October 25, 2016
Other Editions of This Title:
Digital Audiobook (10/24/2016)
Paperback (11/14/2017)
CD-Audio (10/25/2016)
* Individual store prices may vary.
Description
NEW YORK TIMES BESTSELLER • The extraordinary story of the World War II air, land, and sea campaign that brought the U.S. Navy to the apex of its strength and marked the rise of the United States as a global superpower

Winner, Commodore John Barry Book Award, Navy League of the United States • Winner, John Lehman Distinguished Naval Historian Award, Naval Order of the United States

With its thunderous assault on the Mariana Islands in June 1944, the United States crossed the threshold of total war. In this tour de force of dramatic storytelling, distilled from extensive research in newly discovered primary sources, James D. Hornfischer brings to life the campaign that was the fulcrum of the drive to compel Tokyo to surrender—and that forever changed the art of modern war.

With a close focus on high commanders, front-line combatants, and ordinary people, American and Japanese alike, Hornfischer tells the story of the climactic end of the Pacific War as has never been done before. Here are the epic seaborne invasions of Saipan, Tinian, and Guam, the stunning aerial battles of the Great Marianas Turkey Shoot, the first large-scale use of Navy underwater demolition teams, the largest banzai attack of the war, and the daring combat operations large and small that made possible the strategic bombing offensive culminating in the atomic strikes on Hiroshima and Nagasaki. From the seas of the Central Pacific to the shores of Japan itself, The Fleet at Flood Tide is a stirring, authoritative, and cinematic portrayal of World War II's world-changing finale.

Illustrated with original maps and more than 120 dramatic photographs

"Quite simply, popular and scholarly military history at its best."—Victor Davis Hanson, author of Carnage and Culture
 
"The dean of World War II naval history . . . In his capable hands, the story races along like an intense thriller. . . . Narrative nonfiction at its finest—a book simply not to be missed."—James M. Scott, Charleston Post and Courier
 
"An impressively lucid account . . . admirable, fascinating."—The Wall Street Journal
 
"An extraordinary memorial to the courageous—and a cautionary note to a world that remains unstable and turbulent today."—Admiral James Stavridis, former Supreme Allied Commander, NATO, author of Sea Power
 
"A masterful, fresh account . . . ably expands on the prior offerings of such classic naval historians as Samuel Eliot Morison."—The Dallas Morning News
About the Author
James D. Hornfischer is the author of the New York Times bestsellers Neptune's Inferno, Ship of Ghosts, and The Last Stand of the Tin Can Sailors, winner of the Samuel Eliot Morison Award. A native of Massachusetts and a graduate of Colgate University and the University of Texas School of Law, he lives in Austin, Texas.
Praise For The Fleet at Flood Tide: America at Total War in the Pacific, 1944-1945…
"This is a masterful account of the barbaric last year of the Pacific War, combining original scholarship, engaging prose, excellent historical judgment, and empathy for the soldier, to explain why defeating the Japanese proved so costly—and how American military forces performed so effectively and, in the end, humanely. The Fleet at Flood Tide is, quite simply, popular and scholarly military history at its best."—Victor Davis Hanson, author of Carnage and Culture, senior fellow in classics and military history, The Hoover Institution, Stanford University

"Hornfischer is the dean of World War II naval history . . . [and] has a crafted an impressive and fast-paced narrative. . . . In his capable hands, the story races along like an intense thriller . . . with the powerful prose of a poet. . . . The Fleet at Flood Tide is narrative nonfiction at its finest—a book simply not to be missed."—James M. Scott, Charleston Post and Courier

"An impressively lucid account . . . Mr. Hornfischer crisply and satisfyingly sketches all these figures, and his big Iliad contains a hundred smaller ones, as he propels his complex story forward with supple transitions that never leave the reader behind in the details. . . . At the end of his admirable, fascinating book, Mr. Hornfischer makes a strong case that America's failing to use the most terrible weapon yet born would have meant many hundreds of thousands more deaths, theirs and ours alike."—The Wall Street Journal 

"The Fleet at Flood Tide is the definitive work on the latter days of the war in the Pacific, diving deeper and with more passion and eloquence than anything written to date on this crucial and defining moment in the history of the U.S. Navy. Hornfischer brings the brutality of total war to full-throated life, from the trenches and amphibious assaults to the mass suicides of frightened Japanese civilians to the horrific but necessary decision to use the atomic bomb. This book is a ticket to watch hell in full session, and serves at once as an extraordinary memorial to the courageous—and a cautionary note to a world that remains unstable and turbulent today."—Adm. James Stavridis, USN (ret.), former Supreme Allied Commander, NATO, and Dean of The Fletcher School of Law and Diplomacy, Tufts University

"In his latest masterpiece on the Pacific War, historian James D. Hornfischer explores how the shocking lessons of the 1944 Mariana Islands campaign helped compel the United States to unleash atomic weaponry as the necessary means to quell the Japanese Empire. . . . Rich and scholarly military history with fresh critical analysis . . . The Fleet at Flood Tide is a masterful, fresh account of the latter days of the war in the Pacific that ably expands on the prior offerings of such classic naval historians as Samuel Eliot Morison. In his analysis, Hornfischer offers perspective on world conflict and cautions for humanity that can be pondered far beyond the conclusion of World War II."—The Dallas Morning News