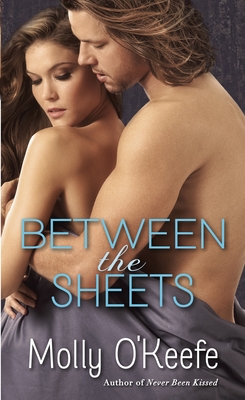 Between the Sheets (The Boys of Bishop #3) (Mass Market)
Bantam, 9780345549037, 368pp.
Publication Date: July 29, 2014
* Individual store prices may vary.
Description
NAMED ONE OF THE BEST BOOKS OF THE YEAR BY RT BOOK REVIEWS

Sure to thrill readers of Susan Mallery and Rachel Gibson, Molly O'Keefe's sizzling series cranks up the tension as a bad boy rides into town on his motorcycle—and teaches the girl next door to lose control when it comes to desire.

After years of running, Wyatt Svenson has now parked himself in Bishop, Arkansas, trying to do the right thing and parent a son he didn't even know he had until recently. Over six feet tall and packed with muscles and power, Ty likes to get his hands dirty, fixing his motorcycle at night and keeping his mind away from the mistakes he's made. Then his pretty neighbor shows up on his driveway, doesn't bother to introduce herself, and complains about the noise. First impression? She should loosen up. Funny that she turns out to be his son's elementary school art teacher—and the only one willing to help his troubled boy. Ty needs her. In more ways than one.
 
Though Shelby Monroe is safe in her structured life, she is drawn to Ty's bad-boy edge and rugged sexuality. What if she just lets it all go: her worries about her mother, her fear of heartbreak, and her tight self control? What if she grabs Ty and takes a ride on the wild side? "What if" becomes reality—intense, exhilarating . . . and addictive. But Ty wants more than a secret affair. He wants it all with Shelby. But will she take a chance and open her heart? Ty is determined to convince Shelby to take the biggest risk of her life: on him.

Praise for Between the Sheets
 
"Phenomenal . . . The story is deep, complex, and rich, with emotional tones of hope, loss, regret, pain, and so many flavors of love."—Publishers Weekly (starred review)
 
"The characters are genuine, their stories are authentic and there is a rawness of emotion that is completely unexpected. The chemistry Ty and Shelby share is electric and their sex scenes are sizzling on a whole new level. This is a fantastic read that surprises and thoroughly delights."—RT Book Reviews (4-1/2 stars, Top Pick)
 
"Dark, edgy, and emotionally turbulent, Between the Sheets is a . . . modern-day romance that speaks of second chances, love, heartbreak, redemption, and hope."—Smexy Books
 
"Once again, Molly O'Keefe explodes the traditional trope and creates characters that breathe. . . . Between the Sheets did what great books should do and let me live beside these people of Bishop and come to care about them. A lot."—The Best Reviews
 
"An intense, heartbreaking and poignant novel that is also insanely hot and incredibly passionate . . . another powerful novel of love and healing by Molly O'Keefe that old and new fans of the Boys of Bishop series do not want to miss."—Book Reviews & More by Kathy
About the Author
Molly O'Keefe published her first Harlequin romance at age twenty-five and hasn't looked back. She loves exploring each character's road toward happily ever after. She's won two Romantic Times Reviewers' Choice awards and the RITA for Best Novella in 2010. Originally from a small town outside of Chicago, she now lives in Toronto, Canada, with her husband, two kids, and the largest heap of dirty laundry in North America.
Praise For Between the Sheets (The Boys of Bishop #3)…
"Phenomenal . . . The story is deep, complex, and rich, with emotional tones of hope, loss, regret, pain, and so many flavors of love."—Publishers Weekly (starred review)
 
"The characters are genuine, their stories are authentic and there is a rawness of emotion that is completely unexpected. The chemistry Ty and Shelby share is electric and their sex scenes are sizzling on a whole new level. This is a fantastic read that surprises and thoroughly delights."—RT Book Reviews (4-1/2 stars, Top Pick)
 
"Dark, edgy, and emotionally turbulent, Between the Sheets is a . . . modern-day romance that speaks of second chances, love, heartbreak, redemption, and hope."—Smexy Books
 
"Once again, Molly O'Keefe explodes the traditional trope and creates characters that breathe. . . . Between the Sheets did what great books should do and let me live beside these people of Bishop and come to care about them. A lot. . . . If you've been searching for an author who captures your imagination and your heart with characters and stories that resonate with the real choices and situations we all face, add Molly O'Keefe to your must-buy list too. Really. Do. Her stories stand out. Her storytelling voice is exceptional. Her love scenes are passionate, gritty, moving, and tender. . . . She's become one of my favorite authors whose stories will be on my bookshelf for as long as I'll be reading."—The Best Reviews
 
"An intense, heartbreaking and poignant novel that is also insanely hot and incredibly passionate . . . Between the Sheets is an emotional, complicated and messy romance that is unique and engrossing. Ty and Shelby are complex, vibrantly developed characters whose smoldering attraction leads to fiery, explicitly detailed sex scenes. It is another powerful novel of love and healing by Molly O'Keefe that old and new fans of the Boys of Bishop series do not want to miss."—Book Reviews & More by Kathy
 
"I really could go on and on about this book because it is a special story and while it might not be a pretty romance all tied up nice and neat with a bow, there is a realism about it that makes it truly wonderful. Between the Sheets will no doubt put your emotions through the wringer, but all the good that comes out of it makes it all worthwhile."—Guilty Pleasures Book Reviews
 
"What a great love story, not just the kind between a man and a woman, but also the love that lies between family members, and the devastating effects of being deprived of such love. If you're looking for a book that is a testament to the healing power of truly being noticed for who you are and loved anyway, then look no further: Between the Sheets should be your next read!"—The Romance Reviews