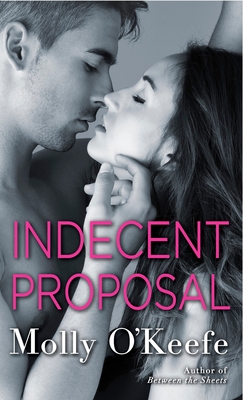 Indecent Proposal (The Boys of Bishop #4) (Mass Market)
Bantam, 9780345549051, 368pp.
Publication Date: September 30, 2014
* Individual store prices may vary.
Description
Perfect for readers of Susan Mallery and Rachel Gibson, Molly O'Keefe's gritty and sensual tale of passion and politics features the brother of the heroine from the author's beloved novel, Never Been Kissed. He's a driven man who refuses to be distracted—until he meets a beautiful bartender who just may change his life.
 
With his chiseled jaw and thick blond hair, Harrison Montgomery was born to lead. Four generations of Montgomery men have served the state of Georgia, and now he's next in line. Harrison, though, is driven to right wrongs: namely to clean up the political mess left by his father's greed and corruption. But Harrison must first win his congressional bid, and nothing can get in his way—not even an angel who served him whiskey and gave him a shoulder to lean on and a body to love for a night. Problem is, she's pregnant. Scandal is brewing, and there is only one solution: marriage.
 
Damage control? Ryan Kaminski can't believe that a cold, calculating political animal now inhabits the body of the emotionally vulnerable stranger who gave her the most unforgettable night of her life. Really, she doesn't want anything from Harrison, except to be left alone to have her baby in peace. But Ryan is broke, jobless, and essentially blackmailed by Harrison's desperate family to accept this crazy marriage deal. For two years, she will have to act the role of caring, supportive wife. But what is Ryan supposed to do when she realizes that, deep in her heart, she's falling in love?

Praise for Indecent Proposal
 
"Real, immediate, and wrenching. This is a love story not to be missed."—Publishers Weekly (starred review)
 
"In O'Keefe's very capable hands, readers are drawn into Ryan and Harrison's engaging journey to understanding and love. . . . A touching, sexy and surprising story of two people from completely different worlds who turn out to be a perfect match."—Kirkus Reviews
 
"Whatever rating system you might use to rank book reads, Indecent Proposal by Molly O'Keefe will blow it right out of the water. . . . Once again, with this book, she excels! Indecent Proposal brings together two lonely, pained individuals, puts them in an untenable relationship, and has them come out the other side in a solid and loving partnership. But the path to get there is filled with anguish and soul searching, and whew, what a ride! . . . I can't wait to see what O'Keefe offers next."—Fresh Fiction
 
"Gut-wrenching, funny, thought-provoking and romantic. Harrison and Ryan are so finely crafted you'll walk away feeling as if you'd always know their hearts."—The Book Nympho
 
"Indecent Proposal is a heartfelt, poignant and sexy addition to the Boys of Bishop series that old and new fans are going to love."—Book Reviews & More by Kathy
About the Author
Molly O'Keefe published her first Harlequin romance at age twenty-five and hasn't looked back. She loves exploring each character's road toward happily ever after. She's won two Romantic Times Reviewers' Choice awards and the RITA for Best Novella in 2010. Originally from a small town outside of Chicago, she now lives in Toronto, Canada, with her husband, two kids, and the largest heap of dirty laundry in North America.
Praise For Indecent Proposal (The Boys of Bishop #4)…
"Real, immediate, and wrenching. This is a love story not to be missed."—Publishers Weekly (starred review)
 
"In [Molly] O'Keefe's very capable hands, readers are drawn into Ryan and Harrison's engaging journey to understanding and love. . . . A touching, sexy and surprising story of two people from completely different worlds who turn out to be a perfect match."—Kirkus Reviews
 
"Whatever rating system you might use to rank book reads, Indecent Proposal by Molly O'Keefe will blow it right out of the water. . . . Once again, with this book, she excels! Indecent Proposal brings together two lonely, pained individuals, puts them in an untenable relationship, and has them come out the other side in a solid and loving partnership. But the path to get there is filled with anguish and soul searching, and whew, what a ride! . . . I can't wait to see what O'Keefe offers next."—Fresh Fiction
 
"Gut-wrenching, funny, thought-provoking and romantic. Harrison and Ryan are so finely crafted you'll walk away feeling as if you'd always know their hearts."—The Book Nympho
 
"Indecent Proposal is a heartfelt, poignant and sexy addition to the Boys of Bishop series that old and new fans are going to love."—Book Reviews & More by Kathy