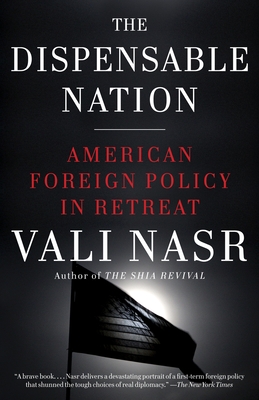 The Dispensable Nation (Paperback)
American Foreign Policy in Retreat
Anchor, 9780345802576, 320pp.
Publication Date: January 14, 2014
Other Editions of This Title:
Digital Audiobook (4/15/2013)
Hardcover (4/16/2013)
Compact Disc (4/16/2013)
* Individual store prices may vary.
Description
A Financial Times Best Book of the Year

Forcefully persuasive, The Dispensable Nation is a game changer for America as it charts a course in the Muslim world, Asia, and beyond. Vali Nasr shows how the Obama administration missed its chance to improve U.S. relations with the Middle East by continuing to pursue its predecessor's questionable strategies there. Nasr takes readers behind the scenes at the State Department and reveals how the specter of terrorism and the new administration's fear of political backlash crippled diplomatic efforts to boost America's foundering credibility with world leaders. Meanwhile, the true economic threats, China and Russia, were quietly expanding their influence in the region. Nasr argues that, as a result of the U.S.'s flawed strategy, a second Arab Spring is brewing—not a hopeful clamor for democracy but rage at the United States for its foreign policy of drones and assassinations.
About the Author
Vali Nasr is Dean of the Paul H. Nitze School of Advanced International Studies at Johns Hopkins University and the bestselling author of The Shia Revival and Forces of Fortune. From 2009 to 2011, he served as Senior Advisor to Ambassador Richard Holbrooke, the Special Representative for Afghanistan and Pakistan. A Nonresident Fellow at the Brookings Institution and a contributor to Bloomberg View, he lives in Washington, D.C.
Praise For The Dispensable Nation: American Foreign Policy in Retreat…
"A brave book. . . . Nasr delivers a devastating portrait of a first-term foreign policy that shunned the tough choices of real diplomacy. . . . The Dispensable Nation constitutes important reading. . . . It nails the drift away from the art of diplomacy—with its painful give-and-take—toward a U.S. foreign policy driven by the Pentagon, intelligence agencies and short-term political calculus. It holds the president to account for his zigzags from Kabul to Jerusalem. . . . Its core message is: Diplomacy is tough and carries a price, but the price is higher when it is abandoned."
—The New York Times
 
"An original, powerful, and provocative critique of American foreign policy under President Obama."
—George Packer, author of The Assassins' Gate: America in Iraq
 
"Nasr delivers a sharp, sober, fast-paced and absolutely riveting critique of President Obama's policies in the Middle East and Afghanistan."
—Robert Kagan, Senior Fellow, Brookings Institution and author of The World America Made
 
"An indispensable book. Taking us into the secretive world of high-level American foreign policy, Vali Nasr shares astounding, previously unrevealed details about the Obama administration's dealings with Afghanistan, Pakistan and Iran. Nasr doesn't just spill secrets—he also charts a path forward, advancing an insightful prescription for how the United States can regain its lost influence. This provocative story is a must-read for anyone who cares about America's role in the world."
—Rajiv Chandrasekaran, author of Little America and Imperial Life in the Emerald City

"A pugnacious book. . . . The Dispensable Nation is strongest when Nasr lays into the Obama administration's policies in Afghanistan, Pakistan, and Iran, three countries he knows exceptionally well, and on which he worked day-to-day at the State Department."
—The New York Review of Books

"Vali Nasr was in the room during key moments of the Obama administration's first two years as it faced some of its most important foreign policy challenges. His portrayal of strategic confusion inside Obama's White House is devastating and persuasive. Nasr writes with the dispassion of one of the United States' leading experts on the Middle East and South Asia and with the insider knowledge he gained as a senior adviser to Richard Holbrooke, the legendary diplomat. Nasr asserts that the Obama White House didn't really believe in diplomacy in its dealings with the Afghans and Pakistanis and he makes his case with great cogency and clarity in this indispensable book."
—Peter Bergen, author of Manhunt: The Ten-Year Search for bin Laden, from 9/11 to Abbottabad

"The Dispensable Nation is an important wake-up call by a thoughtful, astute and deeply knowledgeable scholar and policymaker. Anyone interested in the Middle East, China, or the future of American power should read it immediately and think hard about its message."
—Anne-Marie Slaughter, Bert G. Kerstetter '66 University Professor of Politics and International Affairs at Princeton University and former Director of Policy Planning, U.S. Department of State, 2009-2011

"An impressive tour d'horizon which includes a personally frank eulogy to Richard Holbrooke's failed efforts to shape U.S. policy in Afghanistan, revealing insights into White House vs. State Department collisions over U.S. strategy, and a sweeping review of the escalating geopolitical challenges the U.S. needs to address more intelligently in the Middle East, the Far East, and especially Iran. Gutsy, intriguing, and challenging."
—Zbigniew Brzezinski

"Vali Nasr is without peer in explaining how and why political order is crumbling across the Middle East, and how and why China may reap the spoils. Along the way, he lays out in never-before-told, granular detail why President Obama's first term was such a disappointment regarding foreign policy."
—Robert D. Kaplan, chief geopolitical analyst, Stratfor, and author of The Revenge of Geography

"[A] vivid firsthand account of White House policymaking...Nasr's shrewd, very readable analyses of byzantine Middle Eastern geo-politics are superb."
—Publishers Weekly

"An informed, smoothly argued brief that will surely rattle windows at the White House."
—Kirkus Reviews, starred review
or
Not Currently Available for Direct Purchase