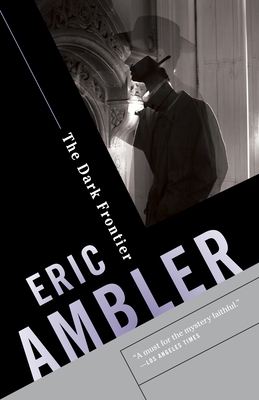 The Dark Frontier (Paperback)
Vintage Books, 9780345802651, 258pp.
Publication Date: December 11, 2012
Description
The Dark Frontier launched Eric Ambler's five-decade career as one of the most influential thriller writers of our time. England, 1935. Physicist Henry Barstow is on holiday when he meets the mysterious Simon Groom, a representative for an armaments manufacturer. Groom invites the professor to Ixania, a small nation-state in Eastern Europe whose growing weapons program threatens to destabilize the region. Only after suffering a blow to the head--which muddles his brain into believing he is Conway Carruthers, international spy--does the mild-mannered physicist agree to visit Ixania. But he quickly recognizes that Groom has a more sinister agenda, and Carruthers is the only man who can stop him.
About the Author
Eric Ambler was born in London in 1909. Before turning to writing full-time, he worked at an engineering firm, and wrote copy for an advertising agency. His first novel was published in 1936. During the course of his career, Ambler was awarded two Gold Daggers, a Silver Dagger, and a Diamond Dagger from the Crime Writers Association of Great Britain, named a Grand Master by the Mystery Writers Association of America, and made an Officer of the Order of the British Empire by Queen Elizabeth II. In addition to his novels, Ambler wrote a number of screenplays, including A Night to Remember and The Cruel Sea, which won him an Oscar nomination. Eric Ambler died in 1998.
Praise For The Dark Frontier…
"A must for the mystery faithful." —Los Angeles Times

"[Ambler] was wonderfully gifted. . . . It is a pleasure to see where the master began." —Chicago Tribune
 
"The thinking man's thriller writer." —The Washington Post

"Ambler is, quite simply, the best." —The New Yorker
 
"Busy and engaging. . . . [The Dark Frontier] is a romp, although with hints of the harder line that Ambler was to take in the later novels." —Los Angeles Times
 
"The foremost thriller writer of our time." —Time
 
"Mr. Ambler is a phenomenon!" —Alfred Hitchcock
 
"One of the masters of the thriller. . . . Ambler took the spy thriller out of the gentility of the drawing room and into the back streets . . . where it all really happened." —Associated Press
 
"Ambler is incapable of writing a dull paragraph."— Sunday Times (London)
Advertisement