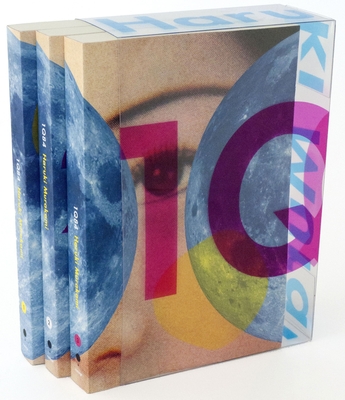 1Q84 (Paperback)
3 Volume Boxed Set (Vintage International)
Vintage, 9780345802934, 1184pp.
Publication Date: May 15, 2012
Other Editions of This Title:
Paperback (1/22/2013)
Hardcover (10/25/2011)
Paperback, Spanish (9/9/2014)
Compact Disc (1/22/2013)
Paperback, Chinese (9/1/2010)
Paperback (6/1/2011)
Paperback (10/1/2011)
Hardcover, Chinese (1/1/2011)
Compact Disc (6/24/2014)
Compact Disc (11/8/2011)
Prebound (1/22/2013)
MP3 CD (1/22/2013)
Paperback (8/1/2012)
Hardcover, Chinese (9/1/2010)
MP3 CD (11/1/2011)
* Individual store prices may vary.
November 2011 Indie Next List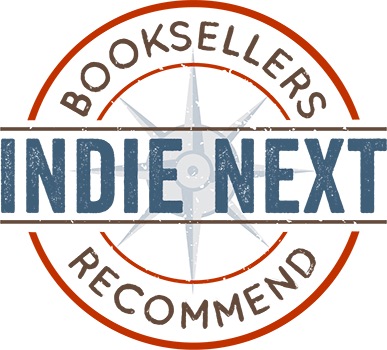 "A triple dose of classic Murakami, this new mega-novel takes us out of Orwell's 1984 and into the parallel world that our hero dubs 1Q84. A mysterious woman, a plagiarizing writer, and a beautiful dyslexic drive this tale of dystopian intrigue. Originally published in Japan as three books, the tale is combined here into one large volume. While the size of the tome is daunting, Murakami's spectacular prose and fantastic imagination carry the reader through brilliantly."
— Rebekah Rine, Watermark Books, Wichita, KS
View the List
Description
This deluxe three-volume paperback boxed set—gorgeously designed editions in a see-through case, with a removeable sticker on the shrink wrap packaging—is a collector's item in the making. It beautifully showcases Haruki Murakami's most ambitious novel yet, 1Q84—a love story, a mystery, a fantasy, a dystopia to rival George Orwell's.
 
The year is 1984 and the city is Tokyo.
 
A young woman named Aomame follows a taxi driver's enigmatic suggestion and begins to notice puzzling discrepancies in the world around her. She has entered, she realizes, a parallel existence, which she calls 1Q84—"Q is for 'question mark.' A world that bears a question." Meanwhile, an aspiring writer named Tengo takes on a suspect ghostwriting project. He becomes so wrapped up with the work and its unusual author that, soon, his previously placid life begins to come unraveled.
 
As Aomame's and Tengo's narratives converge over the course of this single year, we learn of the profound and tangled connections that bind them ever closer: a beautiful, dyslexic teenage girl with a unique vision; a mysterious religious cult that instigated a shoot-out with the metropolitan police; a reclusive, wealthy dowager who runs a shelter for abused women; a hideously ugly private investigator; a mild-mannered yet ruthlessly efficient bodyguard; and a peculiarly insistent television-fee collector.
 
An instant bestseller around the world, 1Q84 is a tremendous feat of imagination from one of our most revered contemporary writers.
About the Author
Haruki Murakami was born in Kyoto in 1949 and now lives near Tokyo. His work has been translated into more than fifty languages, and the most recent of his many international honors is the Jerusalem Prize, whose previous recipients include J. M. Coetzee, Milan Kundera, and V. S. Naipaul.
Praise For 1Q84: 3 Volume Boxed Set (Vintage International)…
A New York Times Notable Book
A Washington Post Best Book of the Year
 
"Brilliant. . . . An irresistibly engaging literary fantasy. . . . Murakami possesses many gifts, but chief among them is an almost preternatural gift for suspenseful storytelling."
—The Washington Post
 
"A grand, third-person, all encompassing meganovel. It is a book full of anger and violence and disaster and weird sex and strange new realities, a book that seems to want to hold all of Japan inside of it."
—The New York Times Magazine
 
"Bewitching. . . . Part noir crime drama, part love story, and part hallucinatory riff on 1984. . . . You don't know where things are going while you read it, and you can't say exactly where you've been when you're finished, but everything around you looks different somehow. If this is fiction as funhouse, it is very serious fun, and you enter at the risk of your own complacency."
—Newsweek
 
"A magical journey to a parallel world . . . 1Q84 is a love story and a detective story. It's a philosophical novel about the power of storytelling, the nature of reality, and the shifting balance of good and evil. . . . Once the narrative begins to pick up, you have no desire to put the book down."
—The Philadelphia Inquirer
 
"A weirdly gripping page-turner. . . . Its tonal register—as if serving as an antidote to the unsettling world it presents—is consistently warmhearted, secretly romantic, and really quite genial."
—Charles Baxter, The New York Review of Books
 
"Fascinating. . . . More than any author since Kafka, Murakami appreciates the genuine strangeness of our real world, and he's not afraid to incorporate elements of surrealism or magical realism as tools to help us see ourselves for who we really are. . . . A tremendous accomplishment. It does every last blessed thing a masterpiece is supposed to—and a few things we never even knew to expect."
—The San Francisco Chronicle
 
"Magnificent in many ways, a work of the imagination that defies description. . . . An immersive experience, one that will leave readers wondering what is real and what is imagined."
—Pittsburgh Tribune-Review
 
"[A] Japanese novel set in Tokyo in which the words 'sushi' and 'sake' never appear but there are mentions of linguine and French wine, as well as Proust, Faye Dunaway, The Golden Bough, Duke Ellington, Macbeth, Churchill, Janáèek, Sonny and Cher, and, given the teasing title, George Orwell? . . . This is Murakami's unflagging and masterful take on the desire and pursuit of the Whole."
—Paul Theroux, Vanity Fair
 
"Profound. . . . A multilayered narrative of loyalty and loss. . . . A big sprawling novel [that] achieves what is perhaps the primary function of literature: to reimagine, to reframe, the world. . . . A vision, and an act of the imagination."
—Los Angeles Times
 
"The international literary giant at his uncanny, mesmerizing best. . . . Translation is at the center of what Murakami does; not a translation from one tongue to another, but the translation of an inner world into this, the outer one. Very few writers speak the truths of that secret, inner universe more fluently."
—Salon
 
 "1Q84 is one of those books that disappear in your hands, pulling you into its mysteries with such speed and skill that you don't even notice as the hours tick by. . . . Magical. . . . Its enigmatic glow makes the world seem a little strange long after you turn the last page. Grade: A."
—Entertainment Weekly
 
"Two moons—two worlds—a girl with—900 pages—1Q84 is a gorgeous festival of words arranged for maximum comprehension and delicious satisfaction."
—Alan Cheuse, NPR
 
"[1Q84] is fundamentally different from its predecessors. . . . What the writer has laid down is a yellow brick road. It passes over stretches of deadly desert, to be sure, through strands of somniferous poppies, and past creatures that hurl their heads, spattering us with spills of kinked enigma. But the destination draws us: We crave it, and the craving intensifies as we go along." —The Boston Globe
 
"Voracious visionary Haruki Murakami's 1Q84 mixes down-the-rabbit-hole fantasy with out-there science fiction for a superhefty but accessible adventure." —Elle
 
"Powerful . . . . His most ambitious novel yet. . . . An unstoppably readable, deeply moving love story that cements Murakami's reputation as a uniquely compassionate and imaginative novelist who's among the leading voices of his global generation."
—The Christian Science Monitor
 
"[1Q84] is generous in the way that Philip Roth is generous: you get the feeling that everything Murakami has thought, and felt, and experienced, is out there on the page. Nothing gets held back, not even the uglines—especially the ugliness. . . . It's the kind of risky storytelling that writers of my generation are often too scared to try."
—Charles Baxter, The Millions' "A Year in Reading"
 
"Mesmerizing. . . . Take the time to get carried away, and time itself—as well as the way you think about how you spend yours—will take on new dimensions. It's a mind-blowing experience. Great novels always are."
—Milwaukee Journal Sentinel
 
"Extraordinarily ambitious. . . . Beguiling and ridiculously entertaining. . . . Murakami has created the big, beautiful book so many people have been waiting for. . . . We got our hopes up—and he didn't let us down."
—The Kansas City Star
 
"A huge novel in every sense . . . putting it down is not an option. . . . The reader who steps into its time flow only reluctantly comes ashore."
—New York Daily News
 
"[A] masterwork. . . . [Murakami has] crafted what may well become a classic literary rendering of pre-2011 Japan. . . . Orwell wrote his masterpiece to reflect a future dystopia through a Cold War lens. . . . Similarly, Murakami's 1Q84 captures attitudes and circumstances that characterize Japanese life before the March earthquake-tsunami-nuclear disaster. Reading 1Q84, one can't help but sense already how things have changed."
—Cleveland Plain Dealer