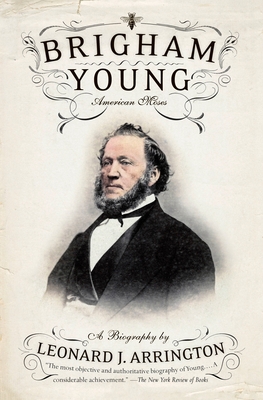 Brigham Young: American Moses (Paperback)
American Moses
Vintage Books, 9780345803214, 522pp.
Publication Date: June 12, 2012
* Individual store prices may vary.
or
Not Currently Available for Direct Purchase
Description
Brigham Young comes to life in this superlative biography that presents him as a Mormon leader, a business genius, a family man, a political organizer, and a pioneer of the West. Drawing on a vast range of sources, including documents, personal diaries, and private correspondence, Leonard J. Arrington brings Young to life as a towering yet fully human figure, the remarkable captain of his people and his church for thirty years, who combined piety and the pursuit of power to leave an indelible stamp on Mormon society and the culture of the Western frontier. From polygamy to the Mountain Meadows Massacre to the attempted preservation of Young's Great Basin Kingdom, we are given a fresh understanding of the controversies that plagued Young in his contentious relations with the federal government. Brigham Young draws its subject out of the marginal place in history to which the conventional wisdom has assigned him, and sets him squarely in the American mainstream, a figure of abiding influence in our society to this day.
About the Author
Leonard J. Arrington wrote several books on Mormon history and the American West, including Great Basin Kingdom: An Economic History of Latter-day Saints, 1830-1900 (1958) and, co-authored with Davis Bitton, The Mormon Experience: A History of the Latter-day Saints (1979). A regular contributor to many scholarly journals, he received a number of awards. Professor Arrington taught at North Carolina State, UCLA, Utah State University, and as the Lemuel Redd Professor of Western History at Brigham Young University. He served as Director of the History Division of the Church of Jesus Christ of Latter-day Saints.
Praise For Brigham Young: American Moses…
"The most objective and authoritative biography of Young. . . . A considerable achievement."
—New York Review of Books 

"Should bring new understanding and compassion for one of the most misunderstood giants in American history."
—San Francisco Examiner-Chronicle  

"Arrington pulls no punches. He writes of the successes as well as the failures, the conflicts as well as the compassion. The Mountain Meadows Massacre, polygamy, the United Order and other controversial parts of the story are all discussed, neither underplayed nor sensationalized."
—Deseret News
 
"Represents a significant turning point in Mormon historical scholarship for both Mormons and non-Mormons alike."
—History Book Club Review  
 
Advertisement