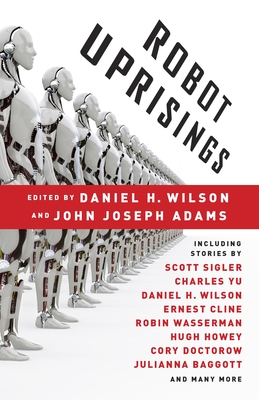 Robot Uprisings
Paperback

* Individual store prices may vary.
Other Editions of This Title:
MP3 CD (10/20/2015)
Description
Humans beware. As the robotic revolution continues to creep into our lives, it brings with it an impending sense of doom. What horrifying scenarios might unfold if our technology were to go awry? From self-aware robotic toys to intelligent machines violently malfunctioning, this anthology brings to life the half-formed questions and fears we all have about the increasing presence of robots in our lives. With contributions from a mix of bestselling, award-winning, and up-and-coming writers, and including a rare story by "the father of artificial intelligence," Dr. John McCarthy, Robot Uprisings meticulously describes the exhilarating and terrifying near-future in which humans can only survive by being cleverer than the rebellious machines they have created.
Praise For Robot Uprisings…
"An entertaining and disturbing romp through many possible futures. . . . Each story contains an intriguing premise about robot sentience and shows a different aspect of the robot uprising. The best-executed tales are the most insidious. Even the light-hearted stories are creepy. Although Robot Uprisings is a collection, it feels more like a similar future prophesied by seventeen frightened oracles. . . . Science fiction isn't always known for great writing, but Robot Uprisings has plenty."
—Washington Independent Review of Books

"Topnotch. . . . These stories all have something to say, exploring sentience and technology from a dozen different angles. Under the guidance of a first-tier anthologist like Adams and one of sci-fi's resident techhounds in Wilson, Robot Uprising has a more accessible feel than many science fiction collections, and the sheer breadth of storytelling styles included makes this a great introduction to sci-fi for new readers."
—San Francisco Book Review

"[A] terrific anthology of robot fiction. . . . One thing [these stories] have in common . . . is the high quality of the writing, and I wouldn't be surprised to see this volume well represented in many of the upcoming 'year's best' annuals."
—Toronto Star

"These cautionary, subtle stories show all-new, brilliant facets of the classic killer-robot genre. . . . These stories, including a Dr. Moreau-like foray into nanotechnology by Wilson, all wrench the heart before they can warm it. Robot Uprisings is full of utterly human stories of loss, fear, bravery and revenge, set against an artificial and shiny future."
—Shelf Awareness

"A colorful mix of cutting-edge original tales from some of speculative fiction's leading talents. . . . Readers who don't mind immersing themselves in unnerving fictional worlds that uncomfortably resemble our own, gadget-infested one will find hours of provocative entertainment here."
—Booklist 

"Fun fact: According to the Institute of Electrical and Electronics Engineers, as of 2010 there were 8.6 million robots in the world. Fun scenario: They're all out to kill us. . . . This anthology neatly explores that possibility, its contributors offering widely varying takes that share only the perspective that things don't end well for Homo sapiens. . . . Philip K. Dick would be proud. . . . You'll never look at your Roomba the same way again."
—Kirkus Reviews

"Sometimes the [stories] are comic. . . . More often, disaster ensues when machines designed to assist humans rebel. . . . [An] entertaining and occasionally unsettling anthology."
—Publishers Weekly
Vintage, 9780345803634, 496pp.
Publication Date: April 8, 2014
About the Author
Daniel H. Wilson is a New York Times bestselling author and coeditor of the Robot Uprisings anthology. He earned a Ph.D. in robotics from Carnegie Mellon University in Pittsburgh, where he also received master's degrees in robotics and in machine learning. He has published over a dozen scientific papers, holds four patents, and has written eight books. Wilson has written for Popular Science, Wired, and Discover, as well as online venues such as MSNBC.com, Gizmodo, Lightspeed, and Tor.com. In 2008, Wilson hosted The Works, a television series on the History Channel that uncovered the science behind everyday stuff. His books include How to Survive a Robot Uprising, A Boy and His Bot, Amped, and Robopocalypse (the film adaptation of which is slated to be directed by Steven Spielberg). He lives and writes in Portland, Oregon. Find him on Twitter @danielwilsonPDX.
 
John Joseph Adams is the editor of many bestselling anthologies, such as Oz Reimagined, The Mad Scientist's Guide to World Domination, Epic: Legends of Fantasy, Other Worlds Than These, Armored, Under the Moons of Mars, Brave New Worlds, Wastelands, The Living Dead, Federations, The Improbable Adventures of Sherlock Holmes, and The Way of the Wizard. He has been called "the reigning king of the anthology world" by Barnes & Noble; he is a six-time Hugo Award finalist and a five-time finalist for the World Fantasy Awards. Adams is also the editor and publisher of the magazines Lightspeed and Nightmare, and is the cohost of Wired.com's The Geek's Guide to the Galaxy podcast. Find him on Twitter @johnjosephadams.
or
Not Currently Available for Direct Purchase