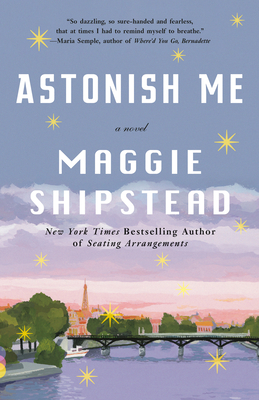 Astonish Me (Vintage Contemporaries)
Paperback

* Individual store prices may vary.
Other Editions of This Title:
Digital Audiobook (4/7/2014)
Hardcover, Large Print (1/14/2015)
Hardcover (4/8/2014)
Compact Disc (4/8/2014)
Description
For years Joan has been trying to forget her past, to find peace and satisfaction in her role as wife and mother. Few in her drowsy California suburb know her thrilling history: as a young American ballerina in Paris, she fell into a doomed, passionate romance with Soviet dance superstar Arslan Rusakov. After playing a leading role in his celebrated defection, Joan bowed out of the spotlight for good, heartbroken by Arslan and humbled by her own modest career.
 
But when her son turns out to be a ballet prodigy, Joan is pulled back into a world she thought she'd left behind—a world of dangerous secrets, of Arslan, and of longing for what will always be just out of reach.

Praise For Astonish Me (Vintage Contemporaries)…
"So dazzling, so sure-handed and fearless, that at times I had to remind myself to breathe." —Maria Semple, author of Where'd You Go, Bernadette 
  
"A novel you must read." —Ron Charles, The Washington Post 
 
"I will be paying close attention to Shipstead's career from here on in." —Jeffrey Eugenides
 
"A breathtaking work of art." —O, The Oprah Magazine
 
"Precise…. Flawless…. Transcendent." —Maureen Corrigan, NPR
 
"A grand arabesque into the world of dance. . . . Thrilling." —Time
 
"Electrifying. . . . Astonish Me shines." —San Francisco Chronicle

"The inner lives of [Shipstead's] characters feel as real and immediate as the shifting settings they inhabit: still-gritty mid-1970s Manhattan, shabbily elegant Paris, the sunbaked suburban sprawl of Southern California. . . . Shipstead's youth may be a talking point, but her talent transcends it. She's astonishing." —Entertainment Weekly
 
"Seamless and full of small elegances . . . Lovely. . . . Reading Astonish Me, I didn't need to be astonished. I was happy." —Annalisa Quinn, NPR
 
"A searing rumination on insecurity, secrecy, and friendship. . . . Shipstead nails the details of being perpetually en pointe" —O, The Oprah Magazine
 
"Maggie Shipstead takes hold of the reader and doesn't let go. Astonish Me is a haunting, powerful novel." —Dani Shapiro
 
"Sardonic and insightful. . . . [Shipstead] does caustic humor, simmering hostilities, and social envy well." —New York Times Book Review
 
"Deeply engrossing . . . [A] thoughtful meditation on the relentless pursuit of perfection and just how far we're willing to go for love." —BookPage
 
"A bravura display of high-performance art, the only constant its quest for perfection."  —The Guardian (London)
 
"The emotionally nuanced tale of barre-crossed lovers and the majestic, mysterious world of professional dance. A supple, daring, and vivid portrait of desire and betrayal." —Booklist (starred review)
 
"Shipstead's insights into human nature take center stage. The story's surprisingly satisfying outcome encourages us to accept imperfection and even take refuge in doing so." —Nylon Magazine
 
"Bold and thrilling. . . The way the characters come together in new and surprising pairings is one of the book's many pleasures." —Boston Globe
 
"Full of delights. . . . Maggie Shipstead is a writer to watch." —The Washington Times
 
"Impressively sure-footed ." —Elle
 
"Sharp and memorable . . . Full of the kind of keen observations about people and relationships that made her first book, Seating Arrangements, one of 2012's most delightful literary surprises." —San Diego Union-Tribune
 
"Exhilarating." —Columbus Dispatch
 
"Spans continents, decades, and generations . . . . A total pleasure to read."  —The Rumpus


Vintage, 9780345804617, 272pp.
Publication Date: January 6, 2015
About the Author
Maggie Shipstead is a graduate of the Iowa Writers' Workshop and a former Wallace Stegner Fellow at Stanford University. Her first novel, Seating Arrangements, was a New York Times best seller, a finalist for the Flaherty-Dunnan First Novel Prize, and the winner of the Dylan Thomas Prize and the Los Angeles Times Book Prize for First Fiction.
What does "Astonish me" mean, as a metaphor in the novel?
Who is the main character? Is that person also the hero?
Shipstead skips forward and backward in time
throughout the novel. How does she use these leaps to
fill in the story?
"Elaine ingests a steady but restricted diet of cocaine without apparent
consequence. The key, she has said to Joan, is control. Control is the
key to everything." (page 8) What does Elaine mean by "control"?
Which characters in the novel lose control, and to what effect?
And how does the perfectionism required of ballet dancers play into
intent and control?
Is Joan's aggressive pursuit of Arslan out of character for her? Why
does she do it?
Throughout the novel, characters wonder why Arslan chose Joan to
help him defect. Why do you think he chose her?
How does Sandy shape her daughter's future? What effect does her
behavior at Disneyland have?
"I think things can be true even if they didn't really happen," Jacob says
on page 144. What does he mean by this? How does it play out in his
family's life?
Jacob adored Joan from childhood; Harry adored Chloe from
childhood. How else does the younger generation resemble the older
one? How do they differ?
Why do Harry's feelings for Chloe change?
What does "parent" mean, in terms of the novel? Which characters
make good parents?
What is the metaphor of Emma Livry, the ballet dancer whose tutu
catches fire?
What does Rodina, the title of Arslan and Chloe's ballet, mean? (In
Russia, it refers to "motherland.")
Do you think Jacob decides to stay through the end of the performance?