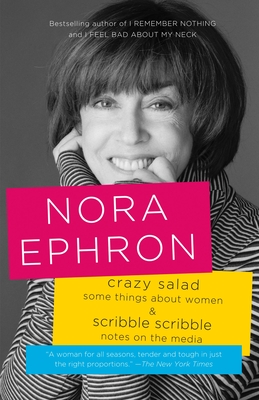 Crazy Salad and Scribble Scribble
Some Things About Women and Notes on Media
Paperback

* Individual store prices may vary.
Other Editions of This Title:
Digital Audiobook (7/8/2013)
Description
Two classic collections of Nora Ephron's uproarious essays—tackling everything from feminism to the media, from politics to beauty products, with her inimitable charm and distinctive wit—now available in one book for the first time. 
 
This edition brings together some of Ephron's most famous writing on a generation of women (and men) who helped shape the way we live now, and on events ranging from the Watergate scandal to the Pillsbury Bake-Off. In these sharp, hilariously entertaining, and vividly observed pieces, Ephron illuminates an era with wicked honesty and insight. From the famous "A Few Words About Breasts" to important pieces on her time working for the New York Post and Gourmet Magazine, these essays show Ephron at her very best.
Praise For Crazy Salad and Scribble Scribble: Some Things About Women and Notes on Media…
"A woman for all seasons, tender and tough in just the right proportions." —The New York Times
 
"A tremendously talented woman from a significant American period. . . . tremendous talent is her forte, her strong suit, her fiendish trump card." —The Washington Post 
  
"Truly funny and wonderfully wise." —Chicago Tribune
 
"Witty whiplash prose—a delight to read." —Publishers Weekly

 "Nora Ephron can write about anything better than anybody else can write about anything." —The New York Times

"Stylish, opinionated, with a kind of take-no-prisoners fearlessness rooted in both the women's movement and the equally complex terrain of her own emotions" —Los Angeles Times

"As tart and refreshing as the first gin and tonic of summer." —The New York Times Book Review

"A brilliant, restless mind." —Ms.

"Funny, shrewd, devastating." —Newsweek

"Nora Ephron is, in essence, one of the original bloggers—and if everyone could write like her, what a lovely place the Internet would be. . . . telling stories that were, more often than not, ultimately about herself, and doing so with such warmth, wit and skill that they became universal." —The Seattle Times 

 "Always funny." —Mademoiselle

"Pure delight." —Playboy
Vintage, 9780345804747, 448pp.
Publication Date: October 16, 2012
About the Author
Nora Ephron was the author of the bestselling I Feel Bad About My Neck as well as Heartburn, Crazy Salad, Wallflower at the Orgy, and Scribble Scribble. She wrote and directed the hit movie Julie & Julia and received Academy Award nominations for Best Original Screenplay for When Harry Met Sally. . ., Silkwood, and Sleepless in Seattle, which she also directed. Her other credits include the script for the stage hit Love, Loss, and What I Wore with Delia Ephron. She died in 2012.