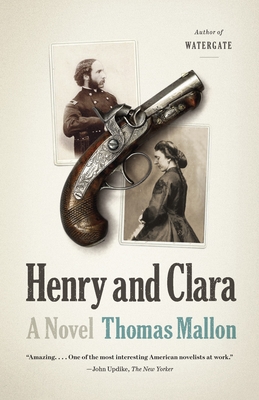 Henry and Clara (Paperback)
Vintage Books, 9780345804761, 358pp.
Publication Date: April 23, 2013
Description
On the evening of Good Friday, 1865, Henry Rathbone and Clara Harris joined the Lincolns in the Presidential box at Ford's Theater, becoming eyewitnesses to one of the great tragedies of American history.
In this riveting novel, Thomas Mallon re-creates the unusual love story of this young engaged couple whose fateful encounter with history profoundly affects the remainder of their lives. Lincoln's assassination is only one part of the remarkable life they share, a dramatic tale of passion, scandal, heroism, murder, and madness, all based on Mallon's deep research into the fascinating history of the Rathbone and Harris families. Henry and Clara not only tells the astonishing story of its title figures; it also illuminates the culture of nineteenth-century Victorian America: a rigid society barely concealing the suppressed impulses and undercurrents that only grew stronger as the century progressed.
About the Author
Thomas Mallon is the author of eight novels, including Dewey Defeats Truman, Fellow Travelers, and Watergate. He is a frequent contributor to The New Yorker, The New York Times Book Review and other publications.
Praise For Henry and Clara…
Praise for Thomas Mallon's Henry and Clara:

"Amazing . . . one of the most interesting American novelists at work."
—John Updike, The New Yorker
 
"The powerful story is superbly told. . . . You can't ask for much more from historical fiction."
—The Washington Post Book World

"Ambitious in scope and depth . . . Mallon makes good use of sharp, disturbing twists on familiar themes."
—The New York Times Book Review
 
"A transporting, beautifully written novel as authentic in its period detail as it is in its rich characterizations."
—Entertainment Weekly

"Riveting . . . Mallon's most polished gem to date."
—Chicago Tribune

"A pitch-perfect rendering . . . Mesmerizing and assiduously researched."
—The Philadelphia Inquirer

"A powerful reconstruction of actual events."
—New Orleans Times-Picayune

"From the footnotes of American history, Mallon has pulled authentic figures and embroidered a compelling novel."
—Booklist

"A masterly blend of fact and fiction."
—Albany Times Union

"Mallon . . . outdoes himself in this re-creation, which raises the private consequences of history to what seems their deserved status—legend."
—Publishers Weekly

"All written history is a work of imagination, but seldom is it rendered as skillfully as in Henry and Clara."
—Raleigh News and Observer

"Beautifully written, Henry and Clara is marked by tender passion, and its characters are, for all their faults, endearing."
—National Review

"A stately and elegant historical novel of classic proportions. . . . Mallon's book is smart and engaging, and he manages to bring his characters fully alive while never allowing us to forget that they are truly creatures of another era."
—Los Angeles Times

"An imaginative alteration of events, a provocative might-have-been. . . . Some of Mallon's finest writing goes into Henry's letters home. . . . Triumphantly successful as a suspenseful and satisfying work of art."
—The New Criterion
Advertisement