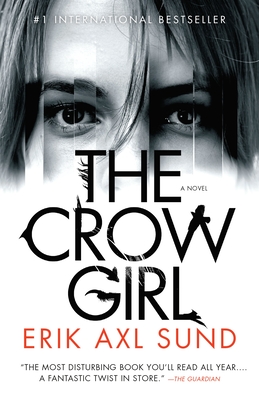 The Crow Girl
Paperback

* Individual store prices may vary.
Other Editions of This Title:
Digital Audiobook (6/13/2016)
Hardcover (6/14/2016)
Description
The #1 international sensation, a mesmerizing and explosive thriller that reaches into the darkest corners of the human psyche and asks: How much suffering can a person inflict upon another before creating a monster? 

In a Stockholm city park, police find the tortured body of a youth. Then, they find two more, and it becomes clear that they are facing an extraordinary case—and an extraordinarily twisted killer. Detective Superintendent Jeanette Kihlberg heads the investigation, battling an apathetic prosecutor and a bureaucratic police force. She turns to the therapist Sofia Zetterlund for her expertise in psychopathic perpetrators, and under the pressure of the investigation, their lives become inextricably intertwined. As the two women draw closer to the truth about the killings, they begin to discover a hideous evil at work, and it's much closer to them than they think. Mesmerizing and explosive, The Crow Girl is a tale of almost unfathomably heinous deeds and of the catastrophic damage, and the profound need for revenge, left in their wake.
Praise For The Crow Girl…
Praise for Erik Axl Sund's The Crow Girl

"Unfolds in kaleidoscopic fashion. . . . Fired up by moral concerns, this book's engine never stops humming." —Chicago Tribune 

"The most disturbing book you'll read all year. . . . There's a fantastic twist in store." —The Guardian

"What is it about Sweden that produces such deliciously, darkly off-kilter thrillers, featuring idiosyncratic, complex characters such as Lisbeth Salander and now Detective Superintendent Jeanette Kihlberg? As Kihlberg investigates a killer who targets immigrant children, she must deal with xenophobia, extreme right-wing politics, and other hot-button issues that only deepen our morbid fascination."
—O, The Oprah Magazine
 
"You will find [The Crow Girl] to be among the most wide-ranging and forceful Scandinavian crime novels you have encountered. . . . Complex and very dark." —Financial Times
 
"A huge book and a landmark achievement for its authors. . . . A darkly delightful must-read." —Crime Fiction Lover

"Bold, addictive, and timely." —Chicago Review of Books

"Engrossing. . . . This disturbingly fascinating look at revenge, abuse, and the impact of childhood on adult choices is not for the faint of heart, but it is highly recommended for those [who] appreciate dark, psychological mysteries." —Library Journal
 
"A breakneck journey through a plot of labyrinthine complexity. . . . Sund boldly places dissociative identity disorder at the heart of this extremely disturbing novel." —The Times (London)
 
"Probing. . . . Full of chills. . . . A smart, rewarding psychological thriller." —Kirkus Reviews
 
"The Swedish crime thriller tipped to make a killing. . . . Follows in the footsteps of Stieg Larsson and Henning Mankell." —The Guardian

"Horrors abound in the pseudonymous Sund's scathing first book that rips asunder the appearance of Sweden's contemporary welfare state. . . . [A] challenging multifaceted descent into the abyss of evil and madness." —Publishers Weekly

"Brutal, upsetting, and brilliantly written, it is the best crime novel of the year so far. . . . The joint authors . . . rage against misogyny and sexism. They decry child abuse and human trafficking. And, perhaps most importantly, they tell a brilliant story. . . . This novel is dark—jet-black dark. . . . The authors' biggest triumph, however, is to make seven hundred fifty pages whizz past. . . . Terse, direct, and compelling." —Metro (London)
Vintage Crime/Black Lizard, 9780345805096, 880pp.
Publication Date: June 27, 2017
About the Author
ERIK AXL SUND is the pen name of Swedish author duo Jerker Eriksson and Håkan Axlander Sundquist, recipients of the Special Award from the Swedish Crime Writers Academy. In addition to writing, Eriksson has been a prison librarian and the producer of an electro punk band, and Sundquist has worked as a sound engineer, musician, and artist. They live in Stockholm.

www.erikaxlsund.com