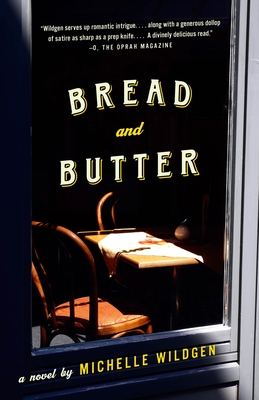 Bread and Butter (Paperback)
Anchor, 9780345805430, 336pp.
Publication Date: November 4, 2014
* Individual store prices may vary.
Description
Britt and Leo have spent ten years establishing Winesap as the best restaurant in their small Pennsylvania town. They cater to their loyal customers, they don't sleep with the staff, and business is good, even if their temperamental pastry chef is bored with making the same chocolate cake night after night.
 
But when their dilettante younger brother, Harry, opens his own restaurant, Britt and Leo find their lives thrown off-kilter. Important employees quit and reappear in Harry's kitchen, their "classic" menu starts to seem overly safe, and romance threatens to bubble up in the most inconvenient of places. As the brothers struggle to find a new family dynamic, Bread and Butter proves to be a dazzling novel that's as much about siblinghood as it is about the mysterious world behind the kitchen door. 
 
About the Author
Michelle Wildgen is the executive editor of the literary quarterly Tin House. A graduate of the University of Wisconsin, Wildgen received her MFA from Sarah Lawrence College. Her fiction, personal essays, and food writing have appeared in The New York Times; O, The Oprah Magazine; Best New American Voices; Best Food Writing; Prairie Schooner; and elsewhere. Michelle is the author of the novels But Not for Long and You're Not You, and the editor of an anthology, Food & Booze: A Tin House Literary Feast. You're Not You has been optioned for film by Hilary Swank and Denise Di Novi.
Praise For Bread and Butter…
"Wildgen serves up romantic intrigue . . . along with a generous dollop of satire as sharp as a prep knife. . . . A divinely delicious read." —O, The Oprah Magazine
 
"Michelle Wildgen's captivating story of sibling rivalry puts a whole new spin on family dinner. Bread and Butter has the complete meal, soup to nuts: a stirring love story, an engrossing drama." —Jennifer Gilmore, author of The Mothers
  
"A story of family feuds and foie gras." —The New York Post
 
"Wildgen's . . . as skilled at the mechanics of whipping up a well-crafted story as she is describing how to make a béarnaise. . . . A tremendous feast of a novel." —The Millions 

"The restaurant industry, with its relentless push for reinvention and obsession with the new, is brutal. But so is getting old, Wildgen's novel will remind you. . . The pages start flying when Stray ramps up business. . . . Three words for you: Food Nerds Unite." —The New York Times Book Review
 
 "Wildgen couples vivid description with crisp prose, putting the reader right in the scene—and right at the table. . . . Purely delicious." —The Miami Herald
 
"Filled with tasty insider details, from the tyranny of molten chocolate cake to the politics of dining at the bar." —Vogue
 
"A marvel of culinary and literary delights. Not since the great M.F.K. Fisher has a writer taken such care to explore the intimate and sensual relationships between food, love and family. . . . A novel to be savored." —Amber Dermont, author of The Starboard Sea
 
"A witty and finely observed work that succeeds both as a literary novel and a pleasure read." —Isthmus

"Wildgen . . . mixes tempers, ambition and libidos into a savory read." —Wisconsin State Journal

"Goes down like comfort food." —Entertainment Weekly   

"Bread and Butter shows a writer at the top of her craft addressing a subject for which her passion and curiosity is palpable. And her thematic material — the strength of familial bonds in the face of stress and strain — is a perfect fit to her setting, where despite broken dishwashers, no-show staff members, and cuts and burns, something delicious almost always comes out of the kitchen." —The Capital Times

"A lively novel with an engaging narrative of the restaurant biz. . . . High-end restaurants are complex microcosms and with her wonderfully descriptive style and an obvious understanding of the restaurant business, Wildgen uses these settings, sometimes volatile (think middle of a dinner rush when the chef is missing), sometimes relaxing (in the morning before the staff arrives for dinner prep) to explore the intimacy and fragility of families, the complicated relationships among people who work closely together, and the difficult task of serving customers like ourselves. After reading Bread and Butter it's almost certain that your next restaurant experience will likely not be perceived as it was before." —The Oregonian 

"Four stars for Bread and Butter, Michelle Wildgen's saucy tale of three foodie brothers at each other's throats." —Vanity Fair