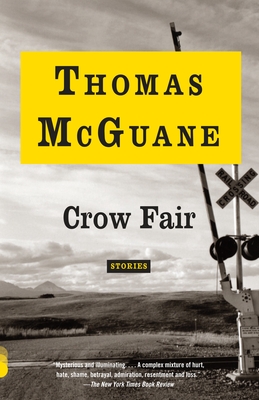 Crow Fair (Vintage Contemporaries) (Paperback)
Vintage, 9780345805911, 288pp.
Publication Date: March 8, 2016
Other Editions of This Title:
Digital Audiobook (5/25/2015)
Compact Disc (5/26/2015)
Hardcover (3/3/2015)
MP3 CD (5/26/2015)
Hardcover, Large Print (7/29/2015)
* Individual store prices may vary.
Description
A San Francisco Chronicle Best Book of the Year

Set in his beloved Big Sky country, these stories attest to the generous compass of Thomas McGuane's fellow feeling, as well as to his unique way with words and a comic genius in the vein of Twain and Gogol. In this triumphant collection, filled with grace and humor, the ties of family make for uncomfortable binds: A devoted son is horrified to discover his mother's antics before she slipped into dementia, and a father's outdoor skills are no match for a change in the weather. But complications arise equally in the absence of blood, as when lifelong friends on a fishing trip finally confront their deep dislike for each other. Or when a gifted traveling cattle breeder succumbs to the lure of a stranger's offer of easy money. McGuane is as witty and large-hearted as we have ever known him, and Crow Fair is a jubilant, thunderous confirmation of his status as a modern master.
About the Author
Thomas McGuane lives in McLeod, Montana. He is a member of the American Academy of Arts and Letters and the author of ten novels, three works of nonfiction, and three collections of stories.
Praise For Crow Fair (Vintage Contemporaries)…
"Mysterious and illuminating. . . . A complex mixture of hurt, hate, shame, betrayal, admiration, resentment and loss." —The New York Times Book Review

"McGuane's masterful storytelling and straightforward prose delivers an authenticity and a knowingness, making these tales hard to forget." —San Francisco Chronicle

"One of America's best short-story writers of the last 50 years." —The Boston Globe 
 
"A handsome showcase for McGuane's mix of stoner comedy and Hemingway-esque machismo." —The Washington Post

"Bathed in insight, irony and a dark, knowing humor. . . . Ranks among [McGuane's] best work." —Miami Herald
 
"Dazzling . . . McGuane rustles up some of his best stories yet . . . [and] continues to burnish his reputation with some of his most accomplished fiction to date." —O, The Oprah Magazine
 
"A rich and fascinating portrait of Montana. . . . McGuane has both honed the edge of his already sharp tone and, paradoxically, become more sympathetic to the human condition." —NPR
 
"Brilliant, bittersweet. . . . Crow Fair is funny, of course: It couldn't be written by McGuane if it weren't. But under-girding his signature visceral, unpredictable humor is a new sense of wistfulness, nostalgia, and loss. . . . McGuane narrates his cautionary tales with fierce, energetic concern that at times feels almost like tenderness." —Elle magazine
 
"One of McGuane's great gifts is the ability to elicit laughter in dark moments or to jolt the reader of an ostensibly comic tale with a knife twist of pathos or tragedy. . . . The only thing [the reader] can expect is to be surprised—by McGuane's deadpan wit, his hyperactive imagination, and his deep appreciation for the human comedy." —The Christian Science Monitor
 
"One of our best living American short-story writers. . . . [McGuane] enriches every life he renders. Even when his characters don't get lucky, they get great lines." —The Seattle Times
 
"Wonderful. . . . [McGuane] is, as Crow Fair proves quite splendidly, a writer, first, last and always—a delightfully comic one." —The Buffalo News
 
"McGuane's third short story collection in a career that stretches back to 1969 . . . is a rare, joyous occasion for fans of the genre." —Richmond Times-Dispatch
 
"Brilliant." —Booklist (starred review)
 
"With imagery as sparse and striking as the landscape . . . [These] stories highlight the detachment of young from old, husband from wife, neighbor from neighbor, the dying from life itself." —Publishers Weekly (starred review)
 
"A slyly cutting batch of tales from a contemporary master. . . . Seventeen stories, straightforward but well-crafted, that cement McGuane's reputation as the finest short story writer of Big Sky country." —Kirkus (starred review)