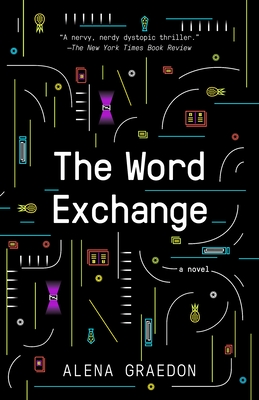 The Word Exchange
Paperback

* Individual store prices may vary.
Other Editions of This Title:
Digital Audiobook (4/7/2014)
Hardcover (4/8/2014)
Compact Disc (4/8/2014)
MP3 CD (4/8/2014)
Compact Disc (4/8/2014)
Description
Books, libraries, and newspapers have at last become things of the past. Now handheld Memes allow for constant communication and entertainment. They can even anticipate our needs, dialing the doctor before we know we're sick, or prompting us with words we can't recall. Yet a few dedicated wordsmiths are still laboring on the final print edition of the North American Dictionary of the English Language. But one evening, right before it's released, Anana Johnson finds that the chief editor—her father—has vanished.
 
In alternating points of view, Anana and her bookish colleague Bart follow their only clue, the word ALICE, down the proverbial rabbit hole, into subterranean passages, the stacks of the Mercantile Library, and secret meetings of an anti-Meme underground resistance, racing closer to the truth about Anana's father's disappearance, and discovering a frightening connection to the growing "word flu" pandemic. 
Praise For The Word Exchange…
A KIRKUS REVIEWS BEST BOOK OF THE YEAR 

"A nervy, nerdy dystopian thriller."
     —The New York Times Book Review

"A propulsive, twisty future-noir. . . . [Graedon's] attention to language—and the breakdown of language—invites comparisons to writers like Anthony Burgess and Lewis Carroll."
     —The Daily Beast
 
"Spectacular. . . . A gorgeous genre mashup that offers readers the pleasures of noir, science fiction, romance, and philosophy. [The Word Exchange is] an unforgettable joyride across the thin ice of language." 
     —Karen Russell, author of Swamplandia! and Vampires in the Lemon Grove

"Combines the jaunty energy of youngish adult fiction with the spine-tingling chill of the science-­fiction conspiracy genre. . . . [Graedon achieves] the singular feat of turning the alphabet into a cliffhanger."
     —The New York Times Book Review

"Dazzling. . . . A snappy, noir-inflected vision of a future New York suffering from an epidemic of aphasia brought on by super-smartphones. . . . Sparklingly inventive."
     —Slate

 "A sobering look at how dependent we are on technology and how susceptible we are to the distortions of language."
     —The Washington Post

"Alena Graedon makes what sounds like a preposterous premise believable in this clever first novel, a mystery set in a dystopian near future."
     —Chicago Tribune 

"Imaginative, layered, and highly original." 
     —Karen Thompson Walker, bestselling author of The Age of Miracles 

"[Graedon] knows how to ratchet up mystery. In [her] dystopian future, face-to-face interfacing is finished and even email is a fading memory."
     —Esquire (UK)

"[A] fast-paced, thrill-a-minute début novel. . . . The sonic pleasures of Graedon's degraded language are considerable. . . . She creates a powerful sense of mystery. . . . [I] raced greedily to the last page, enjoying Graedon's plot-weaving every step of the way."
     —Peter C. Baker, The New Yorker.com

"An ambitious debut. . . . Graedon's own language is essential to the success of The Word Exchange—it's erudite, ruminative, and complex."
     —Bustle

"This highly addictive future noir is also terrifyingly prescient. . . . Graedon's book is luminous and haunting at every turn. I will never look at words in quite the same way—and neither will you."
     —Reif Larsen, author of The Selected Works of T.S. Spivet


"Wildly ambitious, darkly intellectual and inventive. . . . Students of linguistics may run screaming from this dystopian nightmare by Brooklyn-based debut novelist Graedon, but diligent fans of Neal Stephenson or Max Barry will be richly rewarded by a complex thriller."
     —Kirkus Reviews, starred review
 
"Spectacular. . . . [Graedon's] novel is rife with literary allusions and philosophical wormholes that aren't only decorative but integral to characters' abilities and limitations in communicating, and it succeeds precisely because it's as full of humanity as it is of mystery and intellectual prowess."
     —Publishers Weekly, starred review

"Remarkable. . . . A bibliothriller of epidemic proportions. . . . And, as you'd expect, Graedon's word choice is exquisite."
     —Booklist, starred review
Anchor, 9780345806031, 384pp.
Publication Date: February 3, 2015
About the Author
Alena Graedon was born in Durham, North Carolina, and is a graduate of Brown University and Columbia's MFA program. She has worked at Knopf and PEN and taught at Columbia. The Word Exchange, her first novel, was completed with the help of fellowships at several artist colonies. It has been translated into eight languages. She lives in Brooklyn, New York.
or
Not Currently Available for Direct Purchase